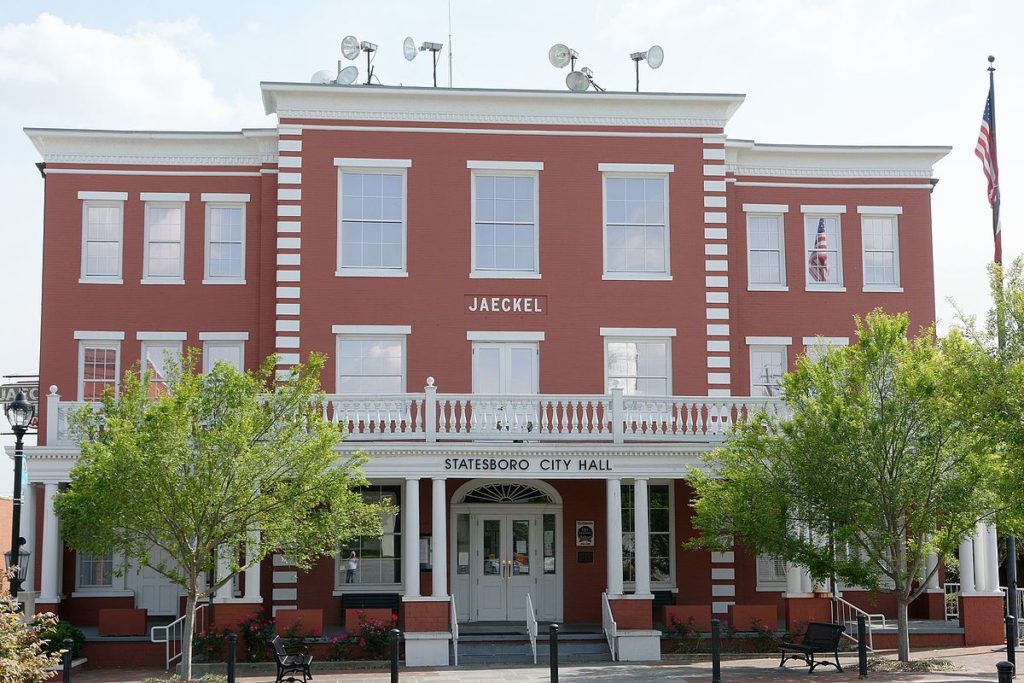 The Statesboro City Council met for their regular council meeting Tuesday afternoon. After a workshop lasting an hour and a half, city officials met for three hours for regular council business.

More detailed articles on discussions and items can be found under 'Local Government' on AllOnGeorgia.com/Bulloch. 
Article on Discussion of Funding Bulloch Boys & Girls Club.
Article on Nondiscrimination Ordinance.
Article on Uptick in Crime.
Any supporting documents for items listed below can be found here.
Surplus and disposition of items/equipment from Public Utilities Dept:

2002 F-150 Ford Pickup (Serial # 1FTRF17W53NA13582)
2006 F-150 Ford Pickup (Serial # 1FTRF12297NA37670)
1989 Case Backhoe (Serial # JJG0030707)
One Lot of assorted brass water meters and fittings (approximately 5000 pounds)

Second Reading and Consideration of a Motion to Approve Ordinance 2020-03: An
Ordinance revising City Ord 6-8(d)(3) for Temporary Special Event Permits

Approved 4-1 (Riggs opposing)

Second reading and Consideration of a Motion to Approve Ordinance 2020-04: An
Ordinance revising City Ord 6-7(d) exemptions in order to provide for a pedestrian
downtown open container exemption zone

Approved 3-2 (Boyum, Riggs opposing)

Second Reading and Consideration of a Motion to Approve Ordinance 2020-05: An
Ordinance revising the restriction found in City Ord 6-7(i).

Approved 3-2 (Boyum, Riggs opposing)

Public Hearing and Consideration of a Motion to Authorize the Mayor to execute a
contract for services with the Statesboro Arts Council, Inc. to market downtown
Statesboro by operating and managing the Averitt Center for the Arts, using proceeds
from the Hotel/Motel Tax.
Public Hearing and Consideration of a Motion to Authorize the Mayor to execute a
contract for services with the Downtown Statesboro Development Authority/Main Street
to market downtown Statesboro, using proceeds from the Hotel/Motel Tax.
Public Hearing and Consideration of a Motion to Authorize the Mayor to execute a
contract for services with the Statesboro Convention and Visitors Bureau, Inc. to market
Statesboro and Bulloch County, using proceeds from the Hotel/Motel Tax.
Public Hearing and Consideration of a Motion to approve Resolution 2020-17: A
Resolution Exempting Certain Vehicles from Marking Requirements for One Year.
ZONING:

Public Hearing and Consideration of a Motion to Approve: APPLICATION RZ 20-05-
01: Landrum Hodges requests a zoning map amendment of 2.24 acres of property locatedat 814 South Main Street from R-4 (High Density Residential) to the CR (Commercial Retail) zoning district in order to utilize the property for a commercial land use (Tax Parcel MS52 000027 000).

ZONING:

Public Hearing and Consideration of a Motion to Approve

A) APPLICATION V 20-05-02: West District Development, LLC requests a variance from Article XIV, Section 1402 to reduce the minimum lot size requirements for property to be considered for the PUD (Planned Unit Development) zoning district in order to construct a mixed-use development on 5.362 for a combination of parcels addressed South College Street, West Cherry Street and 40 West Cherry Street (Tax Parcel(s) S19 000001 000, S19 000001 A000, S18 000170 000).
B) APPLICATION RZ 20-05-03: West District Development, LLC requests a zoning map amendment of 5.362 acres located along South College Street from the CBD (Central Business District) to the PUD (Planned Unit Development) zoning district in order to construct a mixed-use development for a combination of parcels addressed South College Street, West Cherry Street and 40 West Cherry Street (Tax Parcel(s) S19 000001 000, S19 000001 A000, S18 000170 000)

ZONING:

Public Hearing and Consideration of a Motion to Approve: APPLICATION RZ 20-05-
04: S.D. Sauers Construction Company, LLC requests a zoning map amendment of
approximately 1.30 acres of property located at 723 and 723 ½ South Main Street from a split-zoning of R-4 (High Density Residential), PUD (Planned Unit Development), and HOC (Highway Oriented Commercial) to the CR (Commercial Retail) zoning district in order to utilize the property for a mixed-use, residential and commercial retail development (Tax Parcel MS52 000007 000, MS52 000009 000).

ZONING:

Public Hearing and Consideration of a Motion to Approve

A) APPLICATION V 20-05-05: Drayton-Parker Companies, LLC requests a variance from Article XI, Section 1102(C) to reduce the required front yard setback in order to allow for the new construction of a automotive gasoline station on 1.41 acres of property for a combination of parcels addressed 205 North Main Street and 2331 Northside Drive West (Tax Parcel(s) S17 000022 000, S17 000023 000).
B) APPLICATION V 20-05-06: Drayton-Parker Companies, LLC requests a variance from Article XI, Section 1102(D) to reduce the required rear yard setback in order to allow for the new construction of a automotive gasoline station on 1.41 acres of property for a combination of parcels addressed 205 North Main Street and 2331 Northside Drive West (Tax Parcel(s) S17 000022 000, S17 000023 000).
C) APPLICATION V 20-05-07: Drayton-Parker Companies, LLC requests a variance from Article XI, Section 1104(F) regarding the location of all permanent points of vehicular access to and from public streets within close proximity to intersections in order to allow for the new construction of a automotive gasoline station on 1.41 acres of property for a combination of parcels addressed 205 North Main Street and 2331 Northside Drive West (Tax Parcel(s) S17 000022 000, S17 000023 000).
D) APPLICATION V 20-05-08: Drayton-Parker Companies, LLC requests a variance from Article XVI, Section 1601 regarding the minimum parking space size
requirements in order to allow for the new construction of an automotive gasoline
station on 1.41 acres of property for a combination of parcels addressed 205 North
Main Street and 2331 Northside Drive West (Tax Parcel(s) S17 000022 000, S17
000023 000).
E)

APPLICATION V 20-05-09

: Drayton-Parker Companies, LLC requests a variance from Article XXX, Section 3014(B) regarding the maximum number of parking spaces allowed in front of a building within the Downtown District in order to allow for the new construction of an automotive gasoline station on 1.41 acres of property for a combination of parcels addressed 205 North Main Street and 2331 Northside Drive West (Tax Parcel(s) S17 000022 000, S17 000023 000).

Consideration of a Motion to Approve Resolution 2020-18: A Resolution To Adopt The Third Amendment To The Fiscal Year 2020 Budget For Each Fund Of The City Of
Statesboro, Georgia, Appropriating The Amounts Shown In Each Budget As Expenditures/Expenses, Adopting The Several Items Of Revenue Anticipations, And Prohibiting Expenditures Or Expenses From Exceeding The Actual Funding Appropriated
Consideration of a Motion to approve Resolution 2020-19: A Resolution to adopt he
Fiscal Year 2021 Budget for each fund of the City of Statesboro, Georgia, appropriating
the amount shown in each budget as expenditures/expenses, adopting the several items of revenue anticipations, and prohibiting expenditures or expenses from exceeding the
actual funding available for appropriations.

Approved 3-2, Boyum and Riggs opposing

Consideration of a Motion to Approve Resolution 2020-20: A Resolution adopting the Statesboro Schedule of Rates, Fees and Fines.

Approved 4-1, Riggs opposing

Consideration of a Motion to Approve Resolution 2020-21: A Resolution of the Mayor and Council of the City of Statesboro designating June 19 as ''Juneteenth Independence Day'' in honor of June 19, 1865, the date on which news of the end of slavery reached the slaves in the Southwestern States, and designating Juneteenth as a paid City holiday beginning in 2021.
Consideration of a Motion to restrict $125,000 in the Water and Sewer Fund and
$125,000 in the Natural Gas Fund for the Loan Loss Reserve established May 19, 2020
Consideration of a Motion to Award Contract Extension for Audit Services
Consideration of a Motion to Approve a five year Intergovernmental Agreement (IGA) with Bulloch County to renew and amend terms of provision of Statesboro Fire Department (SFD) services within the Five Mile Fire District.
Consideration of a motion to approve the Mayor to execute a letter of support and commitment of funds for intersection improvements for South Main Street/Fair Road (SR73/SR67) intersection.
Consideration of a motion to approve the Mayor to execute a letter of commitment for
maintenance and lighting of intersection improvements for South Main Street/Fair Road (SR73/SR67) intersection.
Consideration of a motion to cancel the July 2, 2020 meeting of Mayor and Council