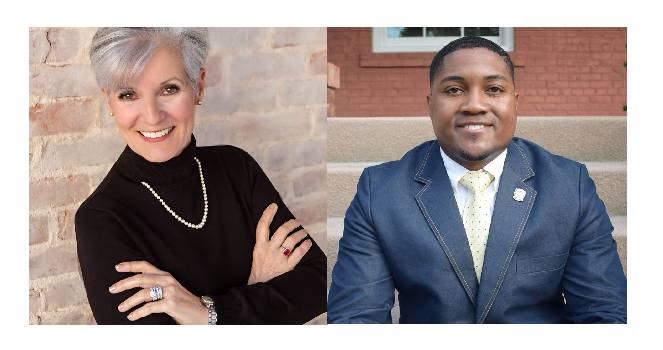 Due to the social distancing guidelines, we have converted our traditional AllOnGeorgia candidate video interviews into short questionnaires. Each candidate in the race was provided an identical questionnaire with the same deadline. (Questionnaires were emailed to the email address listed on the qualifying paperwork and follow-ups done via social media) Candidates were told their answers would be blank in the event that they did not respond. Both candidates confirmed receipt of this questionnaire. Answers were not edited in any way.

The Primary Election was moved to June 9th.
Early voting begins May 18th.
To sign up to volunteer as a poll worker, click here.
---
Michelle Fiorelli-Rupar and Jonathan Paine are both on the Democratic ballot in the race for Bulloch County Coroner. The prevailing candidate in the June 9th primary will face Republican Jake Futch – who has no primary opposition – in November.
Please provide a brief bio on yourself.

 
Fiorelli-Rupar: Did not return questionnaire.
Paine: My name is Jonathan Paine. I am a native of Mississippi. I have a wife and 2
beautiful kids. I am a medically retired veteran (Army). I was stationed at Fort Stewart, Georgia, but have resided in Statesboro, GA since 2011. I am a member of Truthful masonic lodge #375 (PHA) located in Portal, Georgia. I am a deacon at Hodges Grove Missionary Baptist Church of Statesboro, GA. I have my Associates in Funeral Service and Bachelor of Science in Healthcare Administration.
What exper

ience do you have that properly equips you for the position of Coroner?

 

 
Fiorelli-Rupar: Did not return questionnaire.
Paine: I possess a Associates degree in funeral service and have over 15 years of funeral service experience.
How do you view the day-to-day role of the Coroner? (The balance between managing the office, working with other elected officials, and general public servant work; duties and responsibilities; etc.)
Fiorelli-Rupar: Did not return questionnaire.
Paine: I view the day to day role as being a person that is able to manage their time. With getting coroner calls, caring for a person's family, and love ones requires you to be compassionate and a people's person. I feel you must work with elected officials and the public very closely to help solve crimes and to come up with solutions to cut down on crimes and fatalities.
How can the Bulloch County Coroner be more efficient?

 

 
Fiorelli-Rupar: Did not return questionnaire.
Paine: As coroner, you must have time for the job. Having 4 plus additional jobs on top of being the coroner that's impossible to do without slacking. You must have the time, willingness, motivation, compassion, and drive to be efficient within the coroner office. If I am elected, I will have time for the job and for the people of the community. I will make sure that I am dedicated to not only pronouncing, finding the cause of death, and properly filling out death certificates, but dedicated to bring awareness on things that leads to the cause of death of a person loved one.
How can the Coroner's Office be more transparent about activities and finances?
Fiorelli-Rupar: Did not return questionnaire.
Paine: The coroner can be more transparent about activities by making themselves known within the community.
Will any other employment or business venture in which you are vested present a conflict of interest for you as Coroner?
Fiorelli-Rupar: Did not return questionnaire.
Paine: No, it would not because I am retired and have all the time in the world to dedicate to the job and my community.
Why do you want to be the next Coroner of Bulloch County?

 
Fiorelli-Rupar: Did not return questionnaire.
Paine: I want to be the next coroner because I know it is time for a change, and the current coroner have become complacent because of his many jobs. I am young, energetic, compassionate, and passionate and with qualities that I posses it will not only make an impact within the coroner's office, but in peoples lives within the community as well. I want to open the doors of the corner office and give it back to my community by implementing awareness programs such as opioid crisis, suicides, reckless driving, home fires, and etc all the things that could lead to a person losing their love one. If I can help save any lives while serving, then I feel my job has been done.
Is there anything else you would like the public to know about you?
Fiorelli-Rupar: Did not return questionnaire. Campaign Facebook page
Paine: I have always been a public servant of my community by giving away scholarships to high school students, providing food to families during Thanksgiving, and giving Christmas presents to families in need to make their day brighter. Being a community servant is something I love to do and will continue whether elected or not. I am also a volunteer Firefighter for Bulloch County and a veteran representative for veterans.
I can be reached via Facebook: Campaign Facebook page