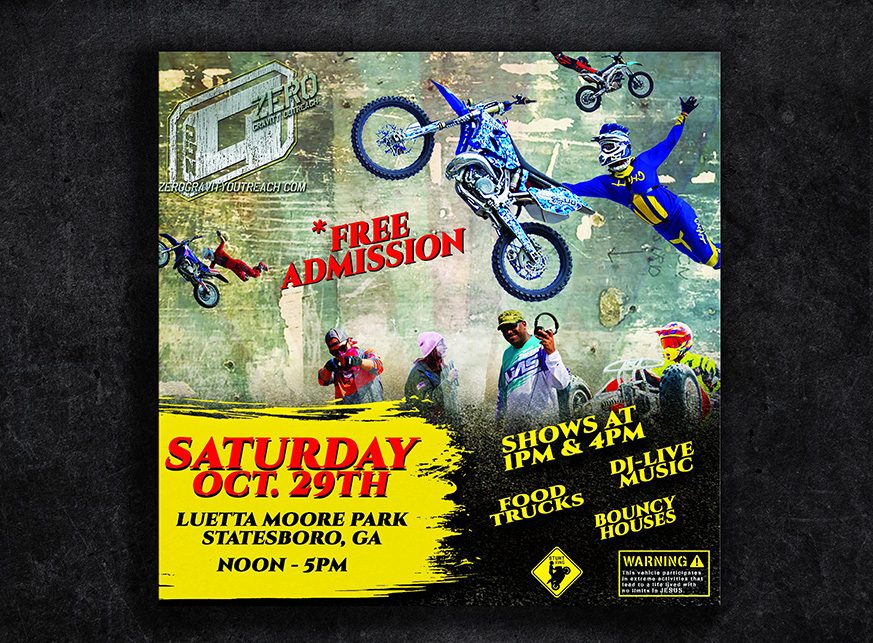 Zero Gravity Outreach is bringing their fun for all, family friendly stunt shows to Luetta Moore Park on Saturday, October 29, 12:00 – 5:00 pm.


The event will feature extreme and exciting stunt shows at 1:00 pm and 4:00 pm, with motor bikes, quads, and ramps. There will be bounce houses, food trucks, DJ-live music, and much more. Admission is free.
This event is sponsored by several local churches and businesses.
About Zero Gravity Outreach: We love God, we love people, and we love extreme sports!! Zero Gravity Outreach is a Christ centered platform for action sports athletes, musical artists, media professionals, and dynamic motivational speakers allowing us to share the experience of our relationship with Jesus through the unique passions, gifts and talents we have been given. Those gifts, talents, and passions must be used for more than just enjoyment and entertainment, but to bridge the gap between today's culture and true faith. ZGO also invests in everyone who is a part of our organization by developing, mentoring, and preparing them to become high profile, high capacity, and high energy Christian leader. Encouraging them to develop their gifts, talents, and passions becoming all that God has created them to be! We use all aspects of our organization to provide a platform for those with very unique gifts and talents, to walk out their faith, and have a place where they can seek out their purpose being used to reach into today's society, making a global impact.
Visit them online on Facebook HERE, their website HERE, and on YouTube HERE.