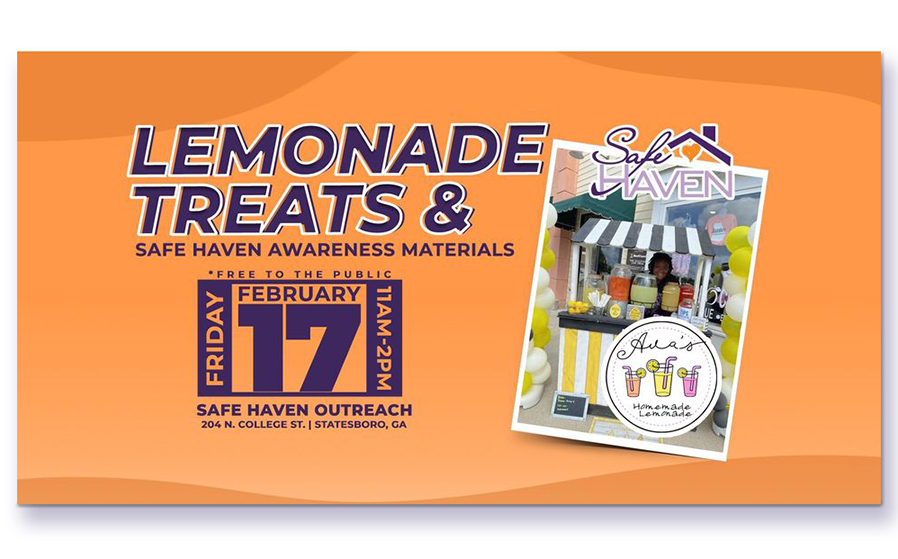 Safe Haven and Ava's Lemonade for a Cause are hosting an event, "Lemonade, Treats, and Safe Haven Awareness Materials", Friday, February 17, 11:00 am – 2:00 pm.


The event is free and will be at Safe Haven's outreach office at 204 North College St in Statesboro.
Enjoy delicious lemonade and treats, and pick up Safe Haven awareness materials for your law enforcement agency, school, church, civic group, business, partner agency, or yourself.
Safe Haven will be sharing information about Teen Dating Violence(TDV), as February is TDV Awareness Month. "Dating violence is more prevalent than you might think, especially among teens and young adults. Each year, 1 in 3 teens experiences dating abuse, and nearly half of college women report experiencing abuse. Dating abuse can occur in person, online or through other technology, including text messaging and social media."
About Ava's Lemonade for a Cause:
Ava's Lemonade for a Cause makes and sells lemonade and sweet treats to raise funds and awareness for Alzheimer's research. Visit them on Facebook HERE.
About Safe Haven:
Safe Haven is a program of Citizens Against Violence, Inc., a nonprofit 501(c)(3) organization dedicated to ending the cycle of family violence through prevention and education programs.  Our mission is to serve, strengthen, and support victims and children of domestic violence through the provision of emergency and community-based services.
Our services are provided free of charge to individuals and families affected by domestic violence.  We are committed to empowering survivors by offering knowledge and resources that will allow individuals to understand their options, enabling them to make informed decisions that will lead to a life of safety, security, and self-sufficiency.
Safe Haven proudly serves the rural counties of Bulloch, Candler, Effingham, Jenkins, Screven, and Washington in Southeast Georgia, and is a member of the Georgia Coalition Against Domestic Violence (GCADV), which represents over 53 domestic violence organizations across the state.
Visit them on Facebook HERE and on their website HERE.