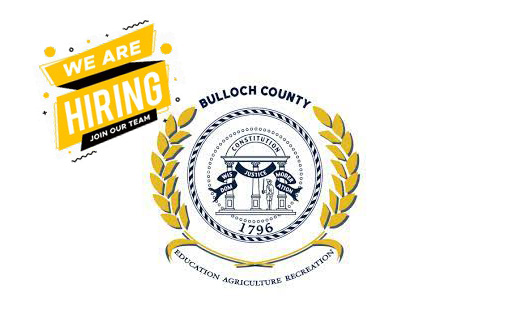 Bulloch County is hiring for many positions throughout the county.

All jobs will be open until filled. There is no deadline to apply. Applications are accepted online only.
Positions listed include:
Administrative Technician
Building Maintenance Technician
Corrections Sergeant, Detail Supervisor
Fleet Maintenance Technician(Public Works)
Fleet Maintenance Technician(Recreation/Parks and Ground)
Heavy Equipment Operator I
Truck Driver II/Work Detail Supervisor
Assistant Solicitor(Part-time)
Corrections Officer(Part-time)
E911 Communications Officer(Part-time)
After School Coordinator(Part-time)
Agricultural Complex Support Staff(Part-time)
Parks & Grounds Maintenance(Part-time)
Recreational Athletics(Part-time)
Splash in the Boro(Part-time)
For details of each position and to apply online, click HERE. 
Human Resources Department
Bulloch County Board of Commissioners
Phone 912-764-0107
apply@bullochcounty.net