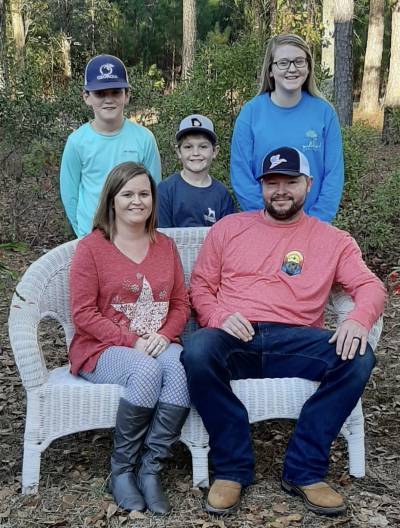 Due to the social distancing guidelines, we have converted our traditional AllOnGeorgia candidate video interviews into short questionnaires. Each candidate in the race was provided an identical questionnaire with the same deadline. Answers were not edited in any way.

The Primary Election was moved to June 9th.
The last day to register to vote in the primary is May 11th.
Early voting begins May 18th.
To sign up to volunteer as a poll worker, click here.
---
Please provide a brief bio on yourself.




I, April Anderson Bradley, have been a resident of Tattnall County for over 30 years. I am married to Jason Bradley, who has been a lifelong resident of Tattnall County. Jason and I have three children, Bailey (15), Emory (12) and Beck (7). I am a 1998 graduate of Tattnall County High School and have completed two years of college along with currently pursuing a degree in Business Management from Strayer University.

I am the daughter of the late Bennie Carson Anderson of Douglas, GA., Rod and Robin Kirkland of Glennville. My grandparents are Ira and the late Lillian Woods of Nicholls, GA., Roger and Judy Kirkland of Glennville, and Rocky and Jean Dougherty of Yulee, FL. My great grandparents are the late Sammy and Etwinda Kirkland of Glennville, and the late Alma and Leon Cohran of Fernandina Beach, FL. My husband's parents are the late Rebecca (Becky) Bradley and Frank and Gail Bradley. His grandparents are Lavern and the late Franklin Bradley, and the late Martha Ray, all of Reidsville.

What experience do you have that properly equips you for the position of Tax Commissioner?

For just under two decades, I worked under three Tax Commissioners as a Deputy Tag/Title Clerk, performing job duties such as processing title work, issuing license plates, renewing vehicle registrations, collecting and processing mobile home and property tax payments, as well as calculating and processing Title Ad Valorem Taxes on vehicle purchases. I also had some background in the bookkeeping section when our bookkeeper was out from time to time. As part of my job responsibilities I was also required by the Tax Commissioner to train and mentor new Tag/Title Clerks.

How do you view the day-to-day role of the Tax Commissioner? (The balance between managing the office, working with other elected officials, and general tax -related work; duties and responsibilities; etc.)

The day-to-day role of the Tax Commissioner is to be there to meet the needs and serve the public, to include general tax related information and answer any tax and title questions. Another good role, and honestly, the most important to me, is to take care of your staff by supporting and encouraging them to be customer friendly while at the same time perform their job responsibility to the best of their ability.

What practices are in place from the previous administration of Commissioner Dutton that you think should be carried over by the new administration in the long-term?

If elected, I would review and assess the previous administration's practice and then determine which long-term practices would be beneficial to carry over and which practices would need changing.


How can the Tattnall County Tax Commissioner's Office be more efficient?



I believe seminars and training classes related to policies, procedures and Georgia Tax Laws should be required of all employees working for the Tax Commissioners Office. This practice will allow the Tax Commissioner's Office to be more efficient and effective when serving the citizens of Tattnall County.

The Tattnall County Tax Commissioner's Office has been criticized for a lengthy backlog of enforcement action, in which property owners have been delinquent in paying owed taxes for upwards of five or more years. What do you plan to do to eliminate this backlog and ensure the laws are applied equally across the board?



As Tax Commissioner, I would like to see the Property Tax due date pushed back to March of each year, therefore, giving tax-payers a chance to regroup from the holiday season, as well as the opportunity to allow time to receive their income tax refund. If approved by the County Commissioner's, I would also ask for an incentive that would allow taxpayers to pay their taxes at a discounted rate if paid early. For example, you would receive a tax bill in October and you would have the option to go ahead and pay it in advance beginning in the month of November at a discounted rate if paid before March.


How do you plan to advance the office technologically while simultaneously being a good steward of tax dollars?

There is always room for growth and improvement. With that said, in today's technological society, it is imperative that as Tax Commissioner, I stay current with new and innovative ways to continuously serve the public, while providing accuracy and efficiency when collecting our local tax revenues. As Tax Commissioner, I am charged with providing opportunities for continuous training and enrichment programs for employees to provide consistency and accountability when dealing with taxpayers dollars. I believe that these actions will allow myself, as Tax Commissioner, and the employees of the Tax Commissioner's Office to be stronger stewards for the county.

What accountability checks are in place to ensure the utmost integrity by Tax Commissioner Office employees?

As Tax Commissioner, I will focus on auditing periods throughout the tax year, the collection process, and constant accountability of myself and all staff. This accountability will be in place within a positive work environment that will be supportive and open to any suggestions that would better assist in serving the citizens of Tattnall County while at the same time, supporting the County Commissioners with their goals and objectives.


Why do you want to be the next Tax Commissioner of Tattnall County?

My experience, desire and dedication to serve the citizens is what compels me to be the next Tax Commissioner. If elected, I promise to serve the citizens of Tattnall County by bringing a professional and friendly atmosphere to the Tax Commissioner's Office. I plan to serve the community in a way that helps offer opportunities to encourage tax payers to be more accountable with paying their taxes. I also look forward to working alongside other public officials within the county to accomplish these goals


Is there anything else you would like the public to know about you? (This area may also be used to include a bio and offer information on where people can learn more about you?)




I ask that you vote for me as your Tax Commissioner on June 9th. After serving just under two decades within the Tax Commissioner's Office, I have fully vested myself and served as a proven leader. If elected, I will continue to serve in the best interest of the citizens of Tattnall County. Thanks to all of you for your prayers and words of encouragement. Please continue to keep me in your prayers as I continue through this election period. Remember to complete your VOTER ABSENTEE BALLOT and mail it or email it to TATTNALL_ELECTIONS_24@YAHOO.COM .

Feel free to visit my Facebook page April Bradley for Tattnall Tax Commissioner with any questions or concerns. Thank you for your support!