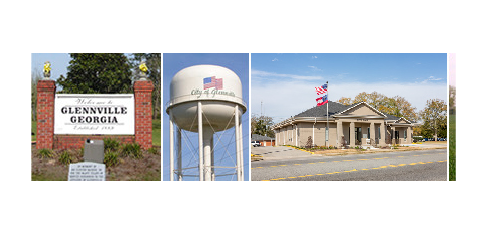 The Glennville City Council met Tuesday night for their regularly scheduled council meeting in the City Hall chambers.

Before the commencement of the meeting, Mayor Christ Roessler was sworn in for a second term along with returning councilman Dennis Strickland and newly-elected councilwoman Dorothy Richardson Berry. Standing alongside their families, the three reaffirmed their oaths of office before City Attorney Hugh McCullough.
Mayor Roessler was then named an honorary Faith Rider in an emotional ceremony. You can read more on that here.
The council approved the following appointments individually and unanimously:
City Manager – Amy Murray
City Clerk – Brenda Ellison
Chief of Police – Mickey Anderson
Fire Chief – David Baxter
City Attorney – Hugh McCullough
Recorder's Court Judge – Joe McGovern
After being nominated by Councilwoman Tammy Waters, Councilman Bernie Weaver was elected to serve as the Mayor Pro tem and will act as the presiding officer in the absence of the Mayor.
A public hearing was held regarding the variance request from Armstrong Cricket Farm located at 306 Gordon Street. The building burned in 2015 and Jeff Armstrong has been working to rebuild the structure on the same slab with the same dimensions ever since. Public opposition from Faye Kicklighter and Sheila Kirby was rooted in claims that the City is not adhering to ordinances that require certain variances to be obtained before building can begin and/or resume. Sheila Kirby expressed concern over the expansion of the Cricket Farm in recent years which has left the lot with limited parking for large trucks and semi-trailers that are often present. She said Armstrong Cricket Farm does not maintain the property the way it should be and certain safety regulations are not being enforced by the city.
Ultimately, the council voted unanimously to grant Jeff Armstrong the variance to complete his building.
The council also approved the following bids:
A $579,649.50 sewerage system improvement for Marietta Liftstation that was provided for in the FY 2016 budget. The contractors providing work for the project will be the lowest bidders: American Infrastructure Technologies Corp. LLC (Hanceville, Alabama) and Palm Coast Utilities, LLC (Ludawici).
A stinger spike system for the police department from West Chatham Warning Devices in Savannah totaling $6.090.00. (Stinger spike systems are tire deflaters used in high-speed chases)
No other business was discussed and nominations for the Planning Commission members were postponed until February.
The Glennville City Council meetings the first Tuesday of every month at 7:00 p.m. at City Hall. The public is encouraged to attend.