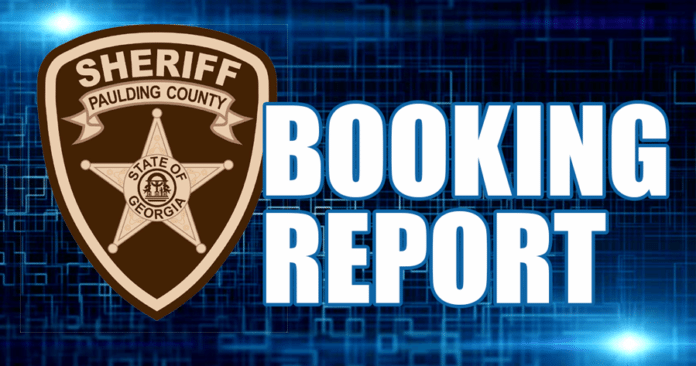 It appears the Sheriff's office website with the mugshots is down this morning.
All records courtesy of the Paulding County sheriff's office. It is our policy to remove mugshots and information should a case be dismissed. If your case has been dismissed and you would like your mugshot removed from AllOnGeorgia please contact us.
Don't forget that Warehouse of Hope takes community service workers every weekday at 8:30 AM!
1

CASH,MICHELLE LEIGH

04/20/2018

Released

DUI ALCOHOL / 1 / $1,413.50 / HELD FOR PROSECUTION
WEAVING OVER ROADWAY / 1 / $147.00 / HELD FOR PROSECUTION


2

CHEEK,JESSICA LANE

04/20/2018

Active Inmate

THEFT BY SHOPLIFTING / 1 / $0.00 / HELD FOR PROSECUTION


3

GOSS,KENNAN ALLEN

04/20/2018

Active Inmate

FELONY PROBATION / 1 / $0.00 / HELD FOR PROSECUTION


4

GRAVETT,JOSEPH MARTIN

04/20/2018

Active Inmate

VIOLATION OF DRUG COURT / 1 / $0.00 / OTHER


5

HAYNES,CONI IRENE

04/20/2018

Active Inmate

VIOLATION OF DRUG COURT / 1 / $0.00 / HELD FOR PROSECUTION


6

JOINER,MINDY RUTH

04/20/2018

Released

ACCESS COMPUTER FRAUD PURPOSED / 1 / $1,850.00 / HELD FOR PROSECUTION


7

KRAMER,ALFRED JAMES

04/20/2018

Released

AGGRAVATED ASSAULT / 1 / $5,700.00 / HELD FOR PROSECUTION
RECKLESS CONDUCT / 1 / $1,100.00 / HELD FOR PROSECUTION
OBSTRUCTION OF LAW ENFORCEMENT / 1 / $1,100.00 / HELD FOR PROSECUTION
DISCHARGE GUN NEAR HIGHWAY/ST / 1 / $1,100.00 / HELD FOR PROSECUTION


8

LONER,CHARLES DAKOTA

04/20/2018

Active Inmate

FAIL TO APPEAR / SUPERIOR COURT / 1 / $6,800.00 / HELD FOR PROSECUTION


9

MITCHELL,ZACKARIAH DANIEL

04/20/2018

Active Inmate

AGGRAVATED ASSAULT / 1 / $0.00 / HELD FOR PROSECUTION
AGGRAVATED BATTERY / 1 / $0.00 / HELD FOR PROSECUTION


10

MOHAMMED,NETIA

04/20/2018

Active Inmate

SIMPLE BATTERY / 1 / $0.00 / HELD FOR PROSECUTION


11

MONTGOMERY,NATHAN ALAN

04/20/2018

Active Inmate

AGGRAVATED ASSAULT / 1 / $0.00 / OTHER
FALSE IMPRISONMENT / 1 / $0.00 / OTHER
HINDER / OBSTRUCT 911 OR EMER. CALL / 1 / $0.00 / OTHER


12

SMALLWOOD,LAUREN REBECA

04/20/2018

Released

FAIL TO APPEAR / MAGISTRATE COURT / 1 / $526.50 / HELD FOR PROSECUTION


13

WIGLEY,DAVIN ROCHELLE

04/20/2018

Active Inmate

AGGRAVATED ASSAULT / 1 / $0.00 / HELD FOR PROSECUTION