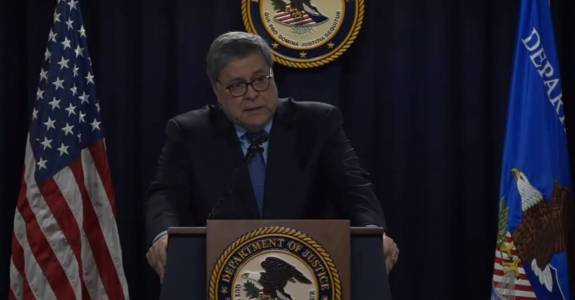 Attorney General William Barr Announces Lawsuits Against Sanctuary Cities
The Justice Department  announced this week that it has filed suit against local jurisdictions in the states of California and New Jersey, and King County, Washington, for implementing policies that it alleges violates the "Supremacy Clause" of the Constitution, which provides that the laws of the United States shall be the supreme law of the land.  The Constitution vests the federal government with the sole authority to make and enforce immigration law.  The jurisdictions sued by the Justice Department have passed laws or implemented policies that impede the Department of Homeland Security from deporting or detaining aliens, or from accessing information in state databases.

Maryland U.S. Attorney Robert K. Hur stated, "Detainers—official requests to hold an inmate pending federal action—are issued every day by federal law enforcement agencies for individuals charged with, or suspected of committing, federal crimes and violations.  When detainers are not honored, the justice system cannot work, and inmates are released into the community where they are free to commit crime, victims are denied the right to justice, and law enforcement officers, who must find and rearrest the suspect, are endangered.  Our immigration laws are part of our justice system.  Failing to honor immigration detainers—at the very least wastes limited law enforcement resources—and worse, can lead to tragic outcomes for law enforcement and victims.  All jurisdictions must uphold the rule of law in order for our system of justice to work."
Individuals who are suspected of committing federal crimes and violations have certain rights under the Constitution, including individuals brought into federal custody after having a detainer lodged against them.
Jurisdictions that fail to honor detainers impede the administration of justice.  While cooperation among law enforcement agencies in Maryland is generally excellent, there are some instances where local jurisdictions failed to honor federal detainers, sometimes with tragic consequences.  Josue Rafael Fuentes-Ponce and Joel Ernesto Escobar, two Salvadoran national underage teenagers, were arrested in May 2018 and charged in Prince George's County with attempted first-degree murder, attempted second-degree murder, participation in gang activity, conspiracy to commit murder, attempted robbery, and other charges.  U.S. Immigration and Customs Enforcement (ICE) lodged immigration detainers with the Prince George's County Detention Center for both individuals.  Both Fuentes-Ponce and Escobar were released following the conclusion of that case, without the ICE detainer being honored and without any notification provided to ICE.  According to court documents, in May 2019, Fuentes-Ponce and Escobar were again arrested and charged with the MS-13-related murder of a 14-year-old girl.
In another Prince George's County case, on February 18, 2019, U.S. Immigration and Customs Enforcement (ICE) issued a detainer with the Prince George's County Detention Center for Guatemalan national Juan Vincente Gomez-Quintana, who was in the United States illegally, after his arrest on local charges.  Gomez-Quintana is a previously convicted felon who had been deported, with prior criminal convictions for identity theft, fraud, multiple DUIs, and trespassing.  ICE also notified the county of an outstanding federal criminal arrest warrant for illegal reentry issued by the U.S District Court for the Eastern District of Virginia. On May 8, 2019, Prince George's County released Gomez without honoring the detainer or the federal criminal arrest warrant.  Gomez is still being sought by law enforcement.
On March 26, 2019, U.S. Immigration and Customs Enforcement (ICE) arrested Carlos Manuel Murcia-Brizuela, a Salvadoran national in Manassas, Virginia. as a previously deported criminal alien.  On April 9, 2019, the U.S. District Court for the Eastern District of Virginia issued a criminal arrest warrant for Murcia on the federal charge of illegal reentry.  On April 11, 2019, Murcia was turned over to the Fairfax County, Virginia, Police Department pending extradition to Montgomery County, Maryland, due to an outstanding criminal warrant issued by Montgomery County Circuit Court for felony rape and third-degree sex assault.  In addition to notifying Montgomery County of the outstanding federal criminal arrest warrant, an immigration detainer was also placed on Murcia.  Unfortunately, a sexual predator is now free, since neither the federal criminal arrest warrant nor the immigration detainer was honored by Montgomery County, and Murcia was released on July 12, 2019.  Murcia is still being sought by law enforcement.  Some of Murcia's previous convictions include felony DUI causing injury, inflicting corporal injury on a spouse, and a misdemeanor conviction for cruelty towards animals.
The Attorney General's remarks are available here.