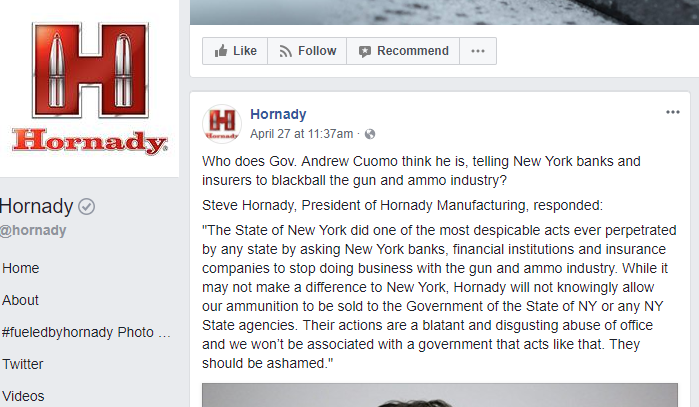 An ammunition manufacturer that has been operating in the United States for almost 80 years has announced it will no longer sell products to state agencies and state law enforcement in New York.
The move by Hornady's comes after New York Governor Andrew Cuomo issued an order to financial services companies over transactions involving guns and ammunition. Cuomo asked banks, insurance companies, and lenders to avoid working with the National Rifle Association and other pro-gun organizations as well those gun industry organizations in general. The financial office for the state of New York warned financial institutions of the possible "reputational risk" associated with the gun industry.
Maria Vullo, Department of Financial Services Superintendent for the State of New York, said in her official letter to financial institutions on April 19:
"The tragic devastation caused by gun violence that we have regrettably been increasingly witnessing is a public safety and health issue that should no longer be tolerated by the public and there will undoubtedly be increasing public backlash against the NRA and the gun industry."
Steve Hornady, President of manufacturing at Hornady's, made the announcement about cutting off the state in a social media post last week saying the company will no longer sell products to the state government or any of its agencies. He called the move one of the most "despicable acts ever perpetrated by any state."
His full statement:
"The State of New York did one of the most despicable acts ever perpetrated by any state by asking New York banks, financial institutions and insurance companies to stop doing business with the gun and ammo industry. While it may not make a difference to New York, Hornady will not knowingly allow our ammunition to be sold to the Government of the State of NY or any NY State agencies. Their actions are a blatant and disgusting abuse of office and we won't be associated with a government that acts like that. They should be ashamed."
The post garnered more than 7,000 shares and thousands of likes and comments.
Hornady is a well-respected ammunition supplier that works with law enforcement entities around the nation. Just recently, the company was awarded a $19 million contract with the FBI to provide new 9mm ammunition.
Guns.com elaborated on the back story: