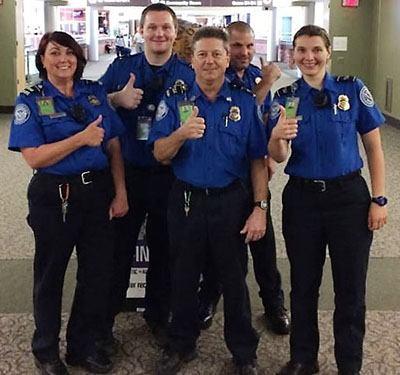 If you've been flying during the past few weeks and it feels busier in the airport, you're not imagining it. The upcoming July fourth holiday is expected to continue the trend with an estimated 12.1 million people traveling through checkpoints from July 3-7 with the peak travel day on Sunday, July 7.
The summer travel season kicked off on May 23, and since then, the Transportation Security Administration experienced six of the top 10 busiest days in the history of the agency. This included its busiest day ever on May 24, the Friday before Memorial Day, screening a total of 2,792,525 passengers and crew members.
On a typical day, TSA screens approximately 2.2 million passengers and crew members. During the last 30 days, peak days reached more than 2.7 million – an additional 500,000 people per day.
So far this summer, 92% of TSA Pre✓® passengers waited less than 5 minutes at the checkpoint and 99% of passengers waited less than 30 minutes in standard screening lanes. For a better travel experience, travelers should apply for TSA Pre✓®.
TSA expects a record setting summer overall, with 263 million passengers and crew members projected to pass through TSA checkpoints nationwide between Memorial Day weekend and Labor Day weekend.
The increase in the number of passengers is exactly why travelers should arrive early to the airport to ensure that they have ample time to account for traffic, parking and navigating through the terminal. It is advisable to check-in for a flight ahead of time, either on the air carrier's website or mobile app, to allow even more time to get through security and get to the gate. Passengers should plan to arrive two hours prior to a domestic flight and three hours prior to an international flight.
Top 10 busiest days in TSA history
| | | |
| --- | --- | --- |
| Rank | Date | Total passengers and crew members screened |
| 1 | Friday, May 24, 2019 | 2,792,670 |
| 2 | Friday, June 21, 2019 | 2,772,898 |
| 3 | Sunday, November 25, 2018 | 2,730,081 |
| 4 | Thursday, June 20, 2019 | 2,728,786 |
| 5 | Friday, June 14, 2019 | 2,727,849 |
| 6 | Sunday, November 28, 2004 | 2,713,864 |
| 7 | Monday, June 17, 2019 | 2,699,561 |
| 8 | Sunday, June 23, 2019 | 2,678,089 |
| 9 | Friday, July 20, 2018 | 2,676,487 |
| 10 | Friday, June 29, 2018 | 2,676,198 |