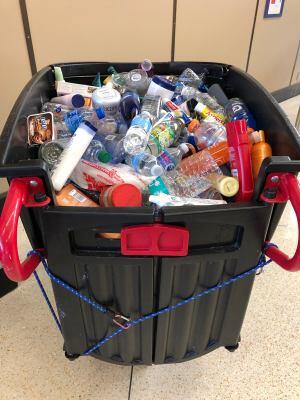 Officials with the Transportation Security Administration (TSA) are asking travelers to be aware of the contents of their carry-on luggage and to comply with restrictions on the quantity of liquid, gels and aerosols (LGAs) for security as well as environmental reasons.
Sea-Tac Airport is prepared for what is projected to be the busiest August ever when a record number of passengers will be screened through the security checkpoints between today and Labor Day weekend. August is traditionally the busiest travel month of the year at Sea-Tac Airport and year to date, passenger traffic is up 3.4 percent through June with the expectation to exceed 50 million, which includes departing and connecting travelers, for 2019.
Checkpoint wait times have improved dramatically since last summer at Sea-Tac. In July, 94 percent of travelers made it through the security screening process in less than 30 minutes and 67 percent of travelers waited less than 20 minutes. Travelers who bring LGAs in quantities greater than 3.4 ounces or 100 ml in their carry-on luggage will require secondary screening, adding an average of two minutes to the screening time and delaying other travelers.
If a traveler brings LGAs in a quantity greater than 3.4 ounces, a TSA officer will provide them options including checking the oversized LGA or disposing of them outside the security checkpoint. If the traveler chooses to leave behind the oversized LGAs in the security checkpoint, TSA and airport staff will collect them and dispose of them. Travelers departing Sea-Tac leave behind thousands of oversize LGAs every day.
"We are encouraging travelers to be aware of the contents of their carry-on bags, to familiarize themselves with the rules on traveling with liquids and to take appropriate steps prior to coming to the security checkpoint to ensure they undergo the screening process quickly and efficiently," said TSA Federal Security Director for Washington Jeff Holmgren. "People in the Pacific Northwest are eco-conscious and strive to be environmentally friendly in all areas of their lives. The travel experience should be no different,
"Everything helps to reduce wait times, so check what might be problematic or don't bring it! Our goal is to get travelers through the checkpoints in 20 minutes or less and we've been working hard with our partners at TSA this summer to greatly improve the customer experience," said Joshua Marcy, Sea-Tac Airport Terminal Operations Manager. "We've added over 30 new staff to help outside the checkpoints, new automated screening lanes, re-configured queuing lines, real-time wait time sensors, and a new Sea-Tac Airport app."
If you do find yourself with LGAs while you're in the checkpoint queues, Sea-Tac has these options available to travelers:
Two water dump stations are available at each checkpoint for any liquids; multiple water refilling stations are located post-security throughout the terminal
Tables at every checkpoint allow you to leave bottles, cans, or food items before you reach the security lanes
Mail It Home kiosks allow you to send smaller items without getting out of line.
Liquid restrictions reminder
TSA has limited the quantity of LGAs in carry-on bags since August 2006. That summer, an overseas plot to detonate larger quantities of liquid explosives onboard an aircraft was identified and thwarted just a few weeks before the plot was executed.
The liquids restriction, which limits the quantity of LGAs in carry-ons to 3.4 ounces or 100 ml, was put into place at that time and remains in place today. Travelers are allowed to bring a quart-sized bag of LGAs through the security checkpoint for screening.
Common LGAs brought by travelers include jams, sauces, beverages, shampoo, conditioner, sunscreen, shaving cream, tooth paste and more. If traveling with LGAs in quantities larger than 3.4 ounces, they must be placed in checked luggage.