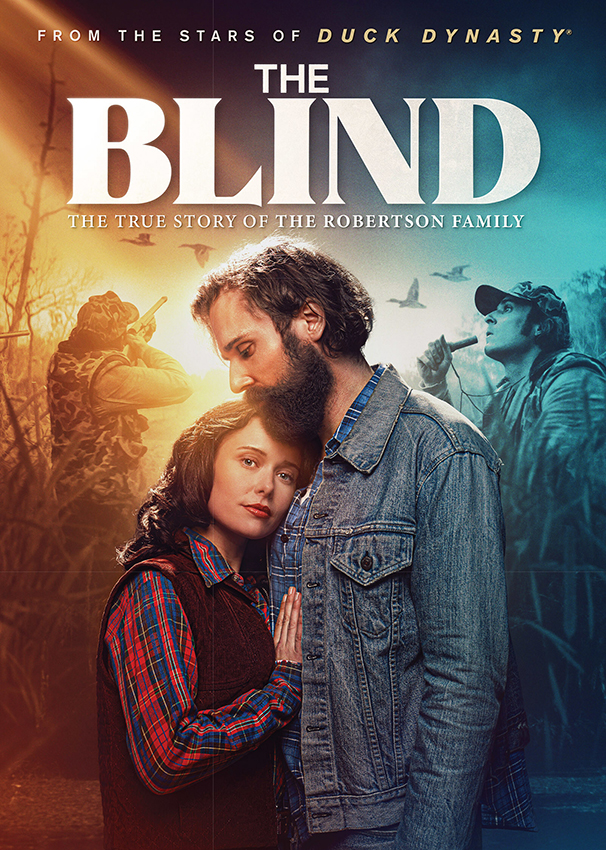 Pinnacle Peak Pictures, Tread Lively and Mill Creek Entertainment announce the home entertainment release of THE BLIND, an inspiring true story about the lives of A&E's 'Duck Dynasty'® stars Phil and Kay Robertson. The film will be available digitally on November 3, followed by its release on Blu-ray™ and DVD on November 14.

The film delivered an impressive $4.3 million in ticket sales opening weekend in 1700 theaters, reaching #4 at the box office in its first week with a 99% Rotten Tomatoes Audience Score. With overall box office sales exceeding $14 million, the film is on track to become Fathom's highest-grossing event of all time.
You can catch a glimpse of the honest, heart-lifting film in its trailer, which is touching the hearts of audiences across America, here.
Long before Phil Robertson became a reality TV star, he fell in love with Miss Kay and started a family, but his demons threatened to tear their lives apart. Set in the backwoods swamps of 1960s Louisiana, THE BLIND shares never-before-revealed moments in Phil's life as he seeks to conquer the shame of his past, ultimately finding redemption in an unlikely place. This stunning cinematic journey chronicles the love story that launched a dynasty, the turmoil that nearly brought it crashing down, and the hope that rose from the ashes to create a foundation for generations to come.
THE BLIND features a talented ensemble cast, including Aron von Andrian (DODGER), Amelia Eve (THE HAUNTING OF BLY MANOR), Brielle Robillard ("The Lake"), Matthew Erick White (Station 19), and is directed by Andrew Hyatt (PAUL, APOSTLE OF CHRIST; FULL OF GRACE). The film powerfully conveys the message that no one is beyond the reach of God's grace, and no one is so far gone that they cannot turn their life around.
THE BLIND is available to buy on Digital beginning November 3, 2023, for $19.99 with Blu-ray™ and DVD formats available on November 14, 2023.
Bonus Features List for DVD and Blu-ray™ include:
Deleted Scenes
The Story Behind THE BLIND From the People Who Lived It, an interview feature with members of The Robertson family
THE BLIND carries a PG-13 rating for smoking and thematic elements, and you can find more information about it at https://theblindmovie.com/.
---
About Tread Lively:
Tread Lively is a fully integrated production company focused on film, TV, podcasting, and digital platforms. The Tread Lively team has produced and delivered more than 100 million podcast downloads and over 2 billion views. Our story is to tell your story. For more information, go to https://treadlively.com.
About Pinnacle Peak Pictures:
Pinnacle Peak Pictures is a leading faith and family-friendly film production and distribution studio founded in 2005 by Michael Scott, David A.R. White, and Russell Wolfe. The studio is responsible for breakout theatrical hits like God's Not Dead, The Case for Christ, and Do You Believe?
Pinnacle Peak Pictures is a full-service Production and Distribution company focusing on Theatrical Film and International TV & Video Distribution in the Faith, Family and Inspirational marketplace. It is our goal to tell stories that are not only entertaining and compelling, but to do so in a way that the whole family can enjoy.
For more information, please visit www.pinnaclepeakpictures.com.
About Mill Creek Entertainment:
Mill Creek Entertainment is the home entertainment industry's leading independent studio for Blu-ray, DVD, and digital distribution. With direct sales pipelines to all primary retail and online partners, Mill Creek Entertainment licenses, produces, markets and distributes a dynamic array of film and television content to over 30,000 retail stores and thousands of websites reaching millions of customers across North America. Mill Creek Entertainment's expansive library includes Oscar®-winning theatrical feature films, Emmy®-winning classic and current TV series, original documentary productions and pop-culture favorites that enlighten, educate and entertain. Mill Creek Entertainment is based in Minneapolis, Minnesota.
For more information, please visit www.millcreekent.com.
---
SOURCE Pinnacle Peak Pictures; Tread Lively; Mill Creek Entertainment