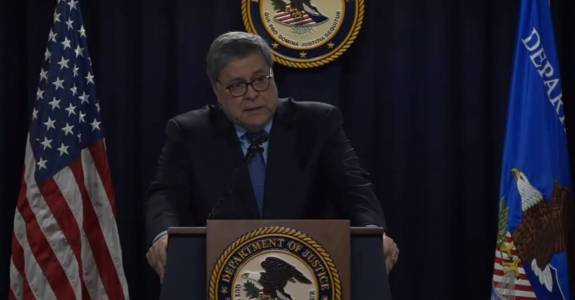 The Operation will surge federal law enforcement resources into seven of America's most violent cities, according to the DOJ.

Attorney General William P. Barr recently announced the launch of Operation Relentless Pursuit, an initiative aimed at combating violent crime in seven of America's most violent cities—including Baltimore—through a surge in federal resources.
Joined at a press conference in Detroit, Michigan, by ATF Acting Director Regina Lombardo, DEA Acting Administrator Uttam Dhillon, FBI Director Christopher Wray, and United States Marshals Service Director Donald W. Washington, Attorney General Barr pledged to intensify federal law enforcement resources into Albuquerque, Baltimore, Cleveland, Detroit, Kansas City, Memphis, and Milwaukee – seven American cities with violent crime levels several times the national average.
United States Attorney Robert K. Hur and Baltimore-based federal, state, and local law enforcement leaders announced their participation in the initiative in a press conference immediately following the Attorney General's.
"Americans deserve to live in safety," said Attorney General William P. Barr. "And while nationwide violent crime rates are down, many cities continue to see levels of extraordinary violence. Operation Relentless Pursuit seeks to ensure that no American city is excluded from the peace and security felt by the majority of Americans, while also supporting those who serve and protect in these communities with the resources, training, and equipment they need to stay safe."
"In spite of our efforts and achievements this year, violent-crime rates in our city remain stubbornly high," said U.S. Attorney Robert K. Hur.  "Law enforcement here in Baltimore is committed to working together every day to get guns out of the hands of criminals and off of our streets, to reduce violent crime in our neighborhoods.  The additional law enforcement personnel and funding provided by Attorney General Barr and the Department of Justice will help us work our way toward a safer Baltimore."
"ATF is wholly focused on violent crime, removing the most dangerous and prolific offenders from the streets of Baltimore City. Our collaborative efforts with local, state, and federal law enforcement and prosecutors is critical to ensuring we are successful," said ATF Baltimore Special Agent in Charge Rob Cekada. "Under Operation Relentless Pursuit, we will focus additional personnel and resources on our mission of identifying, investigating, and incarcerating Baltimore's violent criminals."
DEA Special Agent in Charge Jesse R. Fong stated, "The DEA is committed, along with our federal partners here today, to this great effort to stem the tide of violence and drug trafficking activities we have seen across Baltimore.  This new synchronization of investigative efforts inherent to Operation Relentless Pursuit will better target, disrupt, and dismantle violent criminal organizations across the area to help keep our neighborhoods safer."
"The FBI is committed to pursuing those who commit violent crimes and threaten the safety of our communities.  Together with our federal, state, and local partners, we have and will continue to pursue operations to bring violent criminals to justice," said FBI Special Agent in Charge Jennifer C. Boone.  "Under the auspices of Operation Relentless Pursuit, we will collectively devote additional resources and efforts to attack the most violent offenders plaguing the city of Baltimore."
Maryland U.S. Marshal Johnny Hughes stated, "We are looking forward to doing what we do best striking fear in the hearts of evil locating and arresting these violent felons who prey on the innocent and helpless."
The Operation will involve increasing the number of federal law enforcement officers to the selected cities, as well as bulking up federal task forces through collaborative efforts with state and local law enforcement partners. The surge in federal agents will be complemented by a financial commitment of up to $71 million in federal grant funding that can be used by the seven selected cities to hire new officers, pay overtime and benefits, finance federally deputized task force officers, and provide mission-critical equipment and technology.