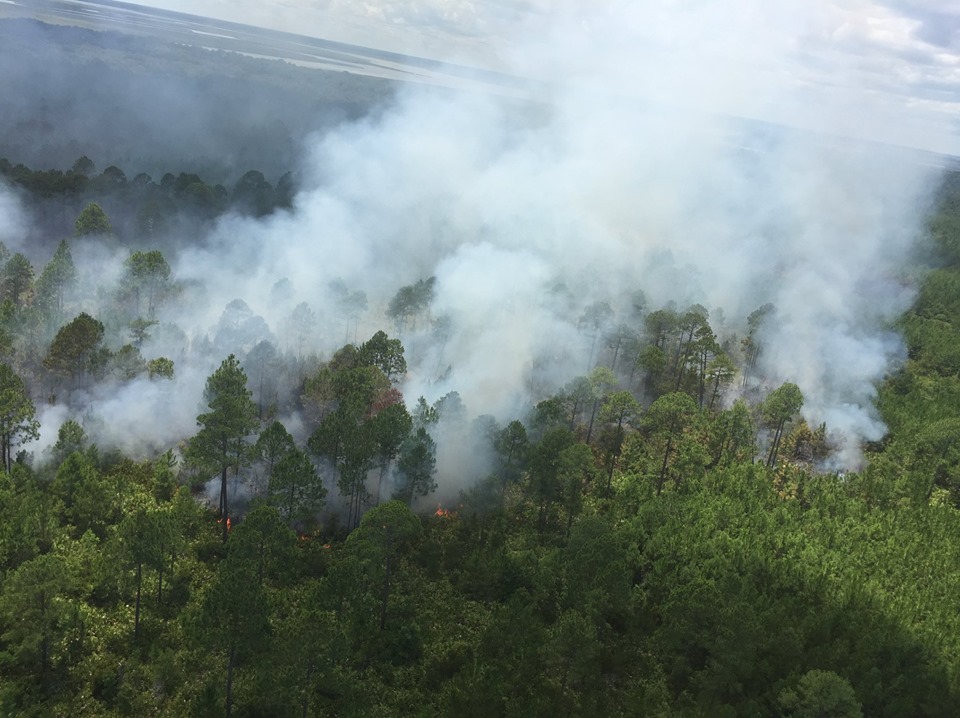 Largest Fuel Reduction in 10 Years
The Department of the Interior announced it had doubled and nearly tripled targets set by President Donald Trump for vegetative treatments to reduce wildfire risk in Fiscal Year 2019, marking the largest fuel load reduction in a decade. The announcement comes as the land management agencies with wildland fire programs—the Bureau of Indian Affairs, Bureau of Land Management, National Park Service and the U.S. Fish and Wildlife Service—report their end-of-year accomplishments and begin preparations for the next fire year.
"These accomplishments reflect the Department's commitment to the President's goals for reducing wildfire risk and protecting our communities and resources," said U.S. Secretary of the Interior David Bernhardt. "We took action by maximizing wildfire management efforts across the Department and deploying needed resources to reduce the intensity and impacts of wildfires. This is an issue that impacts the whole country, and we're looking broadly at what we can do to reduce wildfire risk."
In December 2018, the President issued Executive Order 13855, directing the DOI and the U.S. Department of Agriculture to promote active management of America's forests and rangelands to reduce wildfire risk with specific targets for actions.
The DOI was required to:
Treat 750,000 acres public lands to reduce fuel loads;
Treat 500,000 acres of public lands to protect water quality and mitigate severe flooding and erosion risks arising from forest fires; and
Reduce vegetation through forest health treatments by offering for sale 600 million board feet of timber from public lands.
Executing on these goals this year, the DOI:
Reduced fuel loads on more than 1.4 million acres of DOI-administered lands, covering nearly two times more acres than required under the Executive Order;
Protected water quality on more than 1.4 million acres of DOI administers lands, nearly three times the acres required; and
Planned for harvest or offered for sale more than 750 million board feet of timber to reduce vegetation giving rise to wildfire conditions, exceeding the target by 25 percent.
Visit the Office of Wildland Fire for more information and a state-by-state breakdown of where these treatments occurred.
Secretary Bernhardt issued Secretary's Order 3372 following the President's EO, establishing a meaningful and coordinated framework for ensuring the protection of people, communities and natural resources. Implementation of both Orders was a top priority in reducing the risks of deadly and destructive wildfires.
"At the Department of the Interior, we're making progress on building an understanding of where wildfire risk reduction happens, or needs to happen, and how stakeholders identify shared priorities for protecting communities," said Department of the Interior's Office of Wildland Fire Director Jeff Rupert.
In 2019, wildfire activity was significantly less than prior years and the 10-year annual average as there were 48,484 wildfires that burned 4.57 million acres. The 10-year annual average has been approximately 60,000 wildfires burning 6.7 million acres, but in 2018, more than 52,000 wildfires burned 8.5 million acres of federal, state, tribal and private lands.
The DOI manages a wildland fire management program employing more than 4,500 full-time firefighters across the country to reduce wildfire risk and rehabilitate burned landscapes on over 500 million acres of federal and tribal lands.
In addition to treatment projects conducted domestically, the DOI and U.S. Forest Service (USFS), which is a part of the U.S. Department of Agriculture, continue to support ongoing efforts to combat the wildfires in Australia. Since December, more than 150 firefighters from the DOI and the USFS have been deployed at the request of the Australian Fire and Emergency Service Authorities Council with more personnel slated for deployment in the coming week.
"The loss of life, property and environment are devastating in Australia," said Secretary David Bernhardt. "The United States stands with our partners, and we will continue to support Australia in sending our world class personnel to contain these blazes and help protect Australian communities and wildlife."
The U.S., Australia and New Zealand have been exchanging fire assistance for more than 15 years as the Australian and New Zealand personnel filled critical needs during peak wildfire season in the United States. The last time the U.S sent firefighters to Australia was in 2010.