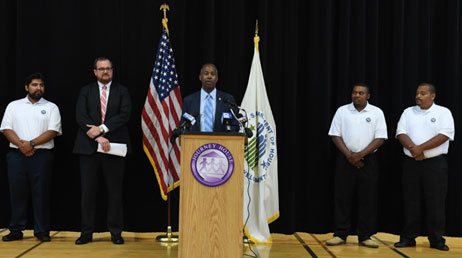 FYI' Initiative to offer housing vouchers to at-risk young people facing homelessness
U.S. Housing and Urban Development (HUD) Secretary Ben Carson announced last week that a new initiative to target housing assistance to young people aging out of foster care and who are at extreme risk of experiencing homelessness is underway. HUD's new Foster Youth to Independence (FYI) Initiative will offer housing vouchers to local public housing authorities to prevent or end homelessness among young adults under the age of 25 who are, or have recently left, the foster care system without a home to go to. Read HUD's notice.
Secretary Carson made the announcement at Journey House in Milwaukee, a local program that empowers families to move out of poverty by offering a variety of services, including youth development.
The U.S. Department of Health and Human Services (HHS) estimates that more than 20,000 young people age out of foster care each year. The National Center for Housing and Child Welfare (NCHCW) estimates that approximately 25 percent of these young people experience homelessness within four years of leaving foster care and an even higher share are precariously housed.
"No young person who grows up in foster care should experience homelessness once they set out on their own," said HUD Secretary Carson. "The foundation of a stable life is stable housing and this initiative will allow local housing, working child welfare agencies and homeless planners, to focus this housing assistance to those young people who need it most."
"We applaud Secretary Carson and his team for working directly with current and former foster youth to design and implement FYI as a platform for economic success," said Ruth White, National Center for Housing and Child Welfare. "It's only fitting that a former pediatric neurosurgeon would find a way to graft housing and social service programs together to close the gaps through which all too many children fall into homelessness on their way to adulthood."
HUD is offering tenant-protection vouchers to certain public housing authorities (many located in smaller communities and rural areas) that do not participate in HUD's Family Unification Program. In addition, participating public housing authorities must:
Administer a Housing Choice Voucher (HCV) Program;
Enter into a partnership agreement with a Public Child Welfare Agency (PCWA);
Accept young people referred by their partnering PCWA;
Determine that the referred youth are eligible for HCV assistance.
This is a press release from the US Department of Housing and Urban Development.