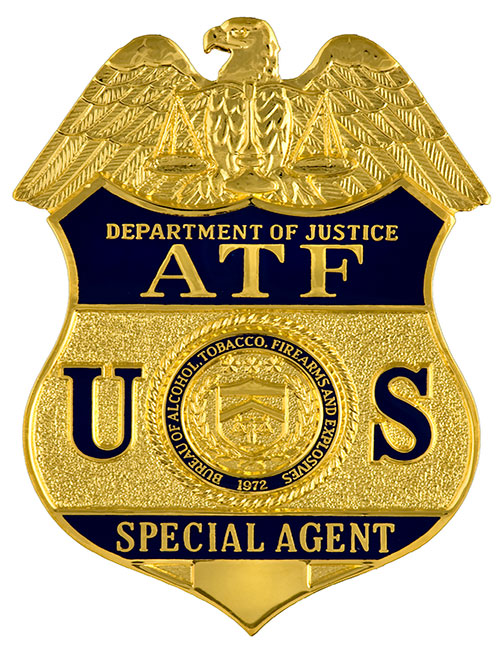 Christopher Lee Yates, a former contract security guard at a U.S. Bureau of Alcohol, Tobacco, Firearms and Explosives (ATF) facility, has been sentenced to 168 months incarceration for stealing firearms from the government, United States Attorney Bill Powell announced.

"The theft and illegal distribution of firearms presents a clear and present danger to the public.  The defendant's conduct was not only audacious, it was and remains extraordinarily dangerous.  The court's sentence sends a clear and unequivocal message.  Importantly, many of the stolen items remain unrecovered, and we encourage the public across the country to report any material information to the ATF or other law enforcement agencies," said Powell.
Yates, age 52, of Martinsburg, West Virginia, pled guilty to one count of "Possession of Stolen Firearm" and one count of "Theft of Government Property" in April 2019. Yates was a contract employee at the ATF's National Disposal Branch in Martinsburg, West Virginia. From 2016 to early 2019, Yates stole thousands of firearms, firearms parts, and ammunition. Yates sold much of the property to others across the country. The crimes caused ATF to issue more than 1200 referrals across all 25 ATF field divisions in 49 of the 50 states, District of Columbia and Puerto Rico. To date, ATF has recovered 4,625 pieces of the stolen firearms and parts, including 4,000 firearms parts, 3,000 of which of were slides, and at least 15 rifles, 80 handguns, including ATF duty weapons, 10 to 15 AR-style lower receivers, and four machine guns.
ATF Special Agent in Charge Ashan Benedict commented, "Mr. Yates was in a position of trust and his egregious behavior not only betrayed his coworkers at the destruction facility, but put the public at risk in exchange for his financial gain.  Insiders can pose a significant threat to any organization and ATF is no exception. We urge the public to come forward with information leading to the recovery of any additional items he stole."
The judge also ordered a money judgement in the amount of $300,000.
Yates was taken into custody immediately following the hearing.
Assistant U.S. Attorney Jeffrey A. Finucane prosecuted the case on behalf of the government. The Bureau of Alcohol, Tobacco, Firearms and Explosives investigated.
Chief U.S. District Judge Gina M. Groh presided.