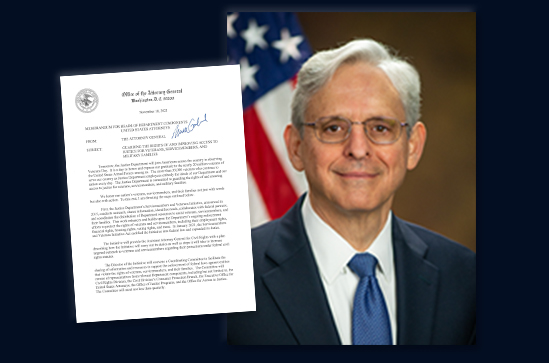 U.S. Attorney General Merrick B. Garland this week issued a memorandum reaffirming the Justice Department's commitment to guarding the rights of and improving access to justice for veterans, servicemembers and military families.
The memorandum directs the Civil Rights Division's Servicemember and Veterans Initiative to develop a plan to guide its expanded duties and outreach efforts.
The Attorney General also directed the Office for Access to Justice to provide recommendations for actions that may be taken to better meet the legal needs of veterans and servicemembers, including through medical-legal partnerships, veterans treatment courts and reentry programs and services.
"The Justice Department honors our nation's veterans and servicemembers not just with words but also with action," said Attorney General Garland. "To that end, I have directed the Civil Rights Division and the Office for Access to Justice to mobilize resources in order to protect the rights of those who serve and lead efforts across government to ensure access to justice for veterans, servicemembers and military families."
"Many veterans face unique legal challenges that stem from their service to our country," said Associate Attorney General Vanita Gupta. "The Justice Department's Office for Access to Justice is uniquely positioned to deploy the tools of the department and to engage our partners across government through the Legal Aid Interagency Roundtable to identify opportunities that will expand access to justice for veterans, servicemembers and their families."
"Through vigorous enforcement of our federal civil rights laws, we are working to ensure that our servicemembers and veterans, and their families, are able to enjoy the freedoms and rights for which they so valiantly fought," said Assistant Attorney General for Civil Rights Kristen Clarke. "This Veterans Day, we affirm our long-standing commitment to protecting servicemembers' civilian employment rights, financial and housing rights, voting rights and more."
On Nov. 16, the Civil Rights Division will host a virtual event to recognize the commitment and contributions of diverse servicemembers and veterans. The program will feature remarks by the Assistant Attorney General Clarke and a presentation by Ret. Col. Will Gunn, Vice President for Legal Affairs and General Counsel for the Legal Services Corporation. The event is free and open to the public, and pre-registration is required.  For more information and to register for this event, please visit: Unsung Heroes: A Civil Rights Division Celebration of Diverse Veterans.
attorney_general_memorandum 11102021

---
US DOJ