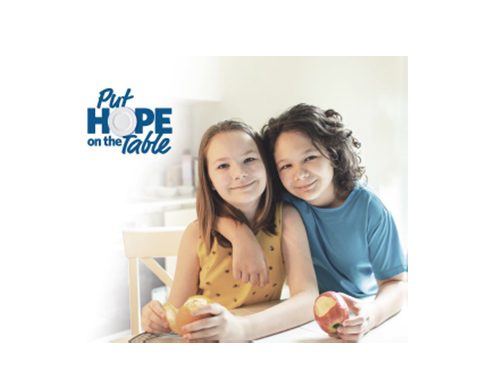 The 10th annual Food Lion Feeds Apple Bag campaign has helped to provide 18.3 million meals* for neighbors experiencing hunger, surpassing the campaign's 4 million meal goal and quadrupling results from the previous year. New this campaign, customers had the option to use digital keypads at checkout to donate a specific dollar amount or round up their purchase to support the cause. The Apple Bag campaign benefits Feeding America®, the nation's largest domestic hunger-relief organization, and local partner food banks throughout Food Lion's 10-state operating area. Food Lion Feeds was founded in 2014 by Food Lion to address food insecurity in the towns and cities it serves.

"Millions of people are working hard every day to provide for themselves and their families, but still nearly 1 in 10 people are unable to access the food they need to thrive," said Lauren Biedron, Senior Vice President of Corporate Partnerships at Feeding America. "We appreciate our dedicated partners, like Food Lion Feeds and their community, for all they do to support the movement to end hunger and progress us toward an America where no one is hungry."
Since the Food Lion Feeds Apple Bag campaign began in 2014, customers have helped to provide more than 31 million meals* through the sale of specially marked apple bags and cash donations. The Apple Bag Campaign ran from Sept. 13 – Oct. 3, during which customers purchased specially marked Food Lion Feeds apple bags or made cash donations at the register during checkout at Food Lion stores. The Apple Bag campaign is held in September to align with Hunger Action Month, a time when Food Lion Feeds deepens its extensive existing relationship with Feeding America®. The partnership highlights the impact food can have on a person's life and inspires action to end hunger within communities.
"At Food Lion, we are committed to nourishing our neighbors and caring for our communities," said Kevin Durkee, Manager, Food Lion Feeds, Food Lion. "With the support of our customers, we help provide meals for individuals and families experiencing hunger. It is a pleasure to receive their support every year, especially when the need is critical. We are grateful for every contribution, as it enables us to make a greater impact on our communities."
Through Food Lion Feeds, Food Lion has helped to provide more than 1 billion meals** to individuals and families since 2014 and has committed to donate 1.5 billion meals** by 2025.
For more information on Food Lion Feeds' commitment to ending hunger, visit foodlion.com/feeds.
*$1 helps provide at least 10 meals secured by Feeding America® on behalf of local partner food banks. Through the Apple Bag campaign, $0.50 (monetary equivalent of five meals) from each bag purchase will be donated to Feeding America and partner food banks. Food Lion guarantees a minimum donation of $100,000 (monetary equivalent of 1 million meals) from Sept. 13 – Oct. 3, 2023.
**Food Lion Feeds helps provide meals through a combination of product, financial and equipment donations; disaster relief and recovery efforts; capital campaign support for feeding agencies; and volunteer hours by associates, based on various meal equivalent formulas.
---
Food Lion