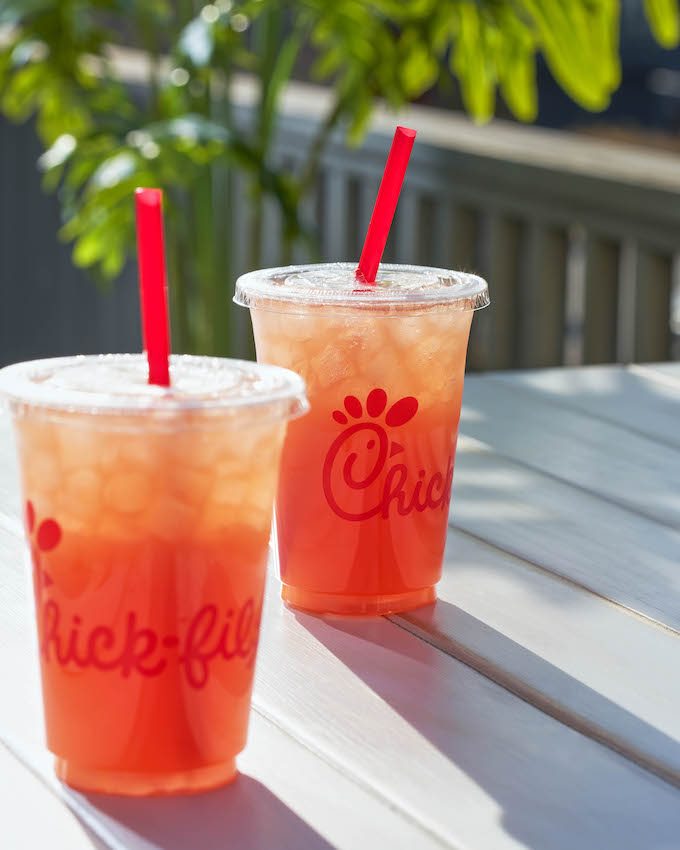 Chick-fil-A is celebrating springtime with the introduction of the new Cloudberry Sunjoy®, a seasonal drink available at participating nationwide restaurants starting April 25.
A refreshing twist on the Chick-fil-A Sunjoy® drink, Cloudberry Sunjoy blends the unique flavors of cloudberry and cherry blossom with Chick-fil-A® Lemonade and freshly-brewed Sweetened Iced Tea. Known for its rarity, the cloudberry offers a delicate sweet and tart flavor profile.
This is the first new Sunjoy blend since the restaurant company officially added Chick-fil-A Sunjoy, which is a combination of regular Chick-fil-A Lemonade and freshly-brewed Sweetened Iced Tea, to menus last spring. The nationwide rollout of Cloudberry Sunjoy comes in response to a successful test in Augusta, Ga. last fall.
"We imagine our new Cloudberry Sunjoy beverage will have most people asking, 'What is a cloudberry?'," said Leslie Neslage, director of menu and packaging at Chick-fil-A, Inc. "Grown in colder climates of the U.S. and Canada, the cloudberry has a unique flavor that is like a crossover between a raspberry and red currant, making it standout from other berries and pairs perfectly with our classic Sunjoy."
With hints of raspberry, mango, apricot and passionfruit flavors, the cloudberry provides a new and exciting experience for your taste buds. Its red and orange colors match its vibrant taste, a culmination of sweet and tart. The cloudberry can take up to seven years to grow from the time the seed is planted to the time the seed blossoms – but trust us, it's worth the wait. Flourishing in cooler climates, cloudberries are typically grown in Greenland, Canada and some northern parts of the U.S. Similarly, at Chick-fil-A, the Cloudberry Sunjoy is served over ice, making it a refreshing beverage to cool you off on warmer days.
Available in a small beverage size, Cloudberry Sunjoy can be customized with Diet Lemonade and/or Unsweetened Iced Tea and can also be ordered by the gallon. Customers can check the Chick-fil-A App or contact their local restaurant to find out if Cloudberry Sunjoy is served at a nearby participating location.
Chick-fil-A has plans to add other exciting new flavors and returning seasonal favorites to the menu throughout the year, including expanding the availability of the Spicy Chicken Biscuit to an additional 700 locations. To learn more about Chick-fil-A and read stories about the company's food, people and customers across the country, visit chick-fil-a.com/stories.
---
Chick-fil-A