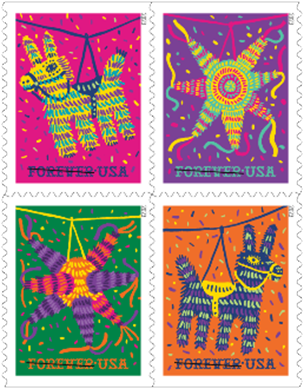 The U.S. Postal Service will celebrate the fun of piñatas with a new booklet of 20 colorful and festive Forever stamps. The Piñatas! stamps feature four vibrant illustrations of the traditional Mexican party favorite. Two are of a donkey with either a bright pink or orange background, and two feature a seven-point star set against either a purple or green background.

The first-day-of-issue event for the Piñatas! stamps is free and open to the public. News of the stamps is being shared with the hashtag #PinatasStamps.

When:

Friday, Sept. 8, at 6 p.m. MDT

Background:

Today, the piñata is an important part of many celebrations in Mexico, the United States and around the world. Blindfolded players take turns striking the piñata until it breaks, scattering the treats inside to be gathered up by all the participants.

Víctor Meléndez created the original art and designed the stamps. Antonio Alcalá was the art director.
Customers may purchase stamps and other philatelic products through the Postal Store at usps.com/shopstamps, by calling 844-737-7826, by mail through USA Philatelic or at Post Office locations nationwide.
---
USPS