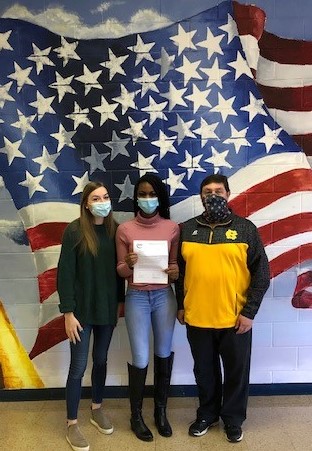 The volleyball team at Harris County High School (HCHS), Hamilton, Ga., has been recognized by the American Volleyball Coaches Association (AVCA) for having earned the AVCA Community Voting Award.
This new award was started to encourage eligible coaches and student-athletes to exercise their civic duty through participation in the democratic process. To win the AVCA Community Voting Award, 100 percent of eligible student-athletes and staff had to vote in the 2020 November election. HCHS was one of 191 teams and clubs to earn the recognition.
"Our goal as leaders of young people is to model responsible behavior and to instill good habits," said AVCA Executive Director Kathy DeBoer. "Whether it's the volleyball court, the classroom, or the voting booth, coaches matter in the lives of their players. This award is another way to highlight that fact."
Winning teams receive a congratulatory letter, a frameable certificate, and the AVCA will send a letter of acknowledgement to the institution's director of athletics and president.
By subgroup, NCAA Women's Division I led the way with 96 recipients, followed by NCAA Women's Division III with 41. In total 10 collegiate men's programs received the award. A total of 14 club and high school staffs also qualified based on their participation.
The AVCA Community Voting Award will be offered again in November of 2022, the next national election day.