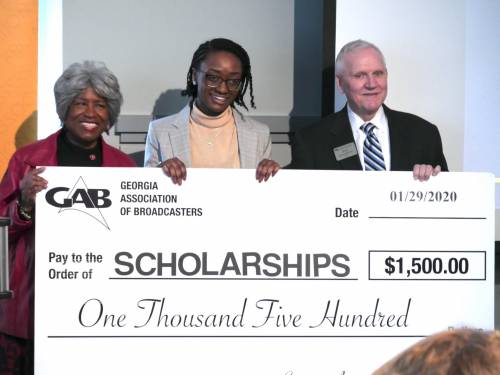 Doria Lacey, a Columbus State University senior majoring in communications and the program manager for CSU's WCUG Cougar Radio, was recently awarded the E. Lanier Finch Scholarship given by the Georgia Association of Broadcasters. She was one of five students across the state to receive the scholarship, which is given by the GAB each year at their Hall of Fame Luncheon.
"This scholarship means more than words can express, because it was given to me by an association that has also recognized broadcasting professionals I have looked up to my entire life," said Lacey. "I was actually able to meet Monica Kaufman Pearson, an Atlanta legend, at the luncheon. I was able to tell her how seeing her on my television as a child was the representation I needed to believe I could possibly be a broadcasting professional one day. "
Doria is a senior in the communications program and has been accepted into Syracuse University's Graduate School, where she will be continuing her studies in radio media. The scholarship will help fund her graduate education.
"My experience at CSU helped me reach this point," said Lacey. "If I was not given the opportunity to volunteer, then become staff at Cougar Radio, I would not have nearly as much broadcasting knowledge as I do now. I am so grateful to Dr. Gibson (Comm Dep. Chair) and Dr. Getz (WCUG Faculty Advisor).  I look forward to the day I can come back as an alumna and talk to students about the plethora of opportunities they can take advantage of as a Communications student at CSU. Let me know if you need any additional information."
Communications Department Chair Dr. Danna Gibson, Assistant Professor Dr. Bruce Getz, along with CSU Communication Advisory Board members, Lee Brantley, David Hart and Holly Steuart also attended the luncheon that was held in UGA's special collections library.