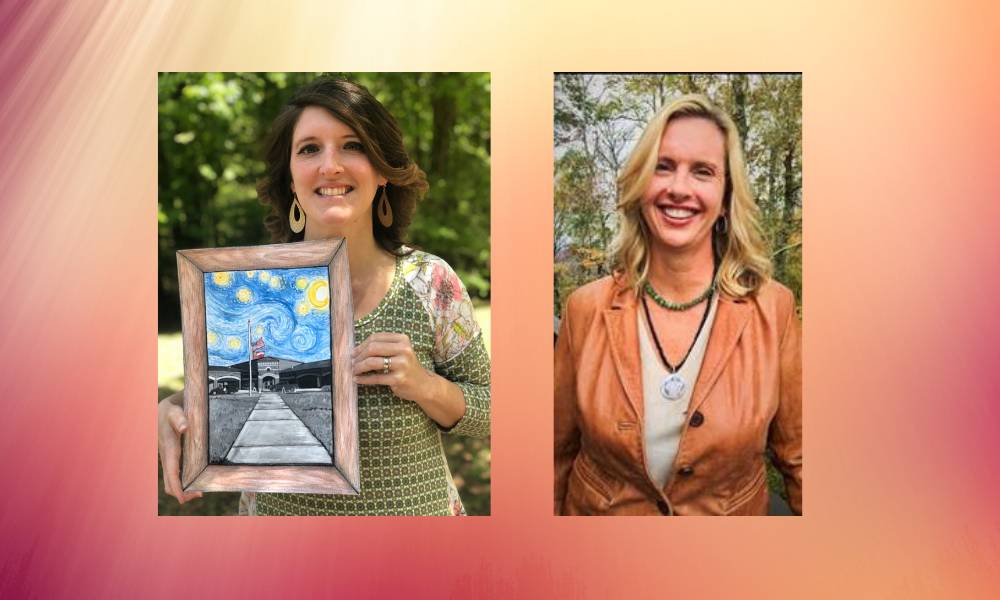 Two Harris County School District (HCSD) art teachers have been recognized for their work at the annual conference of the Georgia Art Education Association (GAEA), which took place virtually Saturday, Nov. 7, 2020. An affiliate of the National Art Education Association, GAEA is a professional organization of art educators, whose mission is to advocate for the highest quality visual arts education and to provide for the advancement of knowledge through service, leadership, and research.

2020 GAEA Teacher of the Year (Elementary Grades) – Virginia McCullough
At the annual professional development conference, New Mountain Hill Elementary School's Art Teacher Virginia McCullough was named the 2020 GAEA Teacher of the Year for Elementary Grades.
"As Harris County art educators, we often find ourselves in innovative roles to meet the challenges of educational reforms while continuing to use the invaluable lessons that the arts teach, such as open minded thinking, higher order thinking skills, ability to see multiple perspectives, empathetic and authentic connections, and transdisciplinary learning," McCullough shared.
Principal Mark Gilreath commented, "The entire New Mountain Hill community is extremely excited about Mrs. McCullough being recognized as the Elementary Grades GAEA Teacher of the Year. Virginia is such a tremendous advocate for the arts within our school, our community, and throughout the state of Georgia. As one of the first elementary schools in Georgia to be STEAM certified, through the entire certification process she worked very closely with our school's administration and the Georgia Department of Education. She continues to serve as an ambassador for STEAM education by sharing innovative thoughts, ideas, and best practices with various schools and educators across Georgia that are interested in pursuing their STEAM Certification."
"She impacts our community by sharing her passion for art through the designing, organizing, and implementation of County Kids STEAM Camps at various locations during the summer months and Spring Break holidays," Gilreath added.  "She also has taught art at various institutions in the surrounding area including the Columbus Museum, Columbus State University, Harris County Community Center, and the Mountain Hill Schoolhouse. Virginia has been blessed with a very special gift, and we are very thankful that she is able to share it with our New Mountain Hill Elementary community on a daily basis."
"I know Florence [Barnett] and I would both agree that these awards are a testament to our Harris County Art Educator Professional Learning Community that we refer to as the PLC. All eight of us have been members of the Georgia Art Education Association and participate in their conferences, exhibitions, and events throughout our professional careers in Harris County," McCullough stated. "This is all possible because of our tight knit PLC, commitment to serve our Harris County students through innovative and reliable methods, and because of the unprecedented support for the arts from the Harris County School District and community."
She added, "Receiving this award from GAEA greatly encourages me to continue my pursuit to serve my students through STEAM-based strategies especially within the challenging and uncertain parameters of these times. In my opinion, our service as art educators is more vital now than ever." STEAM stands for "Science, Technology, Engineering, Arts, Mathematics."
McCullough, who has served as an art educator in Harris County for 15 years, lives in Columbus, Ga., with her husband and children. She earned her undergraduate from the University of Georgia, masters from Columbus State University, and is currently pursuing her doctorate at Columbus State University.
2020 Distinguished Service Inside the Profession Award – Florence Barnett

The art teacher at Creekside Intermediate School and chair of the HCSD art department, Florence Barnett, was honored with the 2020 GAEA Distinguished Service Inside the Profession award, which recognizes outstanding achievement, contribution, and service in previous years to the field of art education.
"The award means the world to me. Following my being awarded GAEA Middle Grades Art Educator of the Year in 2018, this is further validation of my hard work and effort in the classroom, my dedication to my students, and toward making an inclusive and diverse classroom where all feel welcome. That's really my goal with art – self-expression with the intention of making an environment where all are welcomed for whom they are. I realize it's a lot to ask of fifth and sixth graders, but I believe it's possible at all levels, just in relative degrees. I enjoy building students' confidence in their artistic abilities. It brings me great pleasure to see my students having pride in their work and focusing on the beauty that is around us," Barnett said.
"This wouldn't be possible without the loving support of my husband Earl Gordon Barnett, and my two children, Alastair and Auden. They are the fuel that refills my engine at the end of the day and all summer long," Barnett shared. "Without them, I don't think that I could do what I do as well as I do it."
Barnett has been a Harris County teacher since August 2009. Since moving to Georgia, she has been an active GAEA member, including assisting with the Capitol Art Exhibit and presenting at both state and national conference.
Principal Lindie Snyder said of her award-winning teacher, "Mrs. Barnett's passion for art is infectious. She works with her students to teach them techniques for young artists at any level of talent. Outside of her classroom, she also works tirelessly to promote art education as our county's district art teacher leader as well as being a driving force for the arts for our region as well as at the state level."
Originally from Upstate New York, Barnett, her husband, and two children reside in LaGrange. She attended Binghamton University for undergrad and Marywood University in NE Pennsylvania for her master's in Art Education. She moved to Georgia in late 2008 and started teaching at Creekside Intermediate School in 2009, when it originally opened.