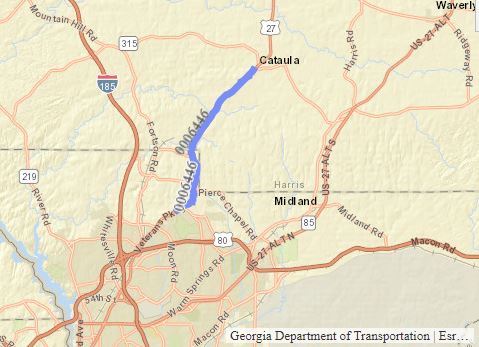 What:  The Georgia DOT's TIA Program will hold a Location and Design Public Information Open House on Monday, July 8, 2019 from 4:30 – 7:00 p.m. at the Pierce Chapel United Methodist Church, 5122 Pierce Chapel Road, Midland, Georgia. The event regards P.I. No. 0006446 – Harris and Muscogee Counties, which proposes to widen the existing two-lane and three-lane US 27/Georgia 1 to a four-lane section with a four-foot flush median from Turnberry Lane in Muscogee County to just north of East Bonacre Road in Harris County, then overlay the existing roadway to Georgia 315 in Cataula. The Georgia 315 intersection with US 17/Georgia 1 is proposed to be a new location roundabout.

The Open House will provide the public with an opportunity to view the proposed project, ask questions and give comments. The event will be informal and citizens are invited to attend any time during the hours. There will be no formal presentation. A court reporter will be present to allow the public the opportunity to verbally comment.
Written statements concerning this project will be accepted until Monday, July 22, 2019, and may be submitted to: Mr. Kenneth Franks, State TIA Administrator, Georgia DOT, 600 West Peachtree Street NW – 11th Floor, Atlanta, GA 30308, or by email to: TIAComments@dot.ga.gov.
Americans With Disabilities Act (ADA) Information: The meeting site is accessible to people with disabilities. Accommodations can be arranged with advance notice by calling Harland Smith at 706-646-7566.
When: Monday, July 8, 2019 from 4:30 – 7:00 p.m.
Where: Pierce Chapel United Methodist Church, 5122 Pierce Chapel Road, Midland, Georgia