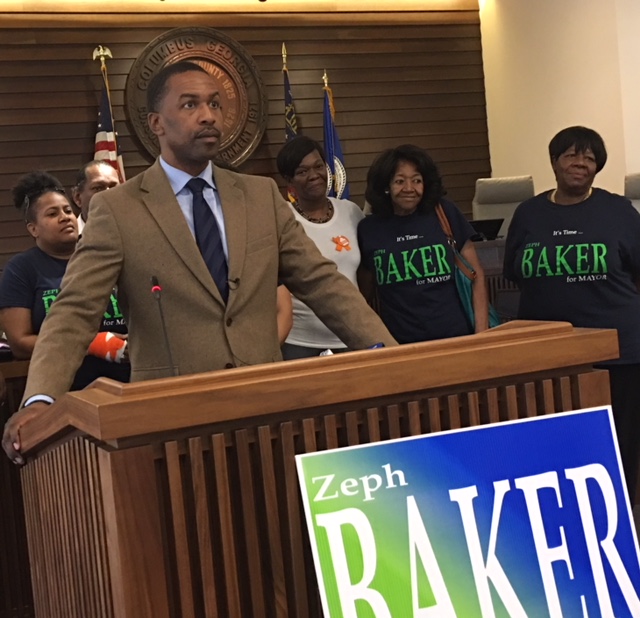 Already waiting on a ruling from a local court regarding his legal residency, Columbus mayoral candidate Zeph Baker now faces reports that in 2016 a Superior Court judge in Coweta County granted his wife a temporary protective order after she expressed fear being in their house alone with him following examples of domestic violence.
More recent than that court action is a petition for divorce filed last week by Sharon Baker Cosby. The open divorce case is pending in that same court in Newnan, a representative of the Clerk of Court's office said on Monday. Filed on April 17, 2018, the candidate's spouse claims their marriage is "irrevocably broken."
"Divorce papers were served (on Baker) by a private process server on April 20 at his Lantana Way address," according to S. Mark Mitchell, an attorney in Newnan who represents Cosby in the latest case.
A previous divorce suit filed by Baker on Jan. 3, 2017 was dismissed.
Court records in Coweta County indicate the couple's problems first became public in 2016 when — under the state's Family Violence Act — Sharon Baker Cosby asked the court to keep her husband at least 500 yards away from her, to order him to undergo a batterer's intervention program and to have him vacate the family residence at 40 Lantana Way in Newnan, Ga.
In the petition filed on March 30, 2016, Baker's wife Sharon said they were present or past spouses and that they were "currently living in the same household."
That last statement is interesting because 40 Lantana Way is the address that Beth Harris — one of his opponents in the 2018 mayor's race, claimed was Baker's legal residence, which would have prevented him from running for mayor of Columbus.
Nearly three weeks ago, the Muscogee Board of Elections and Registration rejected Harris's complaint and, in a 3-1 decision, found that Baker's legal residence is 1091 Bolton Court in Columbus where he produced evidence that he has lived for 17 years.
Harris has appealed the board's decision to Muscogee County Superior Court and she is awaiting a hearing in front of Judge Maureen Gottfried to be scheduled. Early voting begins April 30 and the election is May 22.
The deadline to register to vote is Tuesday.
Overshadowing the crowded six-person race for mayor of Columbus are the non-political issues that are mounting in the Baker camp. It started with the question of residency, but others have surfaced.
Most recent was a speeding ticket on I-185 South in Muscogee County at 8:30 a.m. on April 14th in which the candidate was clocked at 90 mph. A Columbus officer issued him a ticket him for going 85 mph keeping Baker under the state's Super Speeder threshold. His true speed was notated on his ticket, police sources say.
In the past there was an arrest in Coweta on traffic charges and ongoing allegations about election violations during his previous political campaigns for the Georgia House, mayor of Columbus and Columbus Council.
But the most serious allegation that Harris has been helping circulate on local social media sites are the Family Violence charges from two years ago that are made in Cosby's petition for a restraining order against her husband.
The situations described took place at the house in the impressive Newnan subdivision where Cosby and Baker resided until recently with their blended family — her son along with his son and daughter. Baker has said the couple bought that house so his wife would have an easier commute to her office in Metro Atlanta and his son would be closer to his classes at Georgia State University.
According to the civil action filed by Cosby more than two years ago, his wife alleged that on or about March 29, 2016, Baker "committed the following acts of family violence against (her) and/or the minor children:"
"Followed her from her work to Applebees … upon her arrival at home he forced her to sit and talk, would not let her leave chair to get her phone, restrained and grabbed her, blocked her as she tried to leave to find safety, prevented her from calling for help, held her down on couch in front of two minor children (15 yo girl and 17 yo boy, ripped alarm off of wall as she tried to call police, wouldn't let her leave house. Police were called and came to house. (She) is afraid to be alone with (him) at house. (Her) 11-year-old son is unsafe at house with (him).
In her petition, Cosby — a psychiatrist who has offices in the Atlanta area — also mentioned other acts of violence during that same time frame in 2016.
"Followed (spouse) and female friend to Atlanta, confronting them on a public street, following them to place of work and threatening with a gun. (Baker) tried to burn (Cosby) with hot iron on vacation and has sent nude photos of her to a stranger."
 The 10-day protective order — granted that day — was in effect from March 30 until April 9, 2016.
The order cited Baker for violating Georgia's Family Violence Act by placing his wife in reasonable fear for her safety and represents a credible threat to her physical safety and/or her children's. Judge Emory Palmer also ruled that Baker's two children would be able to live with Cosby in the Lantana Way house so they "could stay enrolled at Northgate High School" in Coweta County.
Baker and Harris are two of the six mayoral candidates on the May 22 ballot that are vying to succeed two-term Mayor Teresa Tomlinson. Under the city charter she cannot succeed herself. Joining them in the non-partisan race are Danny Arcencibia, Berry "Skip" Henderson, Charles Roberts and Winfred Shipman Jr.