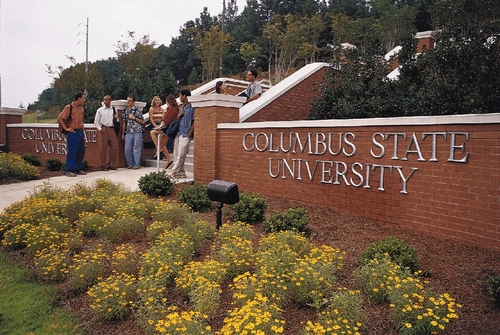 Four Columbus State University ROTC cadets – including a husband and wife pair – will be sworn into office Friday during the Army's largest ever National Commissioning Ceremony. Scheduled for June 12 at 10 a.m., the virtual event will celebrate the Class of 2020, as more than 1,000 Second Lieutenants from across the Nation take their oath.
During the ceremony Secretary of the Army, the Honorable Ryan McCarthy will lead the Cadets as they recite the Oath of Commissioned Officers and become Second Lieutenants in the U.S.  Army.  Cadets will participate from their homes via Facebook and YouTube live events.
CSU graduates to be commissioned include Durrell Blake, Tatianna Blake, Kenney Brown, and Alexander Yue.
Durrell, who commissioned as an Engineer Officer, and Tatianna, who commissioned as a transportation officer, are husband and wife. They met through CSU's ROTC program and married last year. Durrell previously served as an enlisted soldier before accepting the Green-to-Gold Hip Pocket Scholarship to attend CSU, where he majored in kinesiology with a concentration in Exercise Science. Tatianna earned her degree in biology with a concentration in pre-veterinarian medicine and a minor in military science and advanced leadership. The couple will be stationed together at Fort Hood, Texas.
Brown will specifically be mentioned during the ceremony. He was selected out of hundreds of cadets to be featured. He recently commissioned into the United States Army as an Infantry Officer. Originally from Albany, Ga, he received a bachelors degree in Business Administration with a focus in Finance. He will be stationed at Ft Bragg, North Carolina.
Yue recently graduated from CSU with a bachelor of science in biology and a bachelor of arts in chemistry. Earlier this year, Yue received CSU's Faculty Cup award, the highest honor presented to one graduating CSU student each year. Yue is now in medical school at Emory University, commissioned with an educational delay, and will be joining the Army Medical Corps after graduating from medical school.
Approximately 70 percent of all new officers entering the Army each year are commissioned through Army ROTC.  It is available at nearly 1,000 college campuses nationwide, ranging from Harvard to Berkley–from Tufts to The Ohio State University.  This year the Command is set to exceed its commissioning goal with over 6,000 new second lieutenants.
Army ROTC teaches leadership and discipline, management techniques, cultural awareness and problem solving. Those who participate in Army ROTC develop leadership and managerial skills that last a lifetime. Today's scholar will be tomorrow's leader of the most powerful Army in human history.
Army ROTC is also the Nation's largest grantor of college scholarships, awarding more than $340 million this year.  These merit-based benefits provide approximately 15,000 students each year with academic scholarships and monthly stipends, while they are in the program.
The Friday commissioning ceremony can be watched live on the Army ROTC's Facebook account or YouTube account.