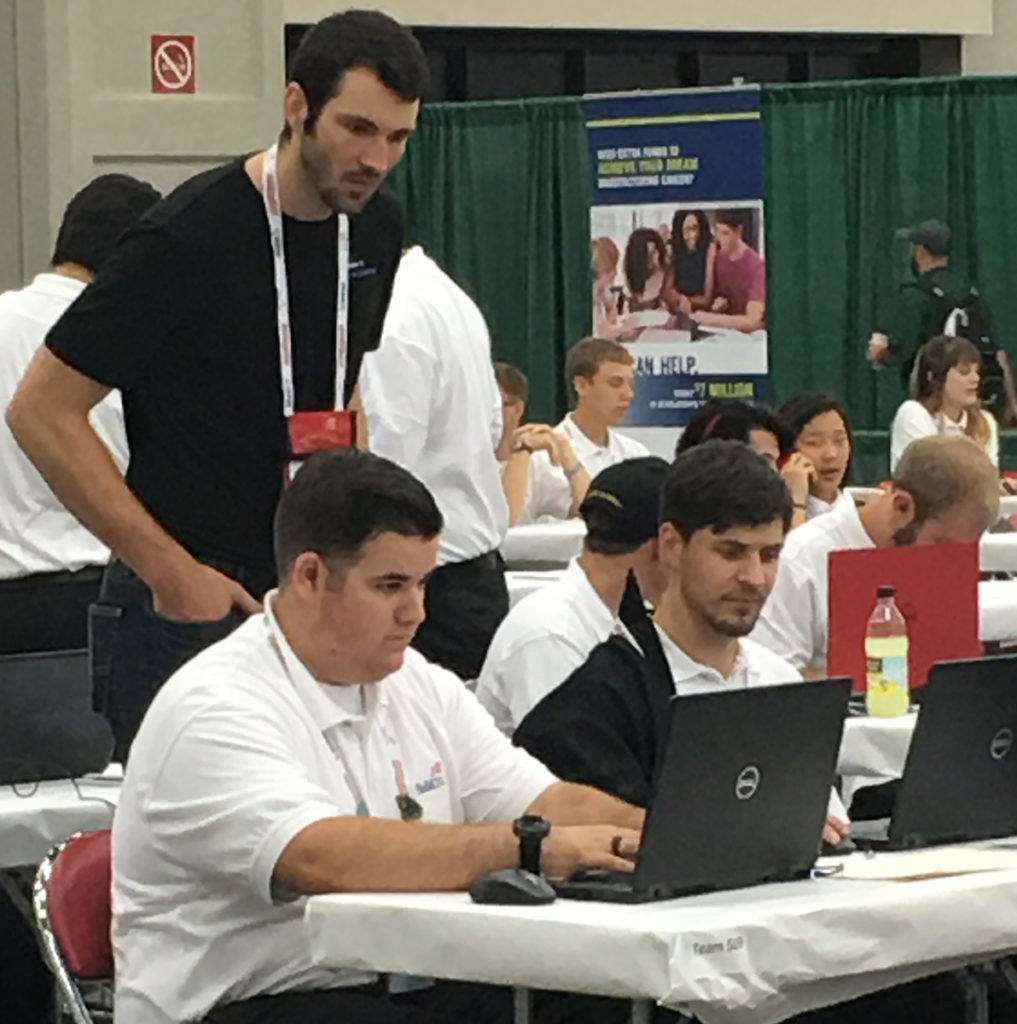 Six South Georgia Technical College (SGTC) students earned the right to compete in the SkillsUSA National Leadership and Skills Conference in Louisville, KY recently and each of the students advanced to the final rounds of their respective competitions. In order to advance to the SkillsUSA Nationals, the South Georgia Technical College students had to finish first in the Georgia competition.

The students who advanced to the SkillsUSA National competition included: Ethan Lyle in aviation maintenance technology; Charles Westra and Tison Smith (team of two) in the additive manufacturing competition; and Joel Barnes, Jake Lamb and James McAllister (team of three) in the chapter display competition. Ashley Holland also attended the SkillsUSA National conference in Louisville for being elected as a SkillsUSA Georgia Postsecondary 2019-2020 State Officer.
South Georgia Technical College President Dr. John Watford accompanied the students and their instructors and advisors on the trip and congratulated each of the students and their instructors for their efforts. "In order to earn the right to compete at the SkillsUSA Nationals, these students had to prove themselves by winning at local and state competitions. Each of these students were ranked as the best in Georgia. When they advanced to the national level, they were competing against the top students in their fields from around the nation. I am very proud of them for advancing to the final rounds of this competition," said Dr. Watford. "This speaks volumes about how well our students are prepared for the workforce."
In addition to Dr. Watford, South Georgia Technical College administrators and instructors who represented the college at the national event were: SGTC Assistant Vice President for Student Affairs Vanessa Wall, Director of Career Services Cynthia Carter, Financial Aid Director Carrie Wilder, Precision Manufacturing and Machining Instructor Chad Brown, Aviation Maintenance Instructors Victoria Herron and Charles Christmas and General Education Instructor Dr. Michelle Seay Small.
SGTC Director of Career Services' Cynthia Carter is a member of the TCSG Planning Committee and a National Education Team member. She met with various employers during the SkillsUSA National Leadership and Skills Conference while the group was in Louisville. She and Dr. Michele Seay Small, NET member for Job Interview, discussed students careers with industry leaders.
Over 40 plus business and industry leaders were on hand to meet with students, including: Boeing, Newport Shipbuilding, COX Automotive, Gerber Collision Repair, General Electric and more.
SkillsUSA is a national membership student organization that helps middle school, high school and college students who are preparing for a career in a trade, technical or skilled service occupation. The organization serves more than 335,000 students and instructors annually through hosting workforce-based competitions for the students to compete in.
This is a press release from South Georgia Technical College.