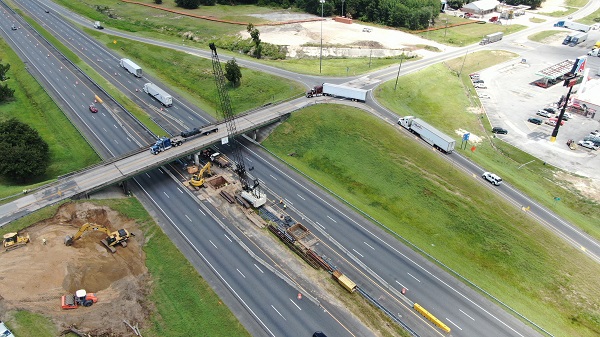 Relocation of an aerial utility line at Exit 2/Bellville Road in Lowndes County will affect Interstate 75 traffic for two nights this week.
On Tuesday, July 28, the I-75 southbound on ramp will close at 10 p.m. for work associated with moving the aerial line. That ramp will reopen and the northbound off ramp will then temporarily close. Each ramp is expected to be closed about 30 minutes.
On Wednesday, July 29, the same ramps will close at 10 p.m. At 11 p.m. law enforcement will begin pacing I-75 traffic in both directions to allow the utility company to safely lower the line and attach it to the bridge. Traffic pacing should end within 10 minutes.
The utility line relocation has to be done to move forward with the reconstruction of the Exit 2 interchange. Work has just gotten under way and the project is expected to be finished in the summer of 2022. The $27 million Georgia Department of Transportation project will improve operation and accommodate any future interstate widening. The new bridge will be built to the south of the existing bridge that was built in 1961. It will be one lane in each direction with a raised median, sidewalk and curb and gutter.