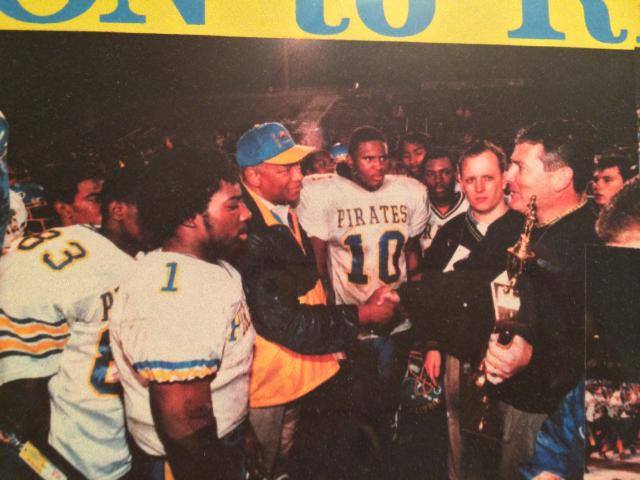 Today, AllOnGeorgia releases the third installment of "You Tell Me, MP" featuring legendary Glynn County-based sports writer Murray Poole. In this weekly summer series, current AOG writer Kevin Price will ask Poole a series of questions and the longtime Brunswick News sports editor and 2016 Glynn County Sports Hall of Fame inductee will answer them. Price's goal is to capture the opinions, thoughts and especially the memories that Poole has from yesteryear in local athletics. This week, the county's unoffficial sports historian answers questions related to some of the real-life "characters" he has encountered locally during his long sports writing career.
---
 Murray, you have dealt with a lot of real "characters" during your sports writing career including some who were local coaches. But, you worked with two head football coaches here simultaneously in the 1980s who were both colorful individuals, Brunswick coach John Willis and Glynn Academy coach David McKnight. Coach Willis was a pretty good quote, wasn't he? And you had a hard time quoting McKnight on some of his 'coach-speak', right?
Yes, both Coach Willis and Coach McKnight were very "quotable" during their outstanding coaching careers at Brunswick High and Glynn Academy … but in a very different way!
John Willis talked fast – like I do – and was always optimistic when it came to talking about his Pirates and their chances of victory against area opponents. And never was John more optimistic than in BHS's splendid 1999 season when the powerful Pirates mowed down 14 consecutive foes, including Chattahoochee in the state semifinals in the Georgia Dome, before suffering their only loss at Lowndes in the Class AAAA state championship game.
But again, you never had to worry about filling your story when you talked to Coach Willis. He would rattle off good stuff in a matter of minutes. Now the late David McKnight, he was cut from a different vein. But unlike his old college coach, Vince Dooley, McKnight was never a poor-mouther, one to praise and build up the opposing teams. In fact, he was just the opposite.
When I would say something to him like, "boy, you've got a tough team coming in here this week," David would respond with something like this, "No, we're going to beat their @$$ all over the field!" And I think he believed just that, very confident his Red Terrors would put it to said opponent. And there were many other quotes from the colorful McKnight I couldn't print in the newspaper.
David, most certainly, coached one of the most entertaining Glynn Academy teams ever in 1983 when quarterback Bobby Wilkes was on his way to establishing a new state of Georgia passing record while throwing to a super sophomore receiver named Randy Fisher. But every time I called David McKnight for a story, I was braced to expect the unexpected!
You had a unique relationship with Glynn County's all-time No. 1 sports fan, Sergeant Hoot Ammons. I know you have enough stories on Hoot to write a book and we can't tell them all here today. But, Hoot was the internet before the internet, wasn't he? He called you numerous times a day with sports updates, right? And tell us about the time he got invited to suit up for Glynn Academy football practice, how that came about and also his supposed self-proclaimed "hatred" for the Red Terrors.
Anybody around Glynn County sports from the 1950s to the early 1990s knew all about the legendary Remer "Hoot" Ammons. And Hoot was indeed a legend, especially in his own mind! In my Glynn County Sports Hall of Fame induction speech, I recounted many, many tales of Hoot's exploits but for the sake of space here, I can only offer a morsel of the daily happenings of the life of Mr.  Ammons.
Anyone connected with the newspaper and radio stations here know that Hoot had all the breaking sports news before it came out. And he would call numerous times during the day to give you a score or update you on a postponement, rainout and the like. I can tell you, he would call upwards of 200 people a day — knowing all the phone numbers from memory — and impart his wisdom to the person on the other end of the line. And he simply relished in knowing something big before The Brunswick News and all the radio stations did.
And in his mind, though he was handicapped physically, Hoot could do anything athletically that any other athlete could do, whether that was playing with the First Baptist Church softball team or as you're about to learn, strapping on a football uniform.
Once, and it must have been in the late 1940s or the '50s, Hoot was bragging on and on to Glynn coach C.M. Page what he could do on a football field. Well, as I remember the story, Coach Page let Hoot suit up in full pads one day with the Red Terrors. And if I got the story right, when Hoot once ran the football, Page advised the GA offensive linemen to not block the defensive linemen very well. Of course, the Terror defensive front thus swarmed Hoot as he ran into the line and demonstrated to him that playing football was a bit tougher than he thought it was.
And as far as him not being a fan of Glynn Academy, which is only a couple of blocks from where Hoot and his mom lived, that may have stemmed back to the way the Glynn team roughed him up that day. But I think it was because when Brunswick High came into existence in the late 1960's, Hoot was greatly befriended by BHS's first principal, Robert "Bud" Couch. From then on, it was all Pirates for Hoot Ammons, not the Red Terrors.
I remember I would often play it up with Hoot when Glynn was playing a lesser opponent, saying "the Terrors are better than this team and should have no trouble." And he would respond with something like, "Yeah, in their dreams" or "they've got another thing coming." And though Chuck Fehr's Terror baseball teams were winning region championships at the time and almost always region title contenders, Hoot would say to me, "Hey Poole  (he never called me by my first name), you know why that Glynn team can't ever win?" I said no, tell me. He said," it's because of those bat girls they have in the dugout. They can't concentrate on playing ball!
Also, there was Georgie Saunds. I remember him coming by the newspaper and talking soccer before the sport really became more mainstream. What are your memories of him?
I would have to say Georgie "Golden Boy" Saunds was one of the pioneers of soccer in this area. He simply loved the sport and would often remind me that soccer was the real "football," not the American version that we know and love. But Saunds was a walking, talking promotion for soccer and was an excellent coach and teacher of the game, guiding his Golden Isles and Selden Park-based soccer teams to numerous victories over the clubs from surrounding counties.
He also considered himself quite a cook, bringing a number of his dishes with him for News employees to sample. Like Hoot Ammons, when Georgie passed on, a huge portion of Glynn County sports history was gone with him.
Also Murray, there was James Mincey, aka Billy Baseball. James was a Special Olympian well into his adult years, but he loved the Brunswick High Pirates and would walk from his home in Fairway Oaks to the BHS gym, Glynn County Stadium or Edo Miller to watch the Pirates play. And he loved that letterman's jacket the school once gave him. Oftentimes, he would stop by the newspaper to hitch a ride to Edo Miller and oftentimes the sports writers including yourself would give him a ride home at night after the games. He was full of questions about the Pirates, their won-loss record, when they played next at home, and so forth. He was a riot, wasn't he?
"Billy Baseball" was quite a character and beloved around the Glynn County sports scene by everyone who knew him. I don't think I ever attended a Brunswick High athletic contest during those years without seeing James Mincey there. And the first words he would say to me were, "Murray Poole, where the Pirates?" And with that question, he was always asking where his Brunswick High Pirates were situated in the region standings.
I often wondered how James got to all the games — and he was a regular at Glynn Academy contests also when the Pirates weren't playing at home — but as you mentioned, he would most of the times walk all the way down Altama Avenue to Edo Miller Park and Glynn County Stadium … when he couldn't secure a ride.
But the point is, nothing was going to stop him from being at the ballpark to support his BHS team. And also like you said, James was one proud soul when the school presented him with that letterman's jacket and had it on about every time you saw him, along with his Pirates' baseball cap.
Murray, there was also Herman Wilkes. He called the Glynn games when his son Bobby broke the state single-season passing record in the early 1980s and was throwing all those passes to the likes of Randy Fisher and company. Herman got really excited during games and was probably as much fun to watch and listen to as the action itself on the field. What do you remember about him?
Needless to say, Herman was one proud dad when his son set the state single-season passing record in the fall of 1983. And to make that year extra special for the Wilkes family, Herman was doing the play-by-play for the Red Terror games on WMOG radio.
Wilkes, the former Auburn football player who earlier assisted play-by-play man Ken Kribbs on the Glynn broadcasts, would get extra excited when Bobby was throwing touchdown passes and I will never forget the '83 night in the old Lanier Field press box when Bobby's passing yardage on the season, some 2,130 or so, surpassed the existing state record.
You recall Larry Munson's famous call of the Buck Belue-to-Lindsay Scott 93-yard touchdown pass in 1980 that beat Florida in the final seconds and propelled Georgia on to the national championship, when Munson said, "I broke my chair, I came right through my chair!"
Well, the moment Bobby Wilkes threw the pass that notched the new state record, Herman screamed into his microphone, "BOBBY WILKES HAS JUST SET A NEW ALL-TIME STATE OF GEORGIA PASSING RECORD!" And at the same time, Herman's chair went straight backwards, banging against the back side of the press box. And, as I remember, Herman hit the floor with it. Never has Herman Wilkes been so happy about a fall!
 And Murray, there was also the baseball umpire Frank Williams who I see out and about from time to time. Everyone knew him and would simply yell his first name and give him grief when he was behind the plate. But he thrived off that, didn't he? And he liked it when coaches came to the plate to challenge his calls, didn't he? And he always came over between innings to chat with you about all that and more. He was a talker, wasn't he?
 Frank Williams was certainly a legendary high school umpire here. And you better believe Frank was in charge of every game he called from behind the plate. He would listen to the teams' coaches when they had a beef over one of his calls but when they got squarely in his face and kept ranting and raving, he would dish it right back to the coach, shaking and pointing his finger in their face to make his point why the call wasn't about to be changed.
Also, many times Frank acted like the vocal fans in the stands who were on him non-stop about a call weren't getting to him. He would meander over to the backstop between innings where I always sat keeping the scorebook and say, "I ain't listening to those rednecks up there." But, that said, when some fans kept on yelling at him obnoxiously, he would come back over the next inning and say, "I've about had enough of those rednecks and not going to put up with it any longer."
But Frank Williams was an excellent home plate umpire and he was always nice enough to say good things about my son Chris when he pitched three years for Brunswick High, saying he enjoyed calling when Chris was pitching due to the fact he was always around the plate with his pitches and had a really big breaking curve ball. But then, didn't matter who was on the mound, Frank Williams was truly at home when he donned his ump gear and took his place behind the plate at Edo Miller Park.