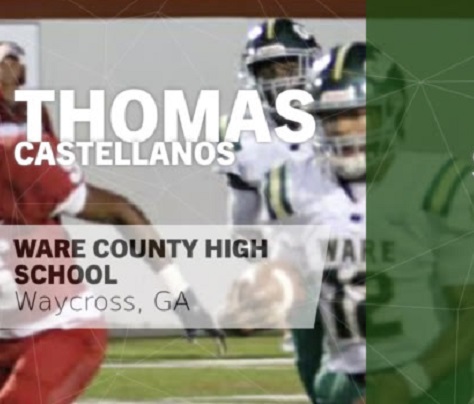 Thomas Castellanos has had a big freshman season as the starting quarterback for Ware County.

And, that big season continued last Friday with Castellanos delivering a huge performance for the Gators in their 35-7 victory at home over Riverdale in the first round of the Class 5A state playoffs.
Castellanos was 5-for-12 passing for 130 yards and a touchdown and he carried 20 times for 149 yards and three more scores.
For his efforts, Castellanos has been named the Southeast Georgia High School Player of the Week.
"Thomas did have a good night throwing the ball, nevertheless, he was able to make enough plays with his legs to help us win our opening playoff game," said Ware head coach Franklin Stephens.
For the season, the 5-foot-11, 190-pound quarterback has thrown for 1181 yards and 11 touchdowns. He has rushed for 764 yards and 14 touchdowns.
Castellanos and the Gators will take on Warner Robins this week in the second round.
To see Castellanos highlights, click here.
Players of the Week
Regular Season
Week 1 – Logan Watson (Camden County)
Week 2 – Kris Coleman (Liberty County)
Week 3 – Isaiah Jackson (Frederica Academy)
Week 4 – MJ Fuller (Wayne County)
Week 5 – Kevin Harris (Bradwell Institute)
Week 6 – Shamar Taylor (Wayne County)
Week 7 – KJ Lee (Brunswick)
Week 8 – John Jones (Pierce County)
Week 9 – T'Shawn Lang (Glynn Academy)
Week 10 – Jamal Polite (Richmond Hill)
Week 11 – Deon Bell (Pierce County)
Week 12 – Sam Wagner (Glynn Academy)
Playoffs
Week 1 – Thomas Castellanos (Ware County)