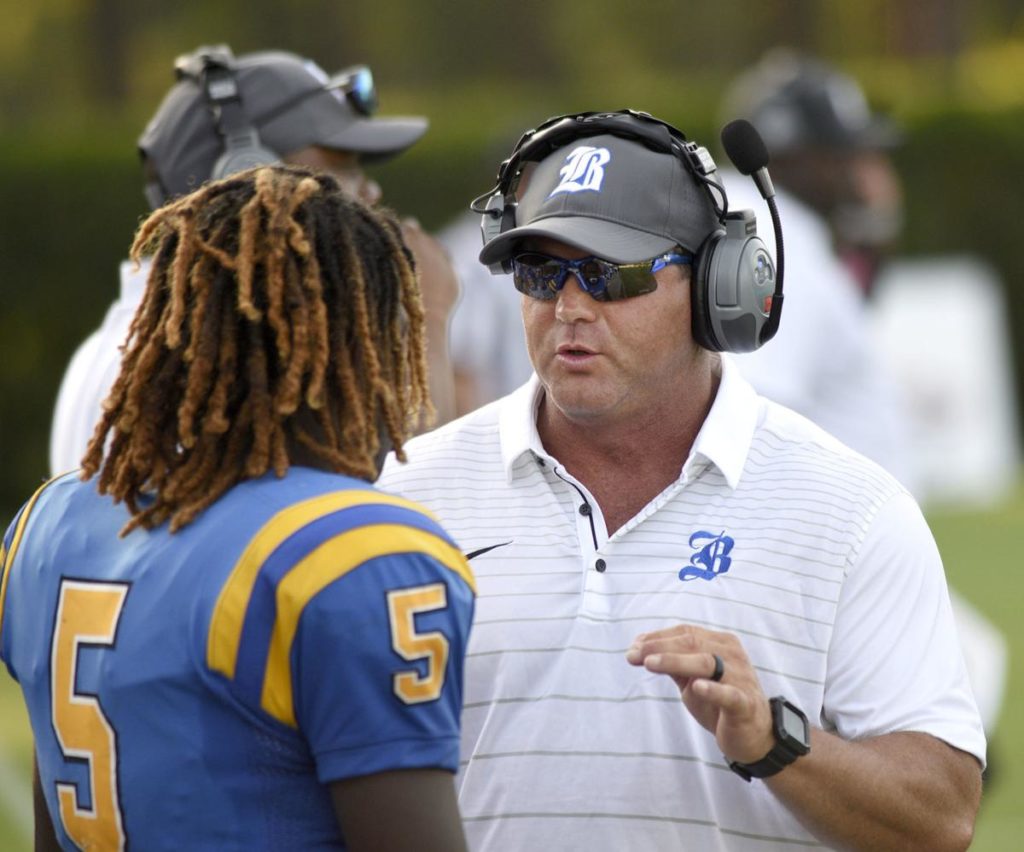 The Brunswick Pirates tuned up for their upcoming 2018 season with a 33-7 victory over the Beach Bulldogs Friday night at Glynn County Stadium.

But according to BHS head coach Sean Pender, who is beginning his second year with the program, the scrimmage was a mixture of some good and bad for his Pirates.
"We did run the ball well, and that's what we wanted to do, but some things we did, I'm still upset about," he said. "We had two turnovers, and we have to eliminate that, and also we turned it over in the red zone which is a double no-no.
"Defensively, for the most part, we played well, but we gave up first downs on penalties, and so we need to do a better job in that sense."
The varsity teams played the first three quarters of the scrimmage before giving way to the junior varsity players for the final 12 minutes.
The scrimmage featured live football other than kickoffs and punts which were immediately ruled dead after they were fielded by a return man.
For Brunswick, the biggest news from the scrimmage involved junior quarterback Anthony Mountain who hobbled off the field following a carry in the second quarter.
Mountain tweaked a knee in practice this week and his status was up in the air for the scrimmage in mid-week.
Pender said Mountain would undergo an MRI next week which will determine the extent of the injury and Mountain's availability going into the season.
Mountain transferred from Glynn Academy and participated in spring practice with the Pirates. He has been battling with returning sophomore KJ Lee for the starting spot, but the Pirates planned to use both players early in the season.
Lee started Friday's contest after having a good week of practice according to Pender. He threw a 29-yard touchdown pass to junior receiver Che Foy on Brunswick's second possession.
Lee also scored on a 16-yard keeper on Brunswick's opening drive of the third period on a fourth-and-4 play.
Lee threw several good balls to receivers throughout the night as he took the rest of the snaps in the varsity scrimmage after Mountain left for good. But, he was the victim of several dropped passes by his receivers which has been a point of frustration for Brunswick's offensive coaches throughout the offseason.
Lee also was intercepted twice including on a tipped pass in the end zone as the Pirates tried to score on the final play before halftime.
He finished with 79 yards rushing on five carries and was 12 of 20 passing for 173 yards.
"KJ did well overall," Pender said. "He's a sophomore, and I have to remember that. He can barely drive a car.
"He's got a strong arm, a live arm and he's making better decisions every day."
Foy, another transfer from Glynn, had three total touchdowns for the Pirates. He scored the team's second touchdown midway through the second quarter on a 12-yard run which followed an earlier 22-yard carry.
He also scored in the third period on an 8-yard run that made it 33-0.
"He's going to line up all over the place for us," Pender said of Foy who was a starting cornerback for the Red Terrors.
Foy finished with 44 yards rushing on three totes.
BHS also got a second-quarter TD run from starting tailback Jaylin Trimmings who scored from 8 yards away on third down to cap a 45-yard drive. He carried for 77 yards on 10 attempts but suffered a bruised hip which limited his carries for the night.
Before Trimmings scored, Mountain had runs of 16 and 15 yards, but on his third carry, he ran into the line and came off the field limping after the play, ending his night and leaving his status for next Friday's season opener at Coffee unclear.
The Bulldogs didn't score until late in the third quarter when they covered 70 yards in seven plays, getting a 5-yard touchdown run by senior Cameron Reid.
The highlight of the drive was an acrobatic catch by senior receiver Tyrese Martin on a pass by junior quarterback Jalen Wells that was good for a 20-yard gain.
In the first period, the Pirates stopped an early Beach drive with a quarterback sack on fourth down.
"I'll be able to see more when we watch the film," Pender said.
"We made some adjustments after our spring game at Ware County and we looked better tonight than we did then. We've improved over the summer."
The following is a recap of other scrimmages involving local teams:
Valdosta 64, Glynn Academy 26
The Red Terrors saw the Wildcats break in their new huge scoreboard at Bazemore-Hyder Stadium by scoring a bunch of points in the preseason scrimmage between two of the better programs in the Class 6A ranks.
Glynn, which lost in the state semifinals a year ago to Lee County, defeated Valdosta, the 2016 state champion, in the opening round of the state playoffs last season.
Remember those four straight fumbles in the fourth quarter that cost the Terrors last December in the tough loss to Lee?
Well, Glynn fumbled early and often Friday at Valdosta with the Wildcats taking advantage of the five giveaways by the Terrors in a runaway victory.
The Terrors took a 7-6 lead midway through the opening quarter on an 8-yard run by Quantavious Bostic, and would go up 10-6 before the end of the period on a 40-yard field goal by Chase Gabriel.
Valdosta would score back-to-back touchdowns on passes of 25 and 6 yards with the second one coming after a Glynn fumble deep in its own territory.
The Wildcats raced ahead 28-10 when they returned a fumble by GA sophomore quarterback TJ Harris for a score.
But midway through the second stanza, Glynn's featured running back Nolan Grant broke free for a 55-yard gain, leading to an 8-yard TD run by Lewis that made the score 28-16.
Valdosta scored a rushing touchdown from 24 yards out with just over two minutes to go before halftime.
Glynn, though, would close the half executing its two-minute offense and scoring on a 1-yard run by Grant to make for a 35-23 intermission score.
With the varsity players going for one more quarter, Valdosta ran away from Glynn as the Terrors got careless with the ball again.
The Wildcats scored off a Glynn turnover on its side of the field and converted a two-point play just moments into the third quarter.
Valdosta then hit the 50-point mark, throwing a bomb for touchdown and getting the point-after.
Glynn's only points in the third came on a 49-yard field goal by Gabriel who showed off his powerful leg in the Terrors' spring game in May.
The Wildcats scored a pair of rushing touchdowns before the end of the third quarter, the second one coming after yet another fumble by the Terrors.
For the game, Valdosta finished with nearly 400 yards of total offense. Tate Rodemaker threw for 244 yards and five touchdowns.
Glynn finished with 298 yards with 256 coming on the ground.
Glynn opens its season next Friday at home against Fort Dorchester (S.C.).
Frederica Academy 37, Bethesda 6
The Knights had an easy time in their scrimmage on St. Simons Island as they featured their fast-paced spread offense.
Jaylin Simpson's first two passes went for touchdowns. The senior quarterback and Auburn commit hooked up with Denver Anthony and Jashawn Sheffield for those two scores.
Sheffield also is committed to Auburn.
Also for the Knights, Patrick Brunson caught a long touchdown pass and Isaiah Jackson, Frederica's featured running back, scored on a long run.
The Knights will host public-school power Charlton County next Friday night in their season opener.