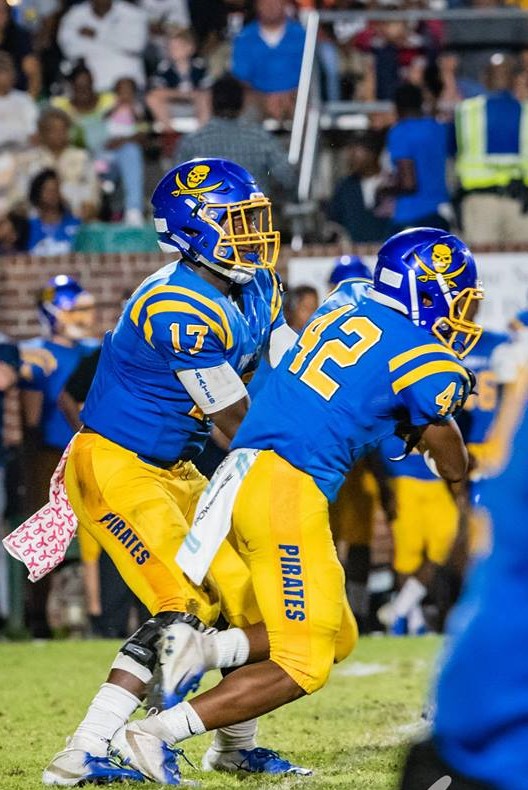 The Brunswick Pirates face a must-win situation Friday night against Bradwell Institute at Olvey Field in Hinesville.
Win, and the Pirates will have a chance to make the playoffs, though that still won't be guaranteed with a victory over the Tigers.
Lose, though, and Brunswick will have definitely played its last game in 2018.
In the five-team Region 2-6A, a team must win at least one game to qualify for the postseason.
The Pirates go into their season finale against the Tigers with 3-6 overall record that includes an 0-3 record in region games. Their region losses were to Richmond Hill (41-7), Effingham (45-14) and Glynn Academy (17-12).
Bradwell, on the other hand, is 3-5 overall with a 1-1 record in league play. The Tigers defeated Effingham (27-8) and lost to Richmond Hill (23-19). They will host Glynn next week to end the season.
If they were to beat Bradwell on Friday, the best the Pirates can do is finish fourth in the region and thus they would draw the league champion from Region 3 in the first round of the state playoffs.
Brunswick would finished tied with the Tigers with one league loss if the Pirates were to win Friday and Bradwell also lost to Glynn next week. In that scenario, the Pirates would get the fourth seed by virtue of their head-to-head win over the Tigers.
Thing is, even with a win, Brunswick could end up in a three-way tie for the fourth spot with Bradwell and Effingham if both teams lost their final two league games. The Rebels play Glynn this week and Richmond Hill next week.
In this scenario, the tiebreaker would be thge fewest points allowed in the region games involving the three teams with 25 being the most points counted against any team.
We already know that Effingham would have allowed the maximum 25 to Bradwell and 14 to Brunswick for a total of 39 points.
Bradwell gave up just 8 to Effingham and could give up no more than 25 to the Pirates which would amount to 33 total points.
If this were to happen, the Pirates could win the tiebreaker if they gave up no more than 7 points to Bradwell to go with the 25 they allowed Effingham for a total of 32 points.
For every point under 25 the Pirates score against Bradwell, they would also have to allow one less point. For instance if Brunswick scored 24 points against the Tigers on Friday, the Pirates could only allow six. This would mean Bradwell would have given up 32 points to 31 by the Pirates.
Still, Brunswick could also defeat the Tigers and not get in the playoffs. That would happen if Bradwell defeated Glynn next week.
Should that happen, the Pirates would end up tied only with Effingham if the Rebels lost their final two games and Effingham holds the edge over the Pirates with the head-to-head win.
Also if Bradwell were to beat Glynn next week and Effingham were to win one of its final two, every other team in the region would have at least two league wins and the Pirates wouldn't make the playoffs with just their one win over Bradwell.
Bottom line is, the Pirates need to win, score as many points as they possibly can, though only 25 will go toward the tiebreaker rules, and give up the least amount possible up to seven which is also crucial to their chances with the tiebreaker.
"We're gonna have to play real good defensive football," said BHS coach Sean Pender, "and offensively we have to do a better job finishing drives."
The biggest key for Brunswick is slowing down Bradwell senior running back Kevin Harris who is committed to South Carolina. The 215-pounder is a workhorse back for the Tigers and leads the team with 966 yards rushing and 13 touchdowns.
Harris is averaging 6.5 yards per carry and 138 yards per game in seven games played. He gained a season-high 226 yards in a loss to Wayne County. He has carried for more than 140 yards three other times as he went for 148 last week against Richmnd Hill, 154 against Tattnall County and 197 in Bradwell's region win over Effingham.
Harris has 148 carries this season while no other Bradwell rusher has more than 52.
Bradwell quarterback Vencent Harris has thrown for 1,030 yards and four touchdowns while averaging almost 129 passing yards a game.
Pender said the Tigers do a good job keeping the defense honest by mixing the pass with the run and giving the ball or executing fakes to other ball carriers other than Harris.
"We know their bread and butter is going to be power," Pender said. "But, they have a good scheme and it fits their running back well."
Harris gained 146 yards on 30 carries and scored two touchdowns against Brunswick last year in the Pirates' 63-21 win.
Pender said he will stick with a two-quarterback system in Friday's finale against the Tigers. Junior Anthony Mountain started last week against Glynn with sophomore KJ Lee coming off the bench.
Mountain is the likely starter again Friday, said Pender.
Brunswick lost 21-18 to the Tigers in Hinesville in 2016 under Larry Harold who resigned under pressure after only his second season at the BHS helm which ended with a 5-5 record and a 1-3 region mark. The loss to the Tigers came in Brunswick's third game in a nine-day span as the season schedule was altered mid-season that year by Hurricane Matthew which blew by the Georgia coast that October.
Kickoff on Friday is set for 7:30 p.m.