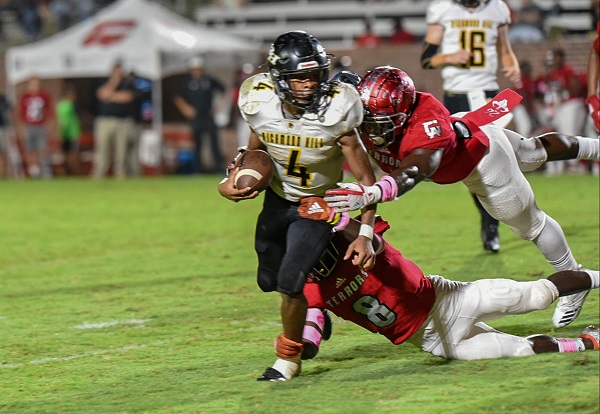 Glynn Academy coach Rocky Hidalgo said last week the Red Terrors had won or shared the last three region titles because they played the best defense in the league.
The fifth-year Glynn coach said that if the Terrors could play strong defense again over the next four weeks they would likely claim another region crown.
Well, so far, so good.
The Terrors put on a defensive clinic Friday night at Glynn County Stadium as the GA stop-em unit returned a pair of touchdowns and also returned a block field goal for a score to lead the Terrors to a 28-3 victory over Richmond Hill in their Region 2-6A opener.
"That's right and that's what we did," Hidalgo said when reminded of his comments last week during Glynn's off week. "Our kids played hard. If our kids will show up, play hard and fast, we'll continue to win."
The victory was the first for Glynn since Aug. 31 when the Terrors routed Groves at home. The Terrors (4-3) had an open week after that game, then lost three straight on the road at Wayne County, Ware County and Camden County before having their second off week last week prior to beginning region action.
The GA coaches watched last week's game between Brunswick and Richmond Hill (3-4 overall, 1-1 region) from the field and saw the Wildcats thump the Pirates 41-7 with a power running game and good defense.
Glynn made a quarterback change during its time off, moving senior Sam Wagner, last year's back-up signal-caller, from wideout to quarterback and putting sophomore TJ Lewis, who won the starting quarterback job in the spring, into the open receiver position.
The Terrors moved the ball early, but had a turnover on downs and then an interception deep in Richmond Hill territory on their first two offensive series.
Glynn did score its only offensive touchdown in the fourth quarter when Wagner dashed 33 yards to the Richmond Hill 9-yard line before gaining 6 and 2 yards and then scoring by leaping over the line from a yard out to make for the final 28-3 score.
"We couldn't get into a rhythm tonight offensively," Hidalgo said. "Every time we stepped on the field, we got a flag. I will have to go back and look at the film and see if the penalties were legit or see if the official just wanted to throw his new pink flag as much as he could.
"We're gonna keep getting better. We only had five practices with Sam at quarterback, two last week and three this week. We were prepared to throw the ball over the top if they were going to play man (coverage) and put eight in the box like people have. But once we got up with our defense, we pretty much just handed off and ran the clock."
Glynn's first defensive score came on Richmond Hill's second series after the Wildcats had picked off a Wagner pass to deny a possible GA score deep in their territory. GA senior T'Shawn Lang picked off a Luke Carter pass and returned it 42 yards along the visitors' sideline to put Glynn on the board with three minutes left in the opening quarter.
Just moments into the second quarter, Glynn senior linebacker EJ Thomas would block a 50-yard field goal try and then Glynn got a heads-up play from sophomore cornerback Rayquan Benn. Benn went back to field the ball at the 2 and would come running up the home sideline. He passed midfield with ease and then put a move on two Richmond Hill players around the 30 and paraded into the end zone from there for a touchdown with 10:38 to go in the second stanza.
With Glynn up 14-0, the GA defense would strike again before the end of the first half when JuJuan Floyd picked off a tipped pass and sprinted 34 yards for the Terrors' third score of the night which gave them a commanding 21-0 lead at halftime.
Richmond Hill did score on a 43-yard field goal by senior Anthony Salazar in the third period.
In the fourth quarter, Glynn recovered a dropped lateral in Richmond Hill territory which set up the 37-yard scoring drive which Wagner finished off with his leap into the end zone.
Wagner finished with 60 yards rushing for Glynn while Quantavious Bostic led the team with 66 yards on eight attempts.
"We had the penalties and execution errors, but I thought we blocked better than we have. We're going to fix our mistakes and get better, but we've got to hurry up. We've got three weeks," Hidalgo said, alluding to the playoffs coming up after the next three region games to end the season.
Those big off-tackle runs, including those from the Wildcat formation, that worked for Richmond Hill against Brunswick didn't produce what they did the seven days ago against Glynn's stout defensive line where Marlon Taylor and Torrez Davis controlled their space the night long.
Richmond Hill's top rusher was Jalen Rouse who managed just 47 yards on 26 carries. The visitors' quarterback, Luke Carter, completed 7 of 16 passes for 75 yards.
Glynn will now gear up for next week's City Championship showdown with the rival Brunswick Pirates who dropped their second region game Friday night at Effingham, losing 45-14.
"Just win. That's it," Hidalgo said when asked after Friday's game if he had any early words regarding the city title contest.
In addition to Brunswick losing Friday night, Frederica Academy won big in its game on St. Simons Island against Trinity Christian.
The results of those two games are as follows:
Effingham 45, Brunswick 14
The Pirates suffered a second straight loss in Region 2-6A play Friday night in Springfield in a matchup of two teams that lost their region opener last week.
Effingham (5-3 overall, 1-1 region) fell to Bradwell last Friday at home, but never trailed against the Pirates (3-5, 0-2).
Brunswick outgained the Rebels 284-261, but the Pirates turned over the ball on their first three possessions of the game and would make it hard on themselves with penalties after that.
Still, they trailed only 14-6 at halftime, but Effingham raced away in the second half, outscoring the Pirates 31-8 in the third and fourth stanzas.
"It wasn't just turnovers and penalties, our execution wasn't good, either," said BHS head coach Sean Pender.
Effingham capitalized on Brusnwick's third turnover in the first quarter. The interception gave the home team the ball at the BHS 9-yard line late in the opening period and led to a scoring run by quarterback Jerid Stokes who also passed for two scores in the win.
BHS had to punt on its next series, and the Rebels returned the kick 37 yards to the Brunswick 32, setting up a 3-yard run by House four plays later. He also ran for two points to make it 14-0.
The Pirates put together a scoring drive of 80 yards before halftime which ended with a 19-yard scoring pass from Anthony Moutain to Kyle Patterson. Moutain also rushed for 31 yards on the drive.
Ahead 14-6 going into the third period, the Rebels poured it on thick after halftime.
House, who ran for 144 yards, carried for 50 yards and Effingham's first touchdown in the third quarter.
Brunswick advanced the ball to midfield on its ensuing possession, but a blocked punt by the Rebels led to a scoop and score by Dawson Stone to make it 29-6.
The route was on then.
"It just snowballed from there," Pender said.
Brunswick will attempt to regroup in time to take on Glynn next week in the city title tilt.
"We just have to get back to work, keep grinding and hopefully we can turn this around," Pender said.
Frederica Academy 58, Trinity Christian 15
The Knights put up some staggering numbers Friday night as they powered past Trinity Chrisitian in a Region 2-3A game in the Georgia Independent School Association.
Playing at home, Frederica (6-2 overall, 2-0 league) scored on eight of its first 11 possessions and compiled 532 yards before halftime including 363 on the ground as the Knights won for the sixth game in a row.
Of Frederica's eight scoring drives, six of them were less than a minute.
"That's playing pretty fast," said FA coach Brandon Derrick.
FA's top ball carrier Isaiah Jackson rushed for 214 yards and three TDS in the opening two quarters.
Meantime, senior quarterback Jaylin Simpson completed three of his first four throws for touchdowns. Those went to Patrick Brunson, Jashawn Sheffield and Denver Anthony.
Simpson and Anthony also ran for touchdowns before halftime as Frederica built a 51-7 lead. The Crusaders (4-3, 0-1) scored on a 90-yard kick return in the first half.
Frederica's lone second-half score came on an 18-yard run by Kyle Perez.
Trinity also scored a touchdown late and added the two-point try.
The FA defense intercepted two passes and also recovered a fumble.
"The offense is starting to play fast, and the defense is doing its job," Derrick said.
The Knights are off next week before closing the regular season against John Milledge and Bulloch Academy.