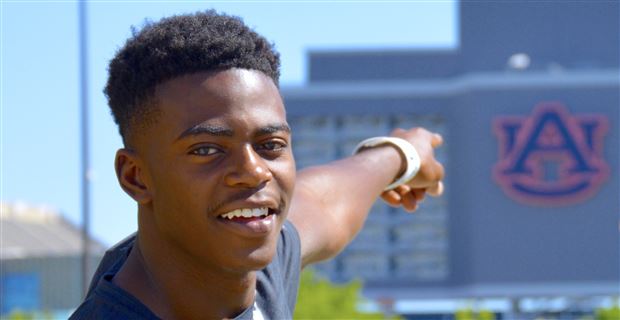 Jaylin Simpson and Jashawn Sheffield will be looking to lead the Frederica Academy football team to a state championship this upcoming season.

And when the two standout athletes have finished their careers with the Knights, they will turn their attention to college football and will continue to play for the same team.
That team will be the Auburn Tigers.
Sheffield announced his commitment to the Tigers over the weekend while Simpson committed to the team at the end of April.
Sheffield announced his decision through a short video posted on Twitter and later posted a statement using the same social media platform.
"I have made my college decision," Sheffield noted. "First I would like to thank God for his many blessings and putting me in this position to further my academic and athletic career. I would also like to thank my mom, sisters, and my grandmother for their support. I would also like to thank my coaches and teammates for pushing me everyday. Thank you to the numerous college coaches who saw something in me to offer me a scholarship as well. With that being said I would like to announce that I am committing to Auburn University."
The 6-foot-1, 178-pounder can play wide receiver or safety. He is rated as the No. 10 athlete in the 2019 class, the 15th-best player in Georgia and a top-15 prospect in the country.
Sheffield had been considered a Auburn lean for some time now especially after Simpson committed to the Tigers. The two players began the recruiting process hoping they could possibly land with the same team.
Sheffield made multiple visits to Auburn since the spring. He visited the school one last time with his mother this past weekend and committed to the Tigers before leaving town.
He said he was also giving serious consideration to Florida State and South Carolina.
Sheffield is a four-star prospect. He said he feels at home on The Plains.
"Great atmosphere. They make me feel like it's family here," Sheffield told SEC Country shortly after his announcement. "Genuine people, I know they really care. They have a good business program. I just think I'm going to have a good time here. I love it here. I'm happy here.
"The first time I came here, I was very happy to be here. I felt like I was home, I didn't even want to go home when I got here. This is it. This is over with. This is my home."
You can watch his video announcement here.
Simpson is also a four-star prospect. He played quarterback this past season for the Knights but is projected as a defensive back for the Tigers.
The 5-11, 185-pound athlete reportedly also had scholarship offers from Alabama, Georgia, Clemson, LSU and Florida State.
Simpson is rated as the 33rd-best prospect in Georgia and the No. 28 athlete in the country for the 2019 class.
He committed to Auburn after making a second visit to the school in late April with his family and also Sheffield.
You can watch Simpson highlights here.