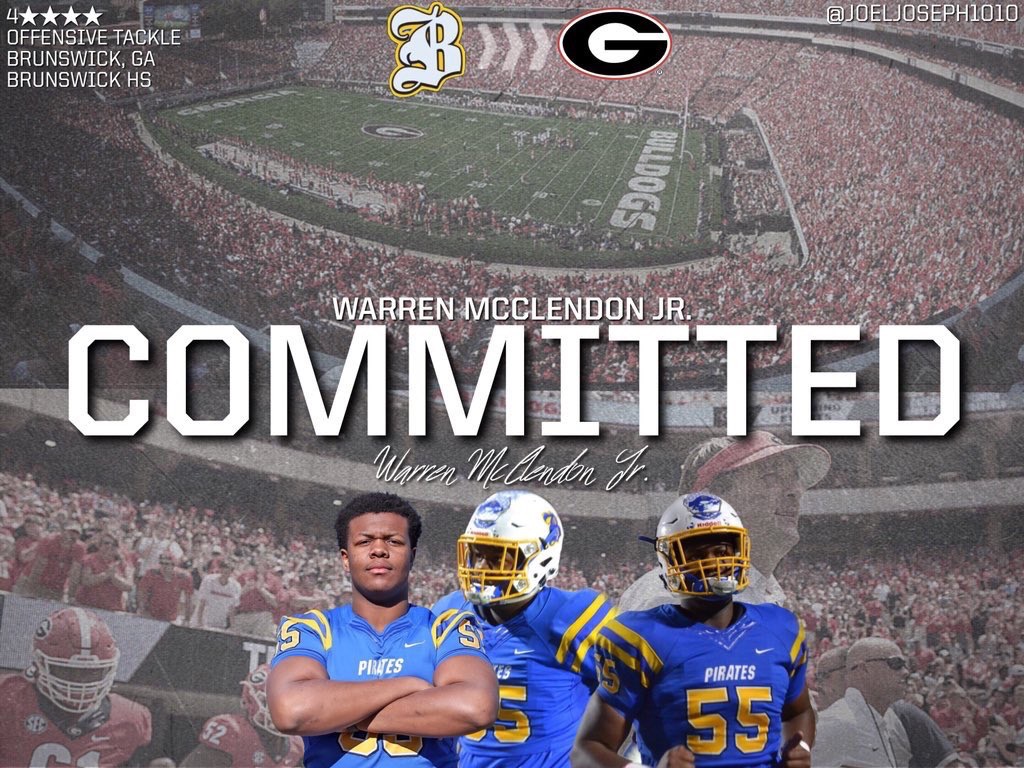 The McClendon name is synonymous with University of Georgia football.
First, Willie McClendon was a star running back for the Bulldogs in the late 1970s and later coached running backs under Ray Goff.
His brother, Tyrone McClendon, was a defensive tackle for the Bulldogs in the mid-80s.
And then, Bryan McClendon, Willie's son, was a receiver for the Bulldogs in the early 2000s before coaching under Mark Richt and then leaving for South Carolina where he is now the Gamecocks' offensive coordinator.
And now, on July 16, 2018, another McClendon has announced that he too will play football for the Bulldogs.
Warren McClendon Jr., a standout senior offensive tackle for the Brunswick High Pirates, went public Monday morning with his decision to play for the Bulldogs, thus following in the footsteps of his uncles who were Glynn Academy standouts and cousin Bryan who played high school football at Mays in Atlanta.
Warren McClendon announced his commitment to the Bulldogs via Twitter.
"First, I would like to thank God for blessing me with the opportunity to play on the next level," McClendon wrote in a tweet. "I would like to thank my parents for supporting me during the recruiting process. Also, I would like to thank all my coaches and teammates. With that being said I'm 100% committed to … THE UNIVERSITY OF GEORGIA."
AllOnGeorgia has scheduled an interview with McClendon and will follow up later this week with a more detailed story on his choosing Georgia and his upcoming senior season with the Pirates.
McClendon is the third Glynn County prospect to commit to a Southeastern Conference school in recent weeks.
Frederica Academy athlete Jaylin Simpson committed to Auburn in late April and fellow Frederica standout Jayshawn Sheffield committed to the Tigers in late June.
McClendon is also the third local athlete to commit to the Bulldogs in the last three years, but he would become the first to play with the team assuming he does enroll at Georgia.
Glynn's Deejay Dallas committed to Georgia prior to his junior year in 2015 but would end up following Richt to Miami after he was dismissed by the Bulldogs.
In June 2016, Brunswick's D'Antne Demery committed to the Bulldogs and signed with them on National Signing Day in February 2017. He was dismissed from the team two months later following misdemeanor charges for simple battery and criminal trepass after Georgia's G-Day scrimmage. He played in the junior college ranks last season.
The earliest McClendon can sign with the Bulldogs is during Decemeber's early signing period. He is yet to decide if he will early enroll at Georgia in January.
McClendon, 6-foot-5, 300 pounds, is rated a 4-star prospect by 247 Sports, Rivals and ESPN.
According to the 247 Sports Composite, which averages recruiting industry ranks and ratings, McClendon is the No. 242 ranked player in the class of 2019, the No. 26 offensive tackle and No. 27 player in the state of Georgia.
He had previously narrowed his list of schools to five that included Auburn, South Carolina, Florida and Tennessee in addition to Georgia.
McClendon said Monday he ended up deciding between Georgia and South Carolina, where his cousin Bryan tried to lure him along with Brent McClendon, Bryan's brother, who is a graduate assistant on the Gamecocks' staff.
He grew up loving the Bulldogs and is now set to become the latest McClendon to don the Red and Black and play Between the Hedges.