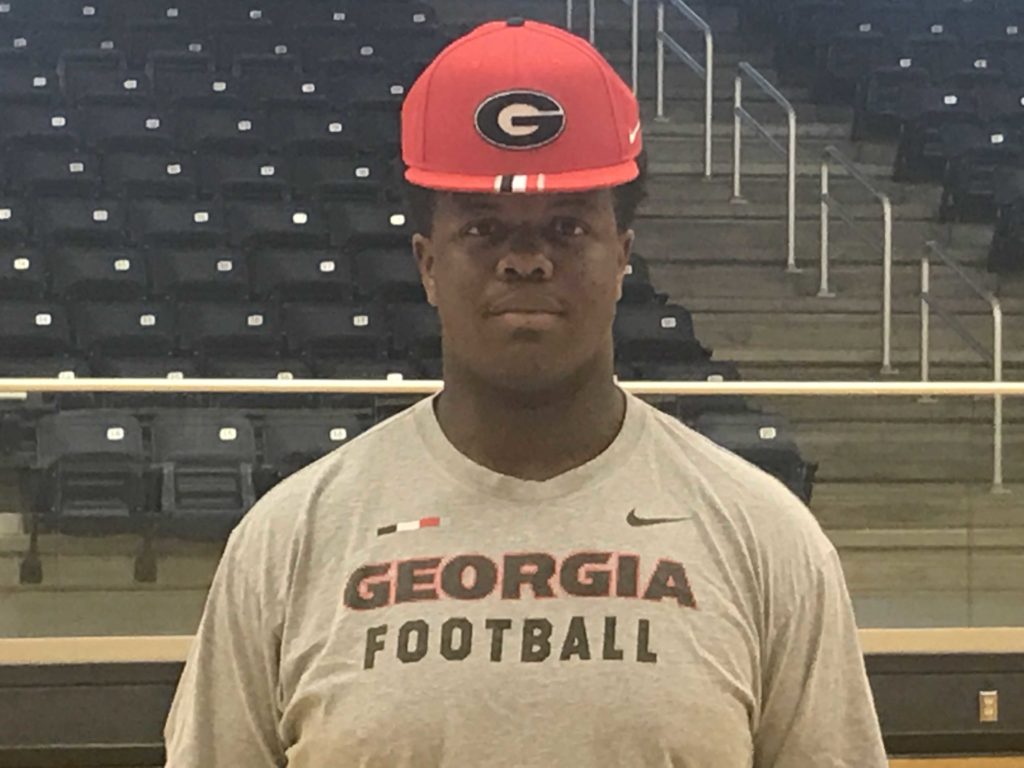 Warren McClendon's face lights up when asked if he would like to have blocked for his uncle Willie when he was running the football for the Georgia Bulldogs.
"Oh yeah, he definitely would have made me look good," he says.
Warren McClendon, who has seen video clips of his uncle playing for the Bulldogs, just announced his commitment to play football for the University of Georgia on Monday, following in the footsteps of Willie, also his uncle Tyrone and his cousin Bryan who all played between Georgia's famed hedges during their college careers.
Willie McClendon was a star running back for the Bulldogs in the late 1970s, setting a UGA single-season rushing record in 1978 that was broken two years later by a freshman named Herschel Walker.
In the middle-1980s, Tyrone McClendon, brother of Willie, signed with Georgia as a defensive lineman.
And then in the early 2000s, Willie's son Bryan was a standout receiver for the Bulldogs while playing for Mark Richt who later hired McClendon to be a member of his coaching staff.
And now this week, Warren McClendon Jr., a highly-touted offensive tackle and rising senior for the Brunswick Pirates, made his commitment to the Bulldogs public with a announcement on Twitter, what else?
His uncle Willie, when reached by phone early Tuesday, said he couldn't be more proud for his nephew even though South Carolina, where Bryan is now the offensive coordinator, finished second in the chase for the 6-foot-3, 305-pound four-star recruit.
"We've been blessed as a family," said McClendon, who starred at Glynn Academy before going to Georgia and later playing for the Chicago Bears. "I signed with the University of Georgia in 1975, and now here we are in 2018, 43 years later, and my nephew is committing to Georgia.
"Never in my wildest imagination would I have thought that two generations of McClendons, myself and my brother Tyrone, and then Bryan and now Warren, would play for the University of Georgia."
When asked if he would have liked to have had his nephew as part of his offensive line, McClendon was quick to offer up an answer.
"Oh absolutely," he said, noting also that Mike "Moonpie" Wilson was the only offensive lineman that approached the 300-pound mark when he played for the Bulldogs. "No doubt about it. I would have loved to have (Warren) blocking for me."
McClendon has only seen his nephew play live in person twice and those were on back-to-back nights when he was a freshman for the Pirates. He saw a Thursday junior varsity game against the Red Terrors and then saw him get into a varsity game the following night against Glynn at Glynn County Stadium.
"It was all one weekend," the elder McClendon remembers. "I was amazed at his agility and what I saw. He understood the blocking scheme and used his feet to his advantage to get into position to play football. I was impressed and told him that on that night."
Georgia and every other school was recruiting McClendon as a tackle, but his uncle believes he could easily play any position along the front going forward.
"I do because of his agility and his footwork, his techique and his understanding of blocking schemes," he said.
Frank Armani, a local Karate instructor, also saw McClendon's quickness and agility as he pursued the black belt he ultimately earned.
"Warren was quiet and actually seemed disconnected until you blew the whistle," Armani said. "Then, he'd explode into action."
His football recruitment didn't take long to explode, either, once he started playing high school football. Alabama was the first school to actually offer McClendon a scholarship following his freshman season at Brunswick.
Other schools would follow suit shortly thereafter with the Bulldogs' new staff led by Kirby Smart giving McClendon his fifth offer when he was a sophomore.
He says he ended up getting 32 offers from Division schools over the last two years.
This spring, he narrowed his list to a top 5 which included Florida, Auburn, Tennessee and South Carolina in addition to Georgia.
He took unofficial visits to all of those schools before deciding to shorten his list to favorites Georgia and South Carolina earlier this summer.
Deciding between the Gamecocks and Bulldogs was like splitting hairs, he said.
"Really, what it came down to was my parents and I made a list of the pros and cons for both schools, and everything equaled up, nothing really separated them," McClendon said.
"We decided to take out the coaching aspect and the family aspect, and then it was Georgia. I'd always been a Georgia fan, and it came down to what was in my heart."
Interestingly, McClendon admitted he was close to committing to the Gamecocks last fall which speaks to the solid job his cousin Bryan and South Carolina offensive line coach Eric Wolford did trying to get him to Columbia.
"I went up there to some games, saw the atmosphere, there was Bryan and Coach Wolford, and I really liked it up there," McClendon said. "I wanted to commit, but my parents told me to wait and make sure that is really what I wanted to do before I commit."
As we all now know, McClendon did change his mind.
Georgia's strong run at last year's national championship and a stern recruiting push by the team's coaches this past offseason, especially that of offensive line coach Sam Pittman, persuaded McClendon to stick with Georgia which had always been his dream school.
"Really everything," he said when asked what he likes most about Georgia. "Coach Pittman started recruiting me really hard. He texts me everyday and calls me a lot also, and Coach Smart has been on the phone with me, too. I knew they were really serious about me."
McClendon visited with the Bulldogs again in mid-June, and while he did not commit on the spot there in Athens, he did tell Smart and Pittman that Georgia had moved back to the top of his list.
He called both coaches earlier this month to give them a verbal commitment but chose not to announce anything publicly until Monday morning.
"I just wanted to make sure again," he said.
McClendon also wanted to send South Carolina a note explaining his decision before it became known by the masses.
His parents thought that was important.
"I think all the coaches know they're gambling, and they're going to lose some and win some, but Coach Wolford spent a lot of time with Warren and had a good relationship with him. We wanted them to know first and not find out with everyone else," said Mclendon's dad, Warren Sr., an educator who has coached both football and basketball locally.
Big Warren and Little Warren – if you can call a 300-pounder such – also both texted Bryan McClendon to inform him of the decision to go with Georgia. He promptly send a congratulatory text back to his younger cousin.
"I talked to him (Tuesday)," Warren Jr. said. "We mostly talked about things other than football."
Warren Sr. said he and his wife wanted their son to make a decision prior to or at least early in his senior season without taking official visits and possibly making the decision any more difficult than it already was by walking away with a stronger impression of any and all of the schools in that final group of five.
Father and son both agreed it probably would have been Georgia or South Carolina now or later.
"The whole recruiting process is stressful. It's crazy, a lot of ups and downs," Warren Jr. said. "It's fun, but I'm very relieved. It's a big stress relief now that it's out of the way. I can focus on school, my senior year and football now."
His father quickly noticed his son's demeanor change after he had decided on Georgia.
"You could see the relief on his face," dad noted. "It was definitely a relief for him. It's an honor to be in that position, but it can be stressful. He handled everything pretty well.
"I feel like he's settled and happy with his decision and we're happy for him."
McClendon's senior year at Brunswick High will actually be over in December. He plans to officially sign with the Bulldogs during the early signing period prior to Christmas and does plan to early enroll at Georgia after the holidays to be there for next year's winter workouts and spring practice.
McClendon, who carries a 3.5 grade-point average and will graduate with honors, needs only an economics class this fall to complete the requirements for his high school diploma.
He has already earned college credits by taking classes at College of Coastal Georgia, located just across the street from Brunswick High on Altama Avenue.
He looks forward to blocking in the future for either Jake Fromm or Justin Fields at the quarterback spot for the Bulldogs, their stable of running backs and also the ever-improving receivers corps.
He also wants to win some conference and national championship rings with the Bulldogs.
"I looked at all that," McClendon said, alluding to his big-picture thinking about the future prospects for the Bulldogs.
His uncle's only piece of advice at the moment is that he best work this fall to get in the best shape possible before he steps foot on the UGA campus.
"And then he's going to realize he's only 50 percent there," Willie McClendon said. "College is a whole different world.
"He's been used to going full-speed in those camps when he competes against the best in the country, and what he's experienced there is what you get everyday in practice at that level. There's no such thing as not going full-speed at that level. The coaches are going to demand it, and the sooner he realizes that and does it, the better off he'll be."
In the meantime, McClendon is better off going to Grandma's house as a UGA commit than that of any other school.
She made it clear that she wanted her sons Willie and Tryone to play for Vince Dooley and the Bulldogs and the 86-year-old Nancy McClendon made it known again that she also felt her big grandson would be better suited going to Athens, too.
"She knows they feed you well at Georgia. That's all she cares about," Warren Sr. said of his mom.
"Oh yeah, she's Georgia all the way," Warren Jr. added. "That did influence me a little bit."
He said his uncle never tried to steer him to any school, specifically Georgia or South Carolina.
"He said to go where I wanted, not go somewhere just because he played there or my cousin played there. He just told me to take my time, think about it and I would know when I was ready to make a decision," he said.
Willie McClendon said he never would have tried to influence his nephew. Well, maybe with one expection, that is.
"As long as it wasn't Florida," he said with a huge laugh.
That off-the-cuff comment got a smile out of Warren McClendon, too.
He expects to be smiling again in December when he signs his national letter of intent to play for Georgia.
"It'll probably be another exciting moment," he said.