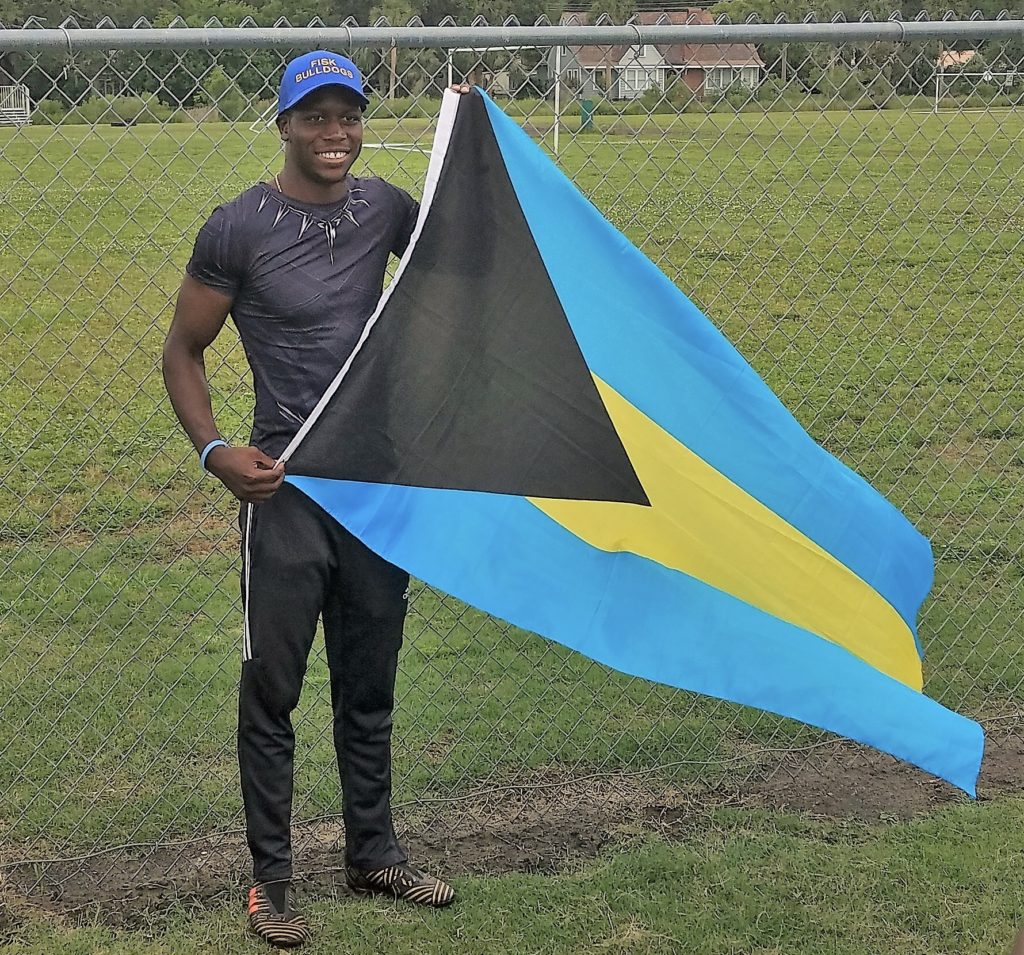 Jaelin Williams knew he would be getting his kicks in on the soccer field this summer while training for his upcoming collegiate season at Fisk University in Nashville.
Thing is, the former Brunswick High player thought he would be playing soccer at home in Brunswick and working with the local Coastal Outreach Soccer Program led by his father Shawn Williams.
His summer plans changed, though, with one phone call back in mid-May. The person on the other end of the phone was Dion Godet, the head coach for the Bahamas men's national soccer team.
Godet was calling to offer Williams an invitation to the team's summer training camp in Nassau.
"Plans changed," Williams said with a laugh. "That was exciting, really exciting."
Now some 10 weeks later, Williams is close to wrapping up his rewarding summer spent with the Bahamas national team and will soon return to the United States to start his first year at Fisk as he joins the team there as a junior transfer.
Before the national team breaks camp, though, the team will play an exhibition match Friday against the Florida Elite in Nassau.
With 32 players participating in the summer camp, the team coaching staff planned to cut the roster to 23 players this week. From there, the coaches will then pick its 18-player travel squad that will compete in the upcoming qualifying matches for the new Concacaf Nations League which will involve the 41 teams that make up Concacaf.
Williams figured to make the cut to 23 players and he hopes to be in the mix to play in the first qualifying match at Belize in September. The Bahamas' roster could also always change for the future matches against Antigua and Barbuda in October, Anguilla in November and Dominica next March.
"Hopefully, everything works out," Williams said. "My ultimate goal is to make the starting 11. It's a process, one step at a time."
Williams, age 20, is eligible to play for the Bahamas as he has dual citizenship in the U.S. and also the Bahamas, his mother's native country. He attended a tryout for the team when he was 16 years old and has kept connections to the national team ever since.
With the Bahamas deciding to revamp its national program and start afresh with a youth movement, Williams was invited to the summer training camp for the team.
"We weren't successful with what we were doing before, so we had to make a critical decision," Godet said. "Four years from now for the next World Cup qualifying, players who were 26, 27, 29 now, they would be 30-plus.
"We decided to go in a new path with younger players, and build not for tomorrow, but four years down the road. The average age of our players now is 21. Most of our players are college folks from the U.S. or academies in the (United Kingdom). We're excited about what we're seeing. We're going the right way."
Williams agreed with the coach' assessment. He said the young players in camp this summer have been dedicated from day one.
"The young kids are driven, pushing to be a great Bahamas team," he said. "Everyone has already made a lot of improvement, and we're moving in the right direction."
For Williams, the early part of camp was eye-opening. He had to adjust to the faster game speed while working as a defender and guarding players with pretty good ball-skills.
"The speed of the game is a lot different. It's more physical, too," he said. "You always have to be focused and be on guard."
He also was like the new kid on the block, the one no one else really knew. Several other players invited to the camp had played with each other in the past while growing up in the Bahamas and living there year-round.
"Me being new, I was also trying to fit in with the group," Williams said.
As camp draws to a close, Williams feels more like one of the guys.
"I feel like I'm more a part of the team. They're more accustomed to me and will play me the ball," he said.
Off the field, Williams hasn't had much time for fun and games. Williams said he has spent some time at the beach, shopping and also sight-seeing.
But between morning and evening practices, he has mostly spent time resting up for the next workout in the family's rented apartment where his company has included his mom, dad and brother at different times throughout the summer.
Williams said it's really too hot to do much else, day or night, so he saves up his energy to be at his best on the practice field.
"It's constantly in the 90s," he said. "There's no AC here, so when it's 90 outside, it's 90 inside, too."
He said the hot temperatures have also made the training sessions brutally tough at times.
"We started our morning practices at 5:30, but by 7 a.m., all the heat starts coming back. We have lights on the field, so it does get a little cooler in the evening when the sun starts to go down," he said.
"But, we've also practiced some in the middle of the day because that's when our game with Belize will be in September, and it's just bad."
The good news is Williams' play has been stellar during the camp. His coach likes what he's seen from the Brunswick native.
"He's been a hard-worker," Godet said. "Like I told his dad, what he lacks in skill he brings in will. He shows up and plays up.
"He's a strong tackler of the ball and has pretty good speed. What he needs to work on is his first-touch and his awareness, just seeing what might develop before it actually develops. He's not the only one with us who needs to work on that, though."
Williams said he feels he has definitely held his own against some of the better players in the team camp.
"I've defended one of our best players in practice every day, and he's so fast, but I've done well against him," Williams said. "We go back and forth. Sometimes, I win. Sometimes, he wins. But, it's always a good competition."
Other than maybe having some cooler weather, Williams said he wouldn't change anything about his summer experience in the Bahamas. Practicing with the national team has already made him a better overall player, he says.
"I've improved a lot with my fitness and speed of play as well. It's really been helpful as far as developing as a player," Williams said.
Godet hopes the Bahamas will continue to develop as a team. It has never qualified for a World Cup, and actually only three times has a Caribbean country ever appeared in soccer's signature event.
The Bahamas is up against a lot of obstacles when it comes to competing on the international stage. One of the biggest is not having the funding it usually takes to build a serious World Cup contender.
But, the coach says his program won't fail for lack of trying.
Godet thinks the Nations League, designed to give all the national associations within Concacaf an opportunity to play more international matches against one another, will help everyone.
But, he says it should especially benefit the smaller countries who won't have to break the bank to play teams close to home on a more regular basis, giving them more games and chances to come together as a team and make them better in the long run.
"We've been going hard these 10 weeks," Godet said. "We had a bunch of brand new balls when we started, and they've lost their coat. We've struck some balls, beat them up.
"I love our guys. They've worked their hineys off. We've got miles to go, but we've at least gained an inch this summer."
And Williams looks forward to possibly sticking around for the journey with the Bahamas team in the days and years to come.
"I'm already preparing for next year. I know what to expect and what I need to focus on," he said.