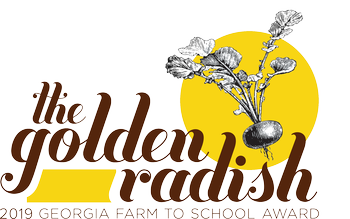 Among the 90 Georgia school systems named as a 2019 Golden Radish Award winner, Glynn County Schools has been recognized as a Bronze-level district – for the second consecutive year – for its best practices in farm to school programs, such as local food procurement, exposing students to new foods through taste tests and incorporating gardening and cooking activities in curriculum.

Dawn Lewis, director of the food and nutrition department for Glynn County Schools, credits her staff and the variety of nutritional options that they provide as a source for this recognition.
"Our staff works very hard to provide an assortment of fresh fruits and vegetables daily.  We also offer a variety of Georgia Grown products on our menu.  This award is a reflection of the hard work our staff does to provide locally grown fresh options daily at our schools," Lewis said.
Some of Glynn County Schools' most notable highlights of farm to school achievements from the 2018-19 school year include the following:
Glyndale Elementary students participated in a biology lesson on hatching eggs.
Pre-K students at St. Simons Elementary participated in cooking activities several times throughout the school year.
Glyndale Elementary, with the help of the school's PTA, partnered with Home Depot to build the school gardens.
Thanks to the Kick'n It With Kale initiative, Glynn County Schools has continued to grow and serve greens into the school year.
Glynn County Schools purchased fresh, organic arugula from Canewater Farm, which delivered 120 pounds of the vegetable to six schools, and planted lettuce in Goodyear Elementary's garden and several of the school nutrition office's planters.
State School Superintendent Richard Woods believes that farm-to-school programs, like the ones listed above, teach children the importance of sustaining healthy choices as they grow and choosing food that promotes long-term learning.
"School nutrition is not an 'extra' – it's part of offering a well-rounded education to students. Kids who have access to fresh, healthy, locally grown foods are better equipped to learn," Woods said.