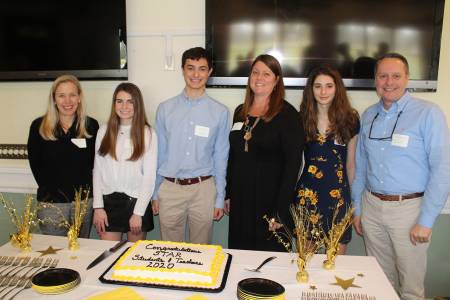 On Tuesday, Feb. 18, Michael Mitchell, a senior at Glynn Academy, was named the STAR student for Glynn County by the GFWC Brunswick Woman's Club and will go on to represent Glynn County at the Region 11 Event at the Okefenokee Country Club in Blackshear. If he wins at this level, he will be considered for the state title at the Professional Association of Georgia Educators (PAGE) Foundation's STAR Banquet held in Atlanta on April 27.
STAR is the Student Teacher Achievement Recognition (STAR) program that honors Georgia's outstanding high school seniors and the teachers who have been most
instrumental in their academic development. Every accredited high school in Georgia is eligible to participate in the STAR program. To obtain the STAR nomination, high school seniors must have the highest score on one test date on the three-part SAT taken through the November test date of their senior year and be in the top 10 percent or top 10 students of their class based on grade point average.
Each high school STAR Student is asked to name his or her STAR Teacher. Keeta selected Heath Horton, his 11th-grade honors calculus teacher.  This is Horton's fourth STAR Teacher designation. (She received the first two in her 4th and 5th year as a teacher. These past two titles mark her 20th and 21st year in teaching.)
The GFWC Brunswick Woman's Club hosted its Annual STAR Recognition Luncheon at the Heritage Oaks Golf Club. Along with Michael, two other students were nominated for the local STAR student recognition: Denise Marie Peifer, of Brunswick High; and Josephine Leavy of Frederica Academy. The teachers who were nominated included BHS teacher  John Hall, as well as Frederica teacher Nicole Walbridge.
Each student and teacher received with certificates for their hard work and dedication to their education.