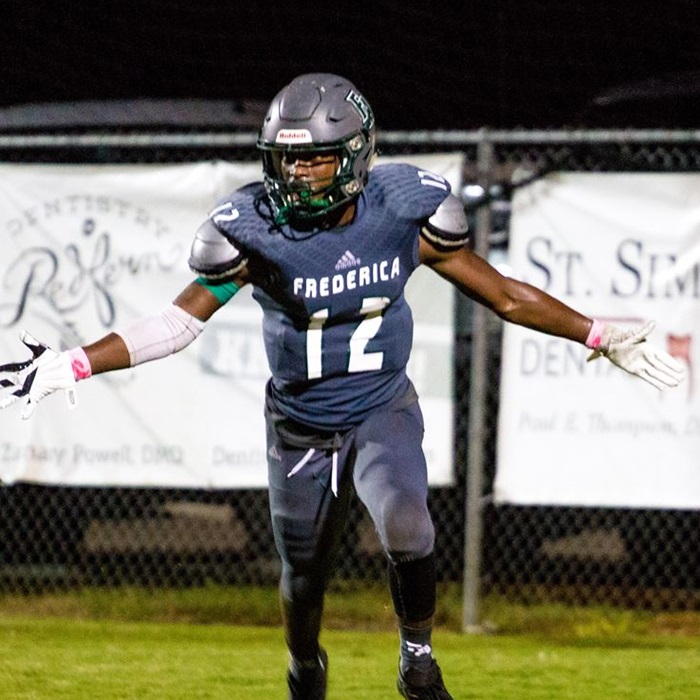 Frederica Academy running back Isaiah Jackson has been named the Southeast Georgia High School Football Player of the Week.
Jackson had a monster game this past Friday night for the Knights as he accounted for 323 total yards and four touchdowns in Frederica's 60-40 victory at Lanier County.
The win was the first of the season for the Knights (1-2) and also the first for the program against a Georgia High School Association opponent in its history.
With several starters not playing in Friday's game including standouts Jaylin Simpson and Jashawn Sheffield, Jackson became go-to-guy for the Knights against the Bulldogs.
The senior running back delivered a stellar performance, carrying 19 times for 213 yards and three touchdowns.
Jackson also had 110 yards on kick returns including a 95-yard return for a touchdown.
His scoring runs from scrimmage covered 43, 25 and 8 yards.
"Isaiah has become the feature back in our system because of his vision, footwork and explosiveness," said Frederica coach Brandon Derrick. "He has become one of the most committed players on our team. He has learned that the weight room is his friend, and you can really start to tell this season because of his power running."
Jackson and the Knights will be at home on St. Simons Island Friday for a game against Bethlehem Christian Academy. Kickoff is set for 7:30 p.m.
Players of the Week
Week 1 – Logan Watson (Camden County)
Week 2 – Kris Coleman (Liberty County)
Week 3 – Isaiah Jackson (Frederica Academy)