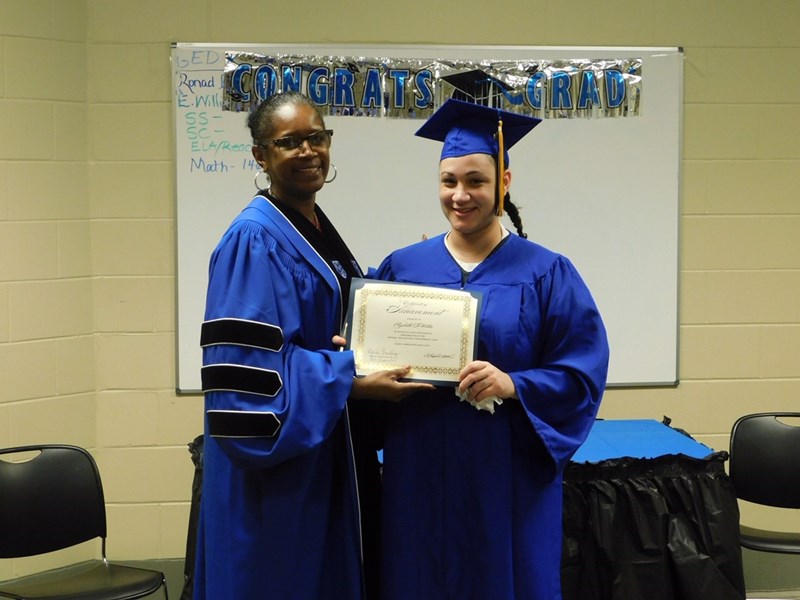 Coastal Pines Technical College (CPTC) announced late last week that another student has received a GED at the Glynn County Detention Center.

CPTC said it is "proud" that Elizabeth Willis is the second student to receive her General Education Development (GED) diploma at the Glynn County Detention Center this academic school year. With the help of her instructor Dr. Sheila Spaulding, a part-time instructor for CPTC Adult Education Program, she was able to successfully complete the GED program.  Staff and students gathered to celebrate Elizabeth's accomplishment with a lunch thrown in her honor.
According to a press release issued last week, Colonel Heath, Captain Stafford, Lieutenant Ribron, Officer Leftwich along with other staff members congratulated the Graduate and her monumental accomplishment. "I am very pleased with the Adult Education Program and look forward to other students successfully completing their GED at Coastal Pines Technical College." Colonel Heath said in the news release.
The Adult Education program at Coastal Pines allows students to start where they are and earn their GED (General Educational Development) diploma. These classes are designed to direct adult learners so that they can compete successfully in today's workplace. With locations in each of the 13 counties in the service area, the road to success begins close to home.
In many cases, Georgia residents earning a GED diploma in Georgia will receive a $500 HOPE Grant to use toward post-secondary education at CPTC or any other college. You can learn more on the Coastal Pines Technical College website.