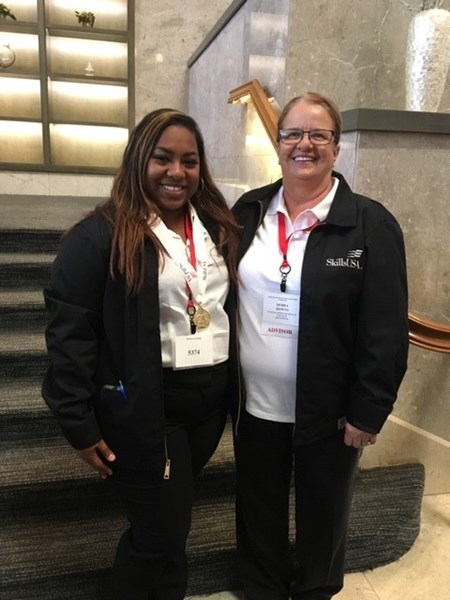 Jodian Fuller, a Medical Assisting student at Coastal Pines Technical College's (CPTC) Golden Isles campus has received several accolades during her time at Coastal Pines. Jodian will graduate at the end of the summer semester with her Medical Assisting Diploma. Jodian is a member of Skills USA and National Technical Honor Society, is a wife, mother of three boys, works a part-time job, and is enrolled in an externship for 32 hours a week.

"I chose Coastal Pines because of the one on one attention you get from your instructors. I have been going to school at Coastal Pines since 2017 and have been so impressed with how helpful the faculty and staff are. Everyone at the college wants to see you succeed and they do everything they can to help you reach your goals." states Jodian.
She recently competed at the Skills USA State competition in Atlanta, Georgia and won a gold medal for Medical Assisting. She will go on to compete at Skills USA Nationals in Kentucky on June 24, 2019 in hopes to bring home another medal for her repertoire. At Nationals, she will compete in two written and one hands on performance test. While in Kentucky, Jodian has been asked to interview for the Skills USA "Champion Magazine" and will be featured in an article titled "Inspiring Champions" and will participate in a photoshoot for the cover of the magazine. Congratulations to Jodian on her successes as a student at Coastal Pines, and well wishes for her future as a Medical Assistant!
You can learn more about the Medical Assisting Program at Coastal Pines Technical College, which is currently running at $100 per credit hour, here –> http://www.coastalpines.edu/programs/medical-assisting/
This is a press release from Coastal Pines Technical College (CPTC)