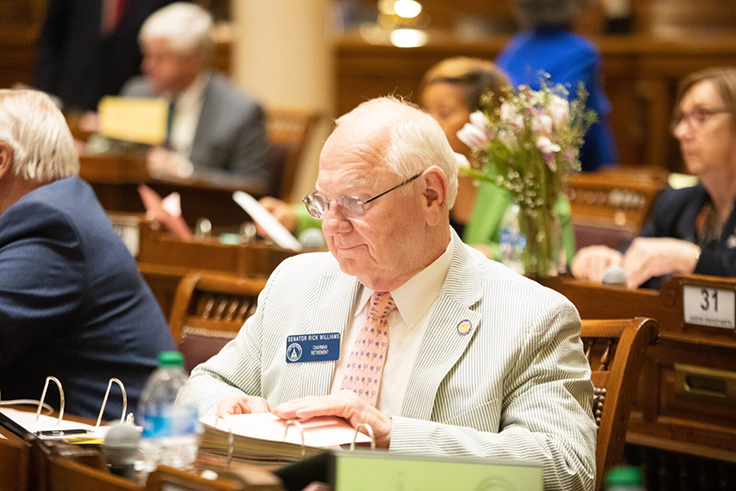 By: Senator Rick Williams (R – Milledgeville)
The 2023 Georgia Legislative Session has finally concluded 40 Legislative Days under the Gold Dome with many late nights and topics up for debate on the Senate floor. There were a multitude of measures passed during our final two days of session, with a few items of note.
This week, the Georgia General Assembly fulfilled our constitutional obligation by adopting the Conference Committee report for House Bill 19, passing the Fiscal Year 2024 Budget. This balanced $32.4 billion dollar budget funds 100% of the HOPE scholarship, offers raises to state employees, and further supports the needs of our vital state agencies. Both chambers worked hard to carefully craft this budget and reconcile differences. I am appreciative of the hard work by the entire Senate Committee on Appropriations and the Senate Budget and Evaluation Office.
House Bill 121, which was carried by Sen. John Kennedy (R – Macon) also passed this week. This legislation would prohibit wakeboarding or wake surfing on certain Georgia waters between sunset and sunrise within 200 feet of any moored vessel. These activities would not be permitted within 200 feet of docks, piers, or public swimming areas. In addition, this measure would not apply to intracoastal waterways, rivers, or private lakes. I was glad to see the Senate promote safety for Georgians should they choose to partake in these adventurous activities.
Further, my legislation, Senate Bill 129 reached final passage and has been sent to the Governor's desk for his signature. This bill would make it easier for people to take time off work to participate in early voting by extending the window of opportunity for employees to request two hours off to vote. I appreciate the General Assembly for coming together to further empower Georgians to participate in one of the most important civic duties.
As I head back to the 25th Senate District upon our adjournment of the 2023 Georgia Legislative Session, I cannot help but to reflect on the thankfulness I feel to have the privilege to serve the people of Georgia. I look forward to continuing to push for positive change across the state and I am honored to have your trust. If you have any questions, comments or concerns about matters relating to the Georgia Senate, please do not hesitate to reach out to my office as my door is always open.
---

Sen. Rick Williams serves as Chairman of the Senate Committee on Retirement. He represents Senate District 25, which includes Jasper, Jones, Putnam, and Baldwin Counties and portions of Henry and Bibb Counties. He may be reached at 404.656.0082 or rick.williams@senate.ga.gov.
---
legis.ga.gov