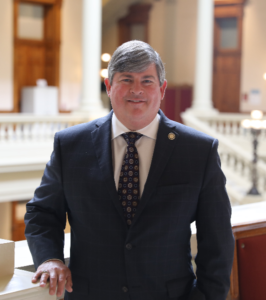 By: Sen. Larry Walker (R – Perry)

With Monday complete and by extension Crossover Day, our final nine legislative days are undoubtedly going to be busy. The deadline to pass legislation is narrowing and we have transitioned into the next stage of the legislative process, addressing House Bills. In these final weeks, we will continue to work on measures that support the needs of the individuals and businesses in our state. While we continue to fulfill our responsibilities, we have made great progress this week and I believe the legislation we passed demonstrates our efforts to serve the people of Georgia.
Much like the beginning of the legislative session, election reform remained a priority throughout Crossover Day, and we passed six related bills that address the concerns you have shared with me. The most expansive bill we took up relative to elections, both in terms of length and impact, is Senate Bill 241. This bill, seen as a comprehensive reform package, proposes just over 20 adjustments to the way our state conducts its elections as a means of improving efficiency and security across all areas of the voting process. In addition to establishing a direct hotline where voters can report instances of possible illegal election activity, SB 241 crafts rules, regulations and limitations for absentee ballots, portable polling locations, vote computation, personnel insufficiency and much more. This bill is a compilation of the different issues brought forward by the people of this state and I am confident the implementation of these changes should bring added reassurance that votes are being cast and counted legally.
The other bills we passed delve deeper into some of the areas we found most concerning in the past elections and the challenges you have experienced while voting. Senate Bill 72 ensures that Georgia's voter registration role remains up to date by requiring county registrars to obtain current death records, monthly, from county coroners, probate judges and funeral homes. Senate Bill 74 would increase the ability for poll watchers to observe the tabulation process while Senate Bill 253 would place added requirements on notices related to changing polling locations. These two measures aim to provide much needed transparency in our process of free and fair elections, and the final elections bills should offer further confidence in the security of our systems. Senate Bill 202 consequently restricts who can send out absentee ballot applications to ensure that only certified officials are sending valid documents only to individuals who have not yet requested or received an absentee ballot or already voted. Lastly, Senate Bill 62, would revise the design and retention of absentee ballots by implanting holographic security elements aimed to reduce fraud, as well as establishing procedures for its handling and requiring the name of the precinct to be written on the ballot.
Aside from election reform, the legislature made great progress addressing other needs of our state and the bills discussed below should help improve the livelihoods of those who live here.
Two bills that I sponsored reflect my firm belief that, as elected officials, we have a duty to be good stewards of taxpayer dollars. Although somewhat rare, we have situations under current law where taxpayers must pay both a suspended elected official and their replacement to perform the same job. This is not how you want your tax dollars spent and defies the principle of good stewardship.  Under my proposals, Senate Bill 218 and its affiliated constitutional amendment, Senate Resolution 134, public officials who have been indicted by a grand jury for a felony and subsequently suspended from office will have their compensation withheld pending the outcome of their court case. If the officer is reinstated to office, he or she will be entitled to receive any compensation withheld. On the first day of session, we took an oath to serve our state ethically and an extension of that is managing public funds responsibly. These measures reflect that promise.
Connected to the fiscal impact of our legislative work, House Bill 105 is a piece of legislation that I had the honor of carrying and concerns the work of our state's National Guard who, especially during this past year, selflessly took the call to action and protect our state. This bill would ensure that these men and women who voluntarily report for duty, upon request from the Governor, would receive active duty pay even if a state of emergency has not been declared. These individuals have faithfully served the state and we cannot thank them enough for the sacrifices they have made on behalf of others. Their actions deserve to be recognized and this bill does just that.
Georgians everywhere have worked tirelessly over the last year to overcome the challenges of a pandemic and make sure our state continues to function. There is no better example of this than the exceptional efforts of the men and women in our agriculture sectors that provide our food and fiber. Relative to that, Senate Bill 247 makes updates to the Agricultural Commodity Commissions in a way that modernizes its structure and increases efficiency. The first section of the bill would allow hearings regarding market orders to be held remotely, recognizing how the current public health crisis has placed a greater emphasis on virtual modes of meeting. Other sections within SB 247 would shift public notice requirements to more local and accessible modes of publication, in addition to requiring public hearing and testimony and revising modes for issuing, amending and renewing market orders. Our agribusinesses are a defining part of our state and the support of its growth and development consequently allows for the strengthening of Georgia. With the conducting of Senate Appropriations subcommittees this week, finding ways to also financially support these industries will continue to be one of my highest priorities as we complete the legislative session.
The Senate is nearing the end of the 2021 session and with four more legislative days next week, we only have three short weeks left under the Gold Dome. The Fiscal Year 2022 budget will hold much of our attention for this remaining time and our meetings this week have allowed us to consider the areas of greatest need here in Georgia. We will continue to represent your interests here, both in our budget work and other legislation, but please reach out if you ever have any questions or concerns. I am thankful for the opportunity to serve you and I will continue to advocate for our great state.
---
Sen. Larry Walker serves as the Majority Caucus Vice Chairman and Chairman of the Senate Agriculture and Consumer Affairs Committee.  He represents the 20th Senate District, which includes Bleckley, Houston, Laurens and Pulaski counties.  He may be reached by phone at 404.656.0095 or by email at larry.walker@senate.ga.gov.