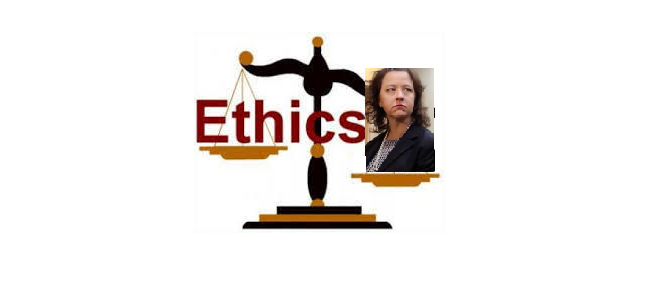 As negative publicity continues to dirty the waters of her tenure, Brunswick Judicial Circuit District Attorney Jackie Johnson has recused herself from a case in which she has a great conflict of interest, according to records from the Georgia Attorney General's Office. 

AllOnGeorgia published a story last week which detailed Johnson's skirting of the law with regard to a case involving the Glynn County Police Department police chief, a PD employee, and two former employees. Johnson appointed her own special prosecutor, in conflict with state law, and still continued to advise on the case despite the supposed recusal. The article was a follow-up to a February piece which highlighted Johnson's conflicts ahead of the grand jury indictment and compounded the avalanche of allegations of wrongdoings that Johnson has been fending off since news broke of her office's mishandling of the Ahmaud Arbery case earlier this year. You can read the full piece here. 
But Johnson has changed her position on the Glynn County PD case. According to paperwork obtained by AllOnGeorgia from the Georgia Attorney General's Office, Johnson has now requested the state appoint a prosecutor to handle the case entirely – three months after the indictment and more than six months after she initially appointed former Clayton County District Attorney Tracy Lawson. 
In her letter to the Attorney General, Johnson only cited the defendant's former employment with the Glynn County Police Department as the reason for the conflict. She did note that the case had been indicted already and that the defendants were out on bond. 
As stated in a June 9 article on AllOnGeorgia, Johnson's delay in seeking an appointment due to a conflict of interest conflicts with state law and the ethical standards of the legal profession.
OCGA 15-18-5 requires that when conflicts of interest arise, the district attorney contact the Attorney General's Office for the appointment of a special prosecutor. Similarly, "Once you have a conflict, the prosecutor's office is done — no indictments, no accusations, no bonds and no finding a substitute prosecutor," annual training presentations by both the Georgia Attorney General's office and the Prosecuting Attorneys' Council of Georgia read. 
The appointment of a prosecutor from another circuit could mean a number of things for the case – continuing the case, halting prosecution entirely, or taking it back before a different grand jury. The Attorney General's Office said Wednesday that District Attorney Joe Mulholland in the South Georgia District Circuit has agreed to take the case. The SGD Circuit encompasses Baker, Calhoun, Decatur, Grady and Mitchell counties in southwest Georgia.