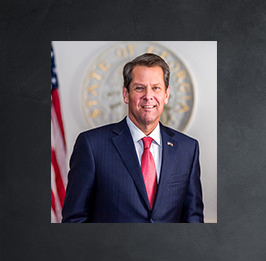 Governor Brian Kemp announced yesterday twenty-one appointments made to various state boards, committees, councils, authorities, and panels.

 Division of Family and Children Services State Advisory Board
-Belva Dorsey, Octavia Fugerson, Meredith Holt, Tommy Hill, and Delaine Hunter were reappointed.
-Allyson Christianson is a Licensed Clinical Social Worker and the founder of Hope 1312 Collective, a non-profit seeking to re-write the story of child welfare in our community by enabling the local church to engage in the Department of Children and Family Services system. As a clinician, she specializes in providing therapy for children with trauma histories and enjoys providing practical approaches to caregivers as a Trust Based Relational Intervention Practitioner. She and her husband, Michael, reside in Glynn County with their two children.
-Deke Copenhaver is principal at Copenhaver Consulting LLC, the former mayor of Augusta, and Author of The Changemaker: The Art of Building Better Leaders. He currently writes a monthly column on leadership published by the Georgia Municipal Association and travels around the country "helping to reframe the perceived challenges of leading into opportunities for growth, chances to change the status quo, and the privileges of improving people's lives." Copenhaver earned a bachelor's degree in Political Science from Augusta College and is a graduate of Leadership Georgia and the Mayors' Institute on City Design. He and his wife, Sarah, reside in Augusta.
-Laci Gillis is the principal of Laci Gillis Law, P.C. in Blackshear. She is passionate about child welfare and often assists in adoption proceeding. Prior to opening her own practice, Gillis worked as a staff attorney in the Waycross Judicial Circuit and earned her Juris Doctor at Florida Coastal. Gillis is engaged to be married to Mason Tipps and their wedding is planned for later this year.
-Randel Hambrick is the Missions & Outreach Pastor at Vintage 242 Church. Hambrick grew up in Georgia, graduated from the University of Alabama, and spent thirteen years in pharmaceutical sales before founding Vintage 242 Church in Dallas, Georgia with her husband Steve in 2009. In 2016, she launched Fostering Hope, the foster care ministry of Vintage 242 Church, which invests in and supports local foster families and children. Hambrick and her husband have fostered through Faithbridge Foster Care since 2014. In 2018, she joined the Paulding County DFCS Board, where she is now chair. Additionally, she has served on the Regional Advisory DFCS Board since 2019 and acts as co-chairwoman. Christianson and her husband have two daughters.
 State Records Committee
-Kelsey Finn is Associate Executive Counsel in the Office of Governor Brian P. Kemp. She holds a bachelor's degree in Political Science and a Juris Doctor from the University of Alabama. Finn will also receive her LL.M. in Tax and Business Transactions from Alabama Law this spring. While in law school, Finn served as a Student Attorney in the Entrepreneurship & Nonprofit Clinic and provided legal service to small business owners and nonprofits. Finn has previously worked under a federal judge, for a business litigation firm, for an intellectual property pro bono organization, and worked in national security and nuclear nonproliferation at the U.S. Department of State. Finn grew up in the suburbs of Chicago and has lived and worked in Illinois, Washington, D.C., Alabama, and Georgia.
-Kristyn Long is Deputy Executive Counsel in the Office of the Governor Brian P. Kemp. She received her bachelor's degree in Business Administration from Georgia Tech before moving to Athens to earn a Juris Doctor from the University of Georgia. Prior to joining the Governor's staff, Long worked in private practice. She and her husband, Zeke, reside in Canton.
McPherson Implementing Local Redevelopment Authority
-Laurel Hart is Vice President of Asset Management and Preservation for Columbia Residential, managing over 7,500 affordable and mixed-income apartments. Prior to joining Columbia Residential, Hart served as the Director of the Housing Finance and Development Division at the Georgia Department of Community Affairs. She has a Juris Doctor from Chicago Kent College of Law and is also a graduate of the Executive Development Program at the University of Notre Dame. Hart and her husband, Ron, have two daughters and reside in Peachtree City.
 Private Colleges and Universities Authority
-George Andrews is Director of Institutional Development for Unity National Bank and has previously served on the Public Colleges and Universities Authority. He is the founder and former CEO of Capitol City Bank & Trust. He started the bank in 1994 with the goal of providing minority small business owners with access to capital and developing strong ties with the urban community. He was educated at Booker T. Washington High School and Morehouse College in Atlanta, Georgia.
Criminal Justice Coordinating Council
-Denise Downer-McKinney is the Chief of Police for the City of Rome. She started her career with the Rome Police Department in February 1985 and was promoted through the ranks of the department, gaining experience in many positions. She received a bachelor's degree in Social Work with a minor in Criminal Justice from the University of Cincinnati and her master's in Public Administration from Columbus State University. She is a graduate of Command College, the FBI National Academy, Georgia Law Enforcement Executive Development Seminar, the Southeastern Law Enforcement Executive Development Seminar, Georgia International Law Enforcement Exchange Program, and Leadership Rome. Downer-McKinney is an alumnus of the Rome/Floyd Chamber. She has previously served as the Bureau Major of Support Services which includes the Training Division, the Criminal Investigation Division and Field Operations. She and her husband, Archie, have three children.
Georgia Firefighter and Standards Training Council
-Tim Stowers was reappointed.
-Robert Horton is a former Fire Chief and the current City Manager for the City of St. Marys. Horton has previously served as Fire Marshall and a Fire Engineer. In 2006, he graduated from West Georgia Technical College with an associate degree. Horton and his wife, Nancy, have two children.
Georgia Environmental Finance Authority
-Ted Rumley is the Chairman of the Dade County Board of Commissioners and Chairman of the Northwest Georgia Regional Commission Council. He has spent his career constructing roads and bridges, working in environmental enforcement and compliance, as well as water and sewer management. He and his wife, Diane, have been lifelong residents of Dade County and have two adult children.
 Georgia Technology Authority
-Cory Ruth was reappointed.
Board of Behavioral Health and Developmental Disabilities
-Lasa Joiner and Laura Whitaker were reappointed.
-Amanda Owens is CEO and co-founder of Grace Autism Services, providing therapy and resources to individuals throughout the state of Georgia. She holds a Bachelor of Arts and Sciences from Nichols State University. Owens and her husband, Michael, have two children.
Child Advocate Advisory Board
-Laura Eubanks and Brad Ray were reappointed.
 Georgia Palliative Care and Quality of Life Advisory Council
-Carol Babcock and Tammie Quest were reappointed.
-Donna Morgan is CEO and Chief Nursing Officer of Columbus Hospice, Inc. She has been a Registered Nurse for nearly 33 years; 26 of them have been spent working in hospice and palliative care. Morgan has served on the national Board of Hospice and Palliative Nurses Association, as a member on the Board for the Georgia Hospice and Palliative Care Organization, and she is a National Hospice and Palliative Care Organization CEO Steering Committee members. She and her husband, Robert, have been married for thirty-nine years.
 Georgia Child Fatality Review Panel
-Jonathan Eisenstat was reappointed.
-Carolyn Altman is a Juvenile Court Judge in Paulding County and a child welfare law specialist. Prior to joining the bench, Altman worked in private practice representing parents, children, and custodians in abuse and neglect cases, adoptions, guardian ad litem, and appellate practice. She has experience as a Juvenile Public Defender and has served on the Executive Council of the Child Advocacy Section of the State Bar. Altman and her husband, Martin, have three children.
-Thomas Britt Hammond is a Superior Court Judge in the Toombs Judicial Circuit and previously served as a Juvenile Court Judge. Hammond has several publications and has given dozens of presentations regarding child welfare, more specifically, foster care. He is presently a member of the Georgia Supreme Court's Committee on Justice for Children and Georgia Council on Superior Court Judges. Hammond and his wife, Tamara Lea, have three children and reside in McDuffie County.
-Lisa Kinnemore is the Fourth Congressional District Representative on the State Board of Education. She attended West Georgia College, before transferring to Georgia State University where she worked her way through school and earned a bachelor's degree. Upon graduating, she worked in sales and as an account manager for different companies before deciding to leave the workplace for home to raise her boys. Kinnemore was on the board of N. E. Independent Preparatory Academy for 5 years. She and her husband, Garry, have three sons and reside in Stone Mountain.
-Randal McGinley serves as District Attorney for the Alcovy Judicial Circuit. McGinley has spent almost his entire legal career prosecuting in the Alcovy Judicial Circuit. He is a faculty member of the Georgia Prosecuting Attorneys' Council's Basic Litigation Course, which teaches new prosecutors throughout the state. Additionally, McGinley is a member of the Loganville Rotary Club. He and his wife, Charly, have two young daughters.
-Charles Prescott is the Chief Investigator in the Cobb District Attorney's Office. Prior to joining the Cobb DA's office, Prescott served as Assistant Chief Investigator in the Atlanta Judicial Circuit, working in the Major Case Division and Gang Unit. He has a bachelor's degree in Sociology from Morehouse College, a master's degree from Walden University in Emergency Management, and a master's degree in Biblical Counseling from Apex School of Theology. Prescott and his wife, Adrian, have one child and reside in Rockdale County.
-Jinger Robins has worked in the fields of child development, child advocacy, and child abuse for over forty years. In 1995, she was selected to be the founding Executive Director for SafePath Children's Advocacy Center where she still leads today. Under her direction, SafePath became a National and State accredited children's advocacy center, won the Georgia Association of Home and Services for Children Outstanding Agency Award, and the Creating Community Award by the Cobb Board of Commissioners for leadership in connecting diverse communities to address a vital need in the community. Robins has served as the chair of the Children's Advocacy Centers of Georgia. She holds a master's degree in Psychology with an emphasis in Applied Behavioral Analysis. Robins has been married for forty-eight years and has two adult children.
-Trina Wilson is the owner of LIFE Counseling and Assessment Center and licensed Social Worker. She holds five degrees, a Bachelor of Liberal Arts in Social Work, master's degree in Social Work, Counseling of Psychology, Divinity, and Theology, as well as a PhD in Theology. Wilson has developed education programs, consulted with national political parties regarding their conflict resolution skills, worked with professional football and basketball players, actors, mega church ministries and speaks professionally on a variety of topics. She has three children and resides in Acworth.
 Georgia Alzheimer's and Related Dementias State Plan Advisory Council
-Lynn Ross, Allan Levey, and Tony Marshall were reappointed.
-Jennifer Pennington has worked in non-profit leadership for over 20 years. She is currently the Executive Director of the Jud C. Hickey Center for Alzheimer's Care; a non-profit, 30-person adult day center, exclusively for individuals with dementia. Previously she has served as Executive Director of the Augusta Area American Red Cross serving 10 counties, and the Executive Director of the East Georgia Red Cross serving 15 counties. Pennington has a bachelor's degree in Sociology from the University of Georgia. She is formerly the President of the downtown Augusta Rotary Club and the Athens Women in Business Council. Pennington is a graduate of LEAD Augusta and Leadership Athens. She and her husband, Bart, reside in Augusta with their two children.