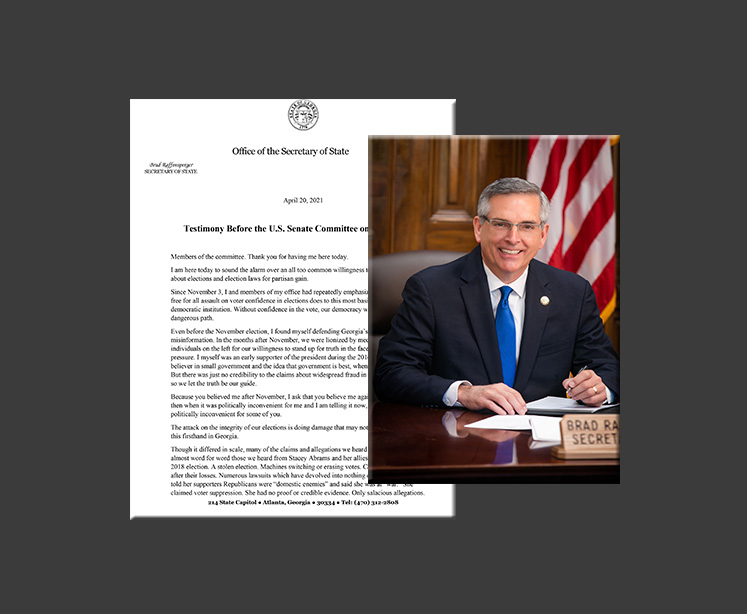 (ATLANTA) – From The Georgia Secretary of State's Office:
The U.S. Senate's majority members have refused to allowed Georgia Secretary of State Brad Raffensperger to testify in a hearing on Georgia's election laws. After receiving an invitation from the minority staff of the U.S. Senate Committee on the Judiciary, the majority, including Georgia Senator Jon Ossoff, have refused to provide Raffensperger with an opportunity to testify about the new law.
"After happily quoting my office when it suited their political purposes, radical liberals in the Senate majority have suddenly decided they don't want to hear the truth about the election law in Georgia," said Raffensperger. "Instead they are featuring a Senator who used a flagrant lie about the bill to fundraise and a politician who has been alleging a stolen election without evidence for years. If the Senate majority wanted truth, they would have invited me to speak it instead of putting on this blatantly partisan sideshow."
The U.S. Senate will be holding a hearing today on election laws in Georgia and across the country. The Senate hearing features two panels: the first has Georgia Senator Raphael Warnock (D-GA) and Rep. Burgess Owens (R-UT); the second has Stacey Abrams, the NAACP's Sherrilyn Ifill, Emory Professor Carol Anderson, New Hampshire Secretary of State Bill Gardner, and Georgia State Rep. Jan Jones.
Secretary Raffensperger was invited by the Senate minority staff as a potential witness late last week. After expressing interest in testifying Monday morning, the Senate majority, chaired by Illinois Sen. Dick Durbin (D-IL), have refused the Secretary an opportunity to testify about Georgia's new election law.
The Secretary's planned opening remarks can be read below.
OpeningStatementforUSSenate raffensperger april 2021