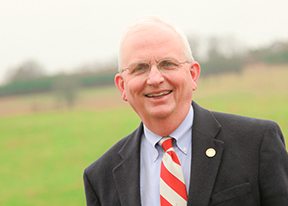 Georgia Agriculture Commissioner and U.S. Senate Candidate Gary Black today addressed rival Herschel Walker's past as a serial abuser of women and suggested Walker face the issue head on in the primary rather than waiting for the Democrats and the national media to attack him in a general election (were he to win the nomination.)
Black made his comments in response to questions from reporters after he toured the LiveSafe advocacy center in Marietta today. Gary has been raising awareness of the prevalence of domestic abuse throughout October as it is National Domestic Violence Awareness Month. This was the second such facility he toured today, the other being in Winder, GA.
"Herschel has threatened women, choked them, stalked them," Black said. "He has put knives to their throats and guns to their heads, and he claims that he must be innocent because he never went to jail. Well, many of the men who forced women to seek shelter here didn't go to jail either. That does not make it OK. Had he, as a member of the United States Senate, committed these acts, he would have been removed from office."
"This behavior is wrong. Period," Black continued. "I believe that God grants mercy but the Democrats and the national media are a little less forgiving. They will come down on him like a ton of bricks if he's our nominee. We will see $100 million in ads featuring the police reports from his victims. I think we need to have that conversation now. He needs to address all these reports in detail, himself, and now, before we hand the Senate to the Left on a silver platter…  Again."
A document including the police reports and other material Black referenced in his answers to reporter questions can be viewed here.

Domestic abuse has reached crisis levels in Georgia.
Statistics from LiveSafe Resources:
1 in 3 women in the United States have experienced some form of physical violence by an intimate partner.
1 in 6 women have experienced stalking in their lifetime.
In 2016, LiveSafe Resources received 3,500 phone calls on their 24-hour crisis line.
In 2016, LiveSafe sheltered 225 women and their children in their domestic violence shelter.
In 2014, Georgia law enforcement responded to over 65,000 reports of domestic violence.
Statistics from Georgia Criminal Justice Coordinating Council:
Statewide 52,282 domestic violence crisis line calls answered from Oct 2018-Sept. 2019.
930 Georgians were killed by firearm in domestic violence incidents between 2010-2019.
Oct 2018-Sept 2019: 7,214 victims of domestic violence and their children were sheltered in a state-certified domestic violence program.
LiveSafe Resources (formerly the Young Women's Christian Association-YWCA-of NorthWest Georgia) has been serving the citizens of Cobb, Cherokee, and Paulding counties since 1917. In 1978, the YWCA opened the first emergency shelter for victims of domestic violence in Georgia. Over the past 40 years they have provided transitional housing, emergency services, child care, and more services for families in crisis. In 2017, the YWCA rebranded as LiveSafe Resources with the updated mission to provide safety and healing to those impacted by domestic violence, sexual assault and elder abuse by offering services, creating awareness and fostering support within our community.