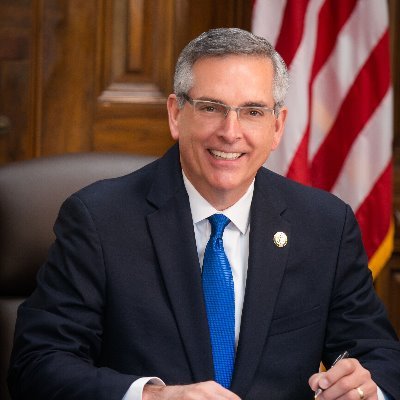 Press Release
(ATLANTA) – New chairman of the U.S. Election Assistance Commission (USEAC) and former President Donald J. Trump appointee Donald Palmer recognized Secretary of State Brad Raffensperger for his enhanced security measures and innovation during the 2020 election. USEAC recognized Georgia's use of ESRI's ArcGIS technology to provide updated voting wait time information to Georgia voters and to quickly address any problems that arose on Election Day, providing a secure and reliable experience for Georgia voters.
"Georgia has made great strides in improving the safety, security, and effectiveness of our election system, and it is great to be recognized for that work," said Secretary Raffensperger. "Thanks to the ESRI line monitoring tool, we were finally able to beat long lines on Election Day in Georgia, averaging just 3 minutes across the state on in November and just 1 minute in January. The rapid issue reporting system helped us ensure a secure and reliable vote."
USEAC announced its 2020 Clearinghouse Awardees and honored Georgia in Outstanding Innovations in Elections for Large Jurisdictions category. The USEAC award recognized Georgia's use of ESRI ArcGIS technology to monitor wait times at polling locations and to address technical and other issues in real time.
Launched last year, the Election Assistant App allowed the Secretary of State's office to communicate quickly and effectively with polling locations around the state. If there was a technical issue or a polling location was out of needed supplies, the ESRI app allowed them to quickly call for assistance. The Secretary of State's office was able to track those issues and ensure they were handled quickly and efficiently.
The Performance Dashboard, also launched in 2020, provided real time data on wait times at polling locations around the state to county elections officials and to the Secretary of State's office. The Secretary of State's office could track and quickly address problems at locations where lines grew long. Wait times averaged just 3 minutes for Election Day in November 2020 and 1 minute for most of Election Day in January 2021.
Following this lead, a number of counties created their own public dashboards so voters could see wait times at early voting locations online before heading to the polls and go to the locations that had the shortest lines. This in turn, eased some of the pressure on locations with the longest lines. During early voting, Georgia voters are able to go to any location in their county of residence.